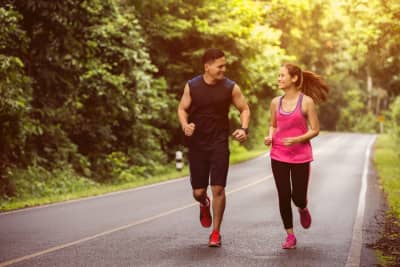 Nurse Health: How to Make 2019 Your Healthiest Year
Long, stressful days caring for patients can really take a toll on nurse health.  
As a medical professional, you understand the importance of staying active, eating healthy, drinking plenty of water and getting a good night's sleep, but it's easy to overlook healthy habits on a hectic schedule.  
The start of a new year is an excellent time to break those bad habits, so you can make 2019 your healthiest year ever. Discover the healthy tips and tricks below to make sure you keep your nurse health in check. 
1. Dump the junk food 
When your rushing through a chaotic day, it's not unusual to grab a quick snack out of the vending machine, but that's probably not the healthiest choice. The Online Journal of Issues in Nursing warns that stressors can lead to poor food choices that adversely affect nurse health.  
Avoid sugary snacks and other junk food that zap your energy level and make it harder for you to concentrate. Instead, try packing a sack of healthy fruits for a natural, vitamin-rich snack on the go that will help make the new year a healthy one.
2. Don't stress, decompress 
Decompressing after a 12-hour nurse shift is vital to nurse health. Create a healthier work-life balance by learning to mentally and emotionally disengage when you leave work.  
Consider meditation, self-massage, a leisurely walk around the neighborhood, curling up with a good book or whatever helps relieve your stress, so you can be a happier, healthier you. 
3. Work in a workout 
Nursing is a physically intensive profession, so after a busy day, it might be difficult to motivate yourself to exercise. Even a simple workout can improve your energy levels when you're feeling rundown.  
Try working in 30 minutes of exercise, five days a week. This is easier than you think, especially if you choose activities you already enjoy. Go dancing with friends, play with your dog in the park, join a yoga class or whatever gets you motivated to move. 
4. Take the challenge 
According to the American Nurses Association (ANA), nurses are less healthy than the average American. Stress is a common factor in the nursing profession, but the ANA says nurse health suffers even further because nurses also tend to be overweight and get less sleep than recommended.  
Get healthy and be a role model by taking the ANA's Healthy Nurse, Healthy Nation™ Grand Challenge. This unique initiative helps you improve your health through "physical activity, nutrition, rest, quality of life and safety." 
5. Make it a priority 
The American Nurses Foundation (ANF) says a HealthyNurse™ is one who takes care of their personal health, safety and wellness and lives life to the fullest.  
Prioritize being a healthier you in 2019 with simple self-care tips like mindfulness meditation, which includes body scans that help you release pent up emotion and get in touch with your body.