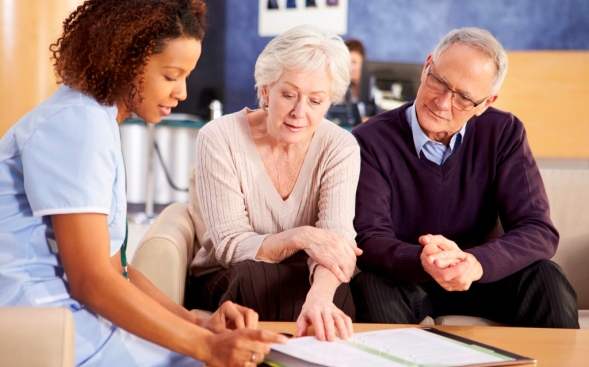 New Standards for Patient Education Resources
By Jennifer Larson, contributor
Have you ever offered a brochure to a patient or family member to help explain an important healthcare matter, or suggested they check out an online resource for more information?
Do you trust that these patient decision aids are accurate, complete and well-vetted?
A new set of national standards could soon put your mind at ease.
Most nurses have been exposed to a myriad of patient education resources that are available to provide helpful or even critical health information to patients. Printed handouts, videos, websites and other materials are important in the drive to improve shared decision making between patients and providers. They can also support key nursing initiatives, ranging from improving health literacy to lowering hospital readmissions.
"Research has consistently shown that decision aids have a positive impact on patient outcomes," said Kathleen F. Giblin, RN, senior vice president, quality innovation for the National Quality Forum (NQF).
The quality issue
Yet, problems can arise if the quality of your patient decision aids are not up to par. Perhaps you have even raised an eyebrow at a particular resource or opted to direct a patient to a different source for information than what your unit suggests.
As Giblin noted, all decision aids are not created equal.
"Some lack the evidence needed to make an informed decision; others may be too onerous for patients or clinicians to utilize," she said. "In order for patients and clinicians to know which decision aids are high-quality, there is a need for agreed-upon, nationally recognized standards."
That's why the National Quality Forum recently established a set of national guidelines for those resources. The
National Standards for the Certification of Patient Decision Aids
were released in December 2016 to assure patients and providers that the patient education resources that they rely on are accurate, trustworthy and based on scientific evidence. Resources that meet the standards should also describe the relative risks and outcomes.
Explanation of the new criteria
First, according to the NQF guidelines, a patient decision-making aid must meet a set of seven baseline criteria that were agreed upon by a panel of experts. Under these criteria, the aid must:
1. Describe the health condition or problem;

2. Identify the target user;

3. Explicitly state the decision under consideration;

4. Describe the available options, including non-treatment when appropriate;

5. Describe the popular features of each option;

6. Describe the negative features of each option;

7. Clarify patient values for outcomes by asking them to consider the positive and negative aspects that matter most to them, and/or describe the features of options to help patients imagine the possible effects.
Next, if it meets all those criteria, the patient decision aid must meet 12 criteria to earn certification. The aid, or, in some cases, its supporting document must:
1. Provide a balanced presentation of options;

2. Be based on a rigorous and documented evidence synthesis method

3. Provide information about the evidence sources;

4. Provide key outcome probabilities;

5. Provide a publication date;

6. Provide information about the update policy and the next expected update;

7. Provide information about funding sources used for development;

8. Provide information about competing interests;

9. Provide information on the development process;

10. Provide information on user testing;

11. Report readability levels;

12. Follow plain language guidelines.
Not every single criterion will apply to every single aid, but the developers should be prepared to explain why a particular criterion would not apply, the expert panel noted.
If the aid is going to be used in helping patients make decisions about screening and diagnostic tests, it will face an additional set of six criteria that will assess its usefulness in aiding in shared decision making.
How the new NQF standards will help nurses
The NQF maintains that high-quality educational materials can help nurses perform their jobs better. Nurses will have a better sense of the best possible aids to choose to help their patients.
"Nurses are most often the frontline 'patient educator' charged with ensuring that their patients have the information and support they need to advocate for themselves," said Giblin. "But that is one of many critical roles that nurses are responsible for, and often the time they have to provide that education is minimal."
"Access to high-quality decision aids that have been vetted and meet nationally recognized standards would enable nurses to confidently assist their patients in making health care decisions," she explained.
Stay tuned
The NQF plans to launch an action team soon that will build on this work, focusing on shared decision making. The forum is also planning to launch a pilot test of the new standards for patient educational materials.
DID YOU KNOW that American Mobile meets the highest standards in nurse staffing, and has been recognized by The Joint Commission with their Gold Seal of Approval?