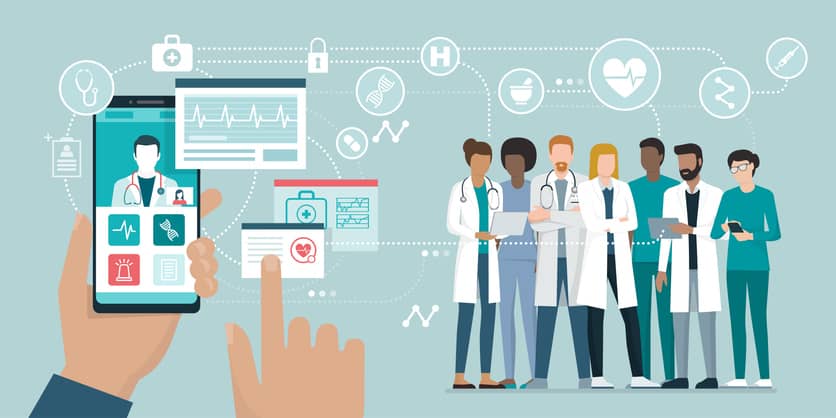 New Principles Guide Nurses in Using Social Media
Like many major health care associations, the American Nurses Association (ANA) has acknowledged that social media is here to stay, and has released a resource to help nurses safely and effectively navigate the ever-expanding world of social networking.
The ANA's principles are not binding; they're intended to help nurses understand the benefits and the risks of social networking so they don't undermine their own professional reputation or their profession.
Social Media for Nurses
"They're really just trying to guide your thinking," said Katie Brewer, MSN, RN, senior policy analyst for the ANA.
The six principles contained in Principles for Social Networking and the Nurse: Guidance for the Registered Nurse, which are linked to the Code of Ethics for Nurses with Interpretive Statements and the standards found in Nursing: Scope and Standards of Practice, are:
• Nurses must not transmit or place online individually identifiable patient information.
• Nurses must observe ethically prescribed professional patient-nurse boundaries.
• Nurses should understand that patients, colleagues, institutions and employers may view postings.
• Nurses should take advantage of privacy settings and seek to separate personal and professional information online.
• Nurses should bring content that could harm a patient's privacy, rights or welfare to the attention of appropriate authorities.
• Nurses should participate in developing institutional policies governing online contact.
Time to set ground rules
As the popularity of Facebook, Twitter and other social networking sites continues to grow, a number of health care associations and organizations have decided to provide guidance. The American Medical Association released a social media policy last fall, and the American Hospital Association is currently drafting a policy. Additionally, the National Council of State Boards of Nursing (NCSBN) issued a white paper titled "A Nurse's Guide to the Use of Social Media" in April.
"Health care professionals have been cautiously approaching social media, and as they become more comfortable, they are more and more often using social media," said Christina Beach Thielst, FACHE, author of Social Media in Healthcare: Connect, Communicate, Collaborate.
But as people become more comfortable, the need for clarification about appropriate usage becomes even more important, Thielst said. She recommends that organizations develop well-thought-out policies that fit with their culture and the expectations they set for their employees.
Pamela Ressler, MS, RN, especially likes the ANA's sixth guiding principle because it encourages nurses to get involved in shaping their organizations' policies.
"We don't want this all crafted without the voice of providers in it," said Ressler, an adjunct faculty member at the University of Massachusetts (Boston) in the College of Nursing and Health Sciences and the Tufts University School of Medicine.
According to the social media blog "Found in Cache" (ebennett.org) written by Ed Bennett, there were nearly 4,000 hospital social networking sites in the United States in June. And a growing number of organizations are establishing social media policies; the list Bennett maintains on his blog includes the Cleveland Clinic, the Mayo Clinic, Vanderbilt University Medical Center, M.D. Anderson Cancer Center, Children's Hospital Los Angeles and Kaiser Permanente.
But as the NCSBN's paper noted, many health care organizations have created--or are creating--social media policies to govern use by their employees in the workplace. However, those policies "typically do not address the nurse's use of social media outside of the workplace. It is in this context that the nurse may face potentially serious consequences for inappropriate use of social media."
Privacy is the key
Privacy when using social media is always paramount, which is reflected in the new ANA principles.
"You still need to make sure you're not releasing information that you should not be releasing," Thielst said.
Nurses should remember they should not post information that might violate HIPAA regulations, just as they would not talk about patients' information openly in a hospital hallway where others could overhear. In fact, protecting privacy and preventing people from breaking the law are two of the biggest goals of the ANA's principles, Brewer noted.
"We have to be sure we're thinking about social media as another form of communication, and we have to apply the same knowledge and actions to that," she said.
The AMA's policy specifically reminds physicians to use privacy settings to protect their personal information, but it also notes they "should realize that privacy settings are not absolute and that once on the Internet, content is likely there permanently."
That's true for nurses, too. For example, some experts recommend that nurses set up separate social networking accounts for their personal and professional lives. But even so, they should still be careful about what they share online.
"You have to have the assumption that it's on the Internet forever and can be found," said Ressler. "Even with privacy settings, anything you put out there in a social networking venue is public. And you have to use that assumption because even if it's posted in a private way, it could get tagged. It could get reposted. It could get sent around."
Said Brewer, "When in doubt, leave it out."
The stakes may be high, otherwise. The NCSBN's paper noted that state boards of nursing may take action against nurses who are found to have inappropriately used social and electronic media. "Depending on the laws of a jurisdiction, a BON [board of nursing] may investigate reports of inappropriate disclosures on social media by a nurse," the paper stated, adding that allegations that are proved true may result in disciplinary action including fines, sanctions or even loss of licensure.
Opportunities in social media
The potential downsides are sobering, but there are also advantages to using social media.
"It helps us connect with people in very powerful ways," Ressler said.
Nurses are educators at heart, and social media outlets provide mechanisms for education. They can highlight their own areas of expertise and provide information on important health issues to a broader audience. And because they enjoy a high level of public trust, nurses can be a valuable resource for people seeking accurate information.
"It broadens your professional network, and I think that's a true value for both nurses and any other health care professionals," said Thielst.
And in times of crises, social media can provide critical two-way communication between providers and the public. People can post safety notices and updates and ask for help.
"Sometimes Twitter is the easiest way to maintain contact with people," said Brewer, referring to recent disasters like the tornado that ravaged Joplin, Mo., in May. "It's good real-time communication."
Follow this and other topics on American Mobile via Facebook.
---
The ANA's 6 Tips to Avoid Problems with Social Media:
1. Remember that standards of professionalism are the same online as in any other circumstances.
2. Do not share or post information or photos gained through the nurse-patient relationship.
3. Maintain professional boundaries in the use of electronic media. Online contact with patients blurs this boundary.
4. Do not make disparaging remarks about patients, employers or co-workers, even if they're not identified.
5. Do not take photos or videos of patients on personal devices, including cell phones.
6. Promptly report a breach of confidentiality or privacy.
Source: The American Nursing Association
---
Originally published on NurseZone.com.
© 2016. AMN Healthcare, Inc. All Rights Reserved.