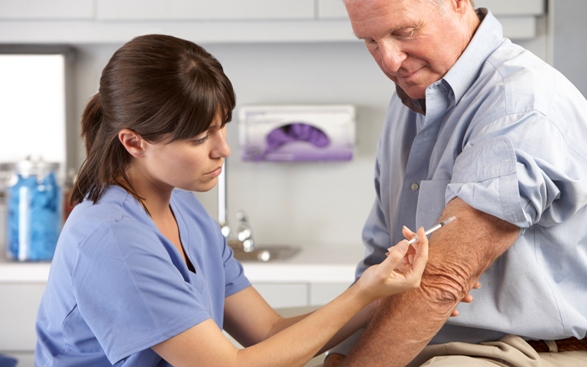 New 2016 Immunization Schedules Released
Every year, the Advisory Committee on Immunization Practices (ACIP) publishes immunization recommendation schedules for children and adolescents, age birth through 18 years, and for adults.
The 2016 immunization schedules for ages 0–18, and the "catch-up" immunization schedules, were approved in early February by the ACIP, the American Academy of Pediatrics (AAP), the American Academy of Family Physicians (AAFP), and the American College of Obstetricians and Gynecologists (ACOG).
The adult immunization schedules were also approved in early February. These provide a summary of ACIP recommendations on the use of licensed vaccines routinely recommended for adults aged 19 years or older. The adult schedule is also approved by the American College of Physicians (ACP), the American Academy of Family Physicians (AAFP), the American College of Obstetricians and Gynecologists (ACOG), and the American College of Nurse-Midwives (ACNM).
All of the updated 2016 immunization schedules are now available, along with footnotes, on the CDC website; the child and catch-up vaccine schedules are also on the AAP website.
Some changes for 2016 in the Child & Adolescent Immunization Schedules, age 18 and under:
• The human papillomavirus (HPV) – The new schedule advises administering the first dose of the vaccine at age 9 for children with a history of sexual abuse; 11 remains the recommended age for other children. The schedule also includes the 9vHPV vaccine, which protects against nine strains of the virus.
• The listing sequence of vaccines - The listing of vaccines in the recommended schedule has been modified; routinely recommended vaccines are grouped from the earliest age to older ages of administration. The footnotes have been modified to reflect the new order.
• Meningococcal B - Health care providers are now recommended to administer meningococcal B vaccines to children at 10 years of age if, after they are determined to be at high risk. Otherwise, the schedule calls for the quadrivalent meningococcal vaccine for anyone between 11 and 12 years of age, with a booster at age 16 years.
• H influenzae type b - A purple bar representing the range of recommended ages from 5 through 18 years for certain high-risk groups has been added to H influenzae type b.
• The pneumococcal polysaccharide bar has been moved to the bottom of the schedule because this vaccine is not routinely indicated for any population.
Source: CDC: Birth to 18 Years & "Catch Up" Immunization Schedules: For Healthcare Professionals
Some changes to the Adult Immunization Schedule, age 19 and over, include:
• Interval change for 13-valent pneumococcal conjugate vaccine (PCV13) followed by 23-valent pneumococcal polysaccharide vaccine (PPSV23) from "6 to 12 months" to "at least 1 year" for immunocompetent adults aged ≥65 year who do not have immunocompromising conditions, anatomical or functional asplenia, cerebrospinal fluid leak, or cochlear implants. The interval for adults aged ≥19 years with any of these conditions is at least 8 weeks.
• Serogroup B meningococcal (MenB) vaccine series should be administered to persons aged ≥10 years who are at increased risk for serogroup B meningococcal disease.
• Men B vaccine series may be administered to adolescents and young adults aged 16 through 23 years (preferred age is 16 through 18 years) to provide short-term protection against most strains of serogroup B meningococcal disease
• Nine-valent human papillomavirus (HPV) vaccine (9vHPV) has been added to the schedule and can be used for routine vaccination of females and males against HPV.
Source: CDC: Adult Immunization Schedule: For Healthcare Professionals
Special features available on the CDC immunization schedule site include:
• View and print immunization schedules for children and adults
• Interactive tools, including a free app for nurses and other clinicians
• Easy-to-read versions of the immunization schedules
• Customizable, create-your-own immunization schedule for children 6 and under
• Schedules and a quiz that can be added to a facility's or clinician's website
---
Give your nursing career a shot in the arm with these exclusive nursing job opportunities.
Originally published on NurseZone.com
© 2016. AMN Healthcare, Inc. All Rights Reserved.