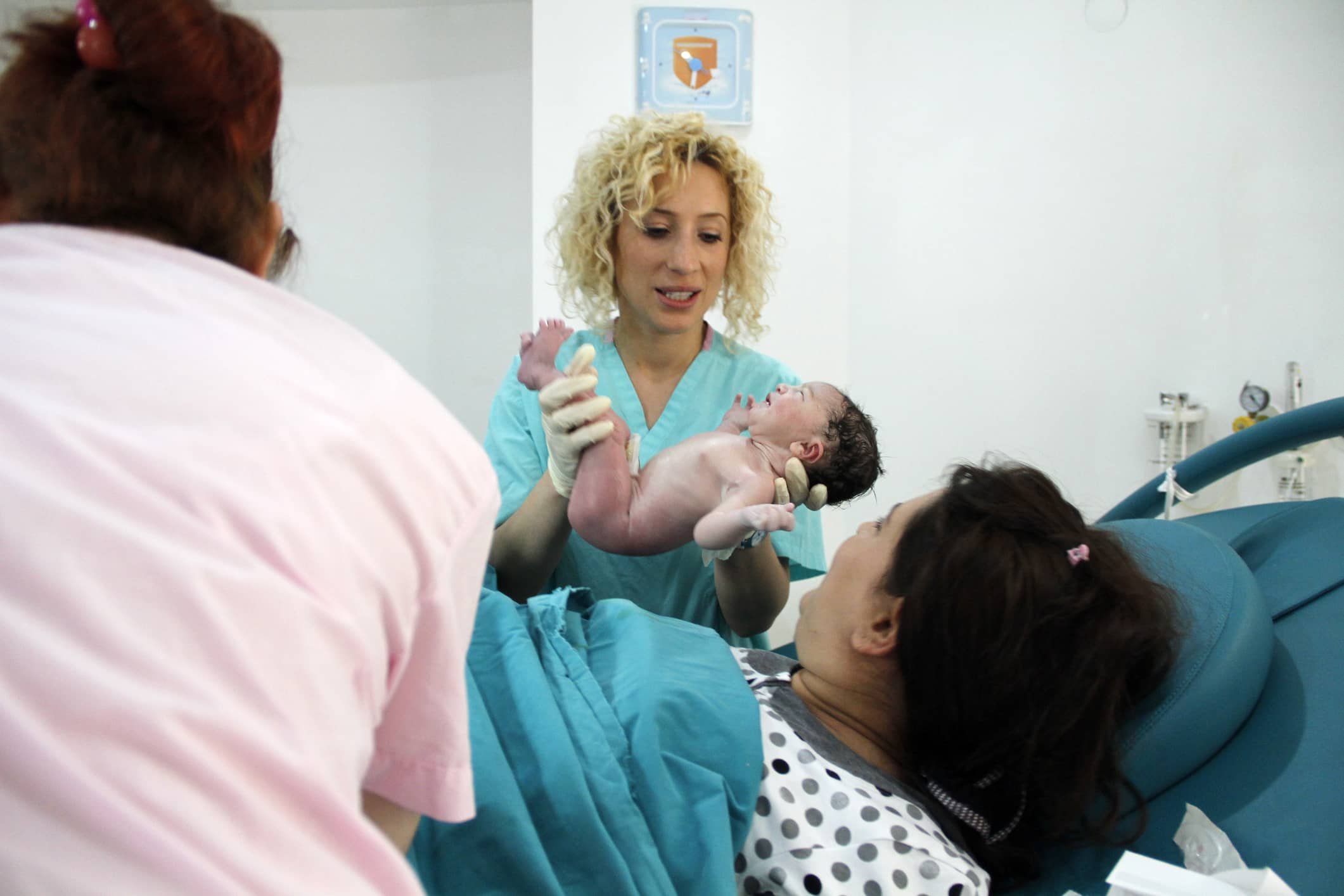 Labor and Delivery Nurses Bring Babies into the World
Labor and delivery nurses help women with the birthing process, before, during and after delivery. It can be an exciting and high-stress environment due to the fact the outcome may not be as planned.
When a pregnant woman presents for care in an obstetrical unit, the labor and delivery nurse will triage her to assess the woman and fetus's status. The Association of Women's Health, Obstetric and Neonatal Nurses (AWHONN) has developed the Maternal Fetal Triage Index to provide a standardized approach to help nurses prioritize women who need more immediate care from a provider. The tool takes into consideration maternal vital signs, fetal heart rate, the woman's status, and how far along in labor she is, fetal movement, and the woman's medical, obstetrical, prenatal and surgical histories.
Monitoring and guiding 
Before delivery, a labor and delivery nurse will monitor the woman and the fetal heart rate and stay alert for any rapid condition changes. The maternal early warning signs protocol requires the nurse take immediate action when blood pressure, heart rate, respiratory rate or oxygen saturation levels are outside of normal parameters. Other conditions, such as maternal agitation, oliguria or a nonremitting headache in a patient with hypertension should be rechecked within 10 minutes before calling the provider. 
While many births progress smoothly, L&D nurses must watch for complications, such as venous thromboembolism or pre-eclampsia. After delivery, L&D nurses monitor the woman for hemorrhage or other complications, and teach her about breastfeeding.
L&D nurses must be effective communicators as they work as part of a team to ensure positive outcomes for their patients. Structured communication tools, such as SBAR (situation, background, assessment and recommendation) aid in the transfer of knowledge about a change in condition.
The nurse also should possess good listening skills, and provide direct and timely communication to the patient and her family. They must emotionally support the patient and family, providing education about the childbirth process and coaching during labor.  
The patient remains at the center of care, with nurses respecting her cultural and personal preferences for childbirth. Care decisions should be shared between the woman and her care team.
Labor and delivery nurses also may assist during caesarean deliveries.
Maternal and fetal complications and stillbirths are a reality. L&D nursing is not always joyous, but compassionate L&D nurses can help women and their families through difficult situations.
The National Certification Corporation offers certification for labor and delivery nurses. Study guides are available. Certification demonstrates competency in the nursing specialty and facilities often offer higher salaries to nurses with certification.
Labor and delivery nurses earned an average of $76,614 a year in 2018 while certified labor and delivery nurses averaged $82,992 a year.
Accepting a travel position 
Travel nursing offers opportunities to see the country without missing a paycheck. It appeals to nurses who want to check out different facilities or geographic regions, without making a long-term commitment. Hundreds of labor and delivery travel jobs exist.
Compensation is good. Travel nurses earn competitive wages, free housing, partial reimbursements, and medical, dental and liability insurance.
Labor and delivery travel nurses should have at least one year experience in labor and delivery, although, some hospitals require more years on an L&D unit. The travel nurses should be able to walk onto the unit ready to go to work.
Facilities may require Basic Life Support certification and Advance Cardiac Life Support certification, fetal monitoring certification and Inpatient Obstetric Nursing and Neonatal Resuscitation Program certifications. Even when specific certifications are not required, it gives candidates a competitive edge.
Ready to Travel? Become a Labor and Delivery Travel Nurse Today!
Labor and delivery nurses experience the joy of bringing a new life into the world while helping the woman and her family through the birthing process. Nurses who travel enjoy the opportunities to work and explore different parts of the country at the same time. Contact American Mobile today to find the ideal labor and delivery travel nurse job.