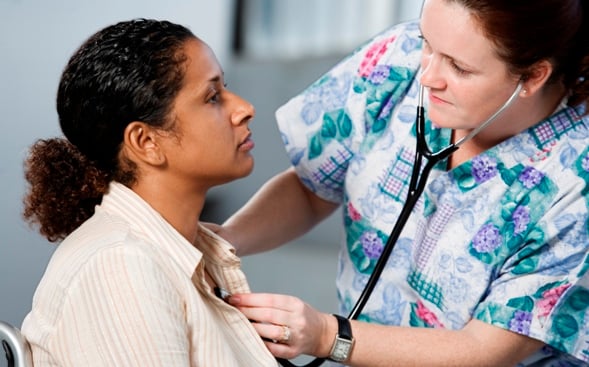 Initiatives Reducing Health Disparities
Is it possible to have equal health care access and quality for all? If so, it is going to take concerted efforts on many fronts to achieve that ideal.
Health care disparities occur when a population experiences systemic social or economic discrimination that results in adverse health affects. The Centers for Disease Control and Prevention (CDC) recently reported on eight interventions that are making an impact in a special supplement to their Morbidity and Mortality Weekly Report (MMWR).
Make a difference with travel nursing jobs in your choice of locations.
Here are highlights of two of the programs:
Traditional Foods Project
The Traditional Foods Project worked with 17 Native American and Alaska Native communities from 2008 to 2014 to increase health promotion and diabetes prevention.
Dawn Satterfield, RN, health educator and team lead for the Native Diabetes Wellness program at the CDC, said that one of the strengths of the project is that it joins a larger movement among indigenous peoples to restore traditional foods.
"Taking this approach opens up the conversation about health and reconnects people to their culture and traditional stories related to these foods," she noted. "It also creates a dynamic movement in communities. They come together to plant, harvest and cook. It allows them to apply lifetimes of traditional ecological knowledge."
Satterfield says she has been inspired to see tribal leaders supporting the health of their communities and working to reclaim traditional food systems.
Because Native Americans and Native Alaskans are so susceptible to diabetes, she recommends that any nurse working with Native patients, and particularly those working in Native American health care settings, be familiar with the Indian Health Service's Diabetes Program for Indians.
"Food is medicine, and the health of the people depends on the availability of traditional healthy foods," said Satterfield.
Colorectal Cancer Control Program
"A large number of Hispanics, American Indian/Alaska Native men and people living in rural areas of the U.S. have not been screened for colorectal cancer," said Djenaba A. Joseph, MD, MPH, medical director of CDC's Colorectal Cancer Control Program. "In Alaska, the use of client and provider reminders and patient navigators contributed to an increase in the proportion of Alaska Native adults aged 50-80 years who were up to date with colorectal cancer screening, from 50.9 percent in 2009 to 58.4 percent in 2012."
"There is scientific evidence that screening for colorectal cancer saves lives--this is one cancer that can be prevented, through screening," she continued. "The bad news is that we also know that colorectal cancer screening tests are underused."
Joseph encourages all nurses, not just those working in Native American healthcare, to talk to their patients about the importance of regular screenings. The CDC's Screen for Life campaign toolkit is designed to inform people about colorectal cancer screening and why it is important.
"Nurses play a critical role in making sure that patients get the clinical services that they need," she stated. "Equally important is the ability to provide care and information to patients in ways they can understand--that means being able to provide culturally competent care that appreciates the values of the person being served."
Other initiatives to reduce health disparities
The other CDC-sponsored initiatives covered in the MMWR supplement include:
• Community Asthma Initiative to Improve Health Outcomes and Reduce Disparities Among Children with Asthma
• Progress Toward Eliminating Hepatitis A Disease in the United States
• Adaption and National Dissemination of a Brief, Evidence-Based HIV Prevention for High-Risk Men Who Have Sex with Men
• The HoMBReS and HoMBReS Por un Cambio Interventions to Reduce HIV Disparities Among Immigrant Hispanic/Latino Men
• Preventing Violence Among High-Risk Youth and Communities with Economic, Policy, and Structural Strategies
• Living Well with a Disability, a Self-Management Program
For details on all eight of the initiatives, read the CDC's "Strategies for Reducing Health Disparities."
How nurses can reduce health care disparities
"It is important for nurses to understand that there are webs of causation for the disparities that exist," encouraged Satterfield. "We are learning many of the things that have contributed over time to the high rates of diabetes in Native communities. It isn't just obesity--it is poverty, food insecurity, historical trauma, and political issues."
"It is important to learn the history of the community you are serving and to come in with cultural humility," she continued. "It is also looking for openings to teach, to encourage breastfeeding and bonding and to connect families with social and health care networks."
"Health care is a team sport," added Joseph. "The interventions that were described in this supplement were successful because they involved physicians, nurses, medical assistants, other office staff and public health professionals who worked together to create a system to identify and bring in patients who were due for screening. These teams made sure that everyone, regardless of race/ethnicity, income or geographical location, was offered the opportunity to receive screening--if you can do that, you can reduce health disparities."
Originally published on NurseZone.com
© 2016. AMN Healthcare, Inc. All Rights Reserved.