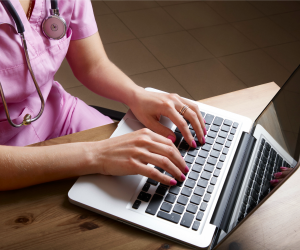 How the Nurse Licensure Compact Benefits Travel Nurses
NLC DIRECTOR SHARES THE LATEST INFORMATION ON COMPACT NURSING LICENSURE
Enacted in the year 2000, the Nurse Licensure Compact (NLC) has certainly come a long way and is continuing to evolve and transform. Simply put, compact nursing licensure allows clinicians to have one multi-state license, with the ability to practice in their home state and other nursing compact states.
These multi-state licenses have been a boon to travel nurses and others who desire to work across state lines from where they obtained their original nursing license.
In recent years, the National Council of State Boards of Nursing (NCSBN) identified some challenges with the NLC and started an initiative to enhance the NLC and ensure synergy among the compact nursing states.
The newly enhanced nurse licensure compact, known as the eNLC, was born and approved in 2015 as the licensure model of the future. It will replace the original NLC and add extra protections.
What does that mean for today's nurses?
We spoke with Jim Puente, MS, MJ, CAE, director of the Nurse Licensure Compact at NCSBN, to find out the latest developments in compact nursing licensure and how it can benefit travel nurses and other nursing professionals.
FIND your ideal travel nursing job; we have thousands across the U.S.!
Compact Nursing States: Changes And Enhancements
"Between 2000 and 2015, 25 states joined the nurse licensure compact," Puente explained. "The nurse licensure compact is for RNs and LPNs, and it provides those nurses who reside in a compact state with a multi-state license. That multi-state license gives them the privilege to practice in any compact state--include physically in person and via telehealth (telephonically or any other electronic transmission)."
The eNLC was developed to bring uniform requirements to the licensing process after some of the state boards of nursing identified some gaps with criminal background checks. Now, under the new eNLC, nurses are required to meet 11 uniform compact nursing licensure requirements that are the same across compact nursing states.
The network of nursing compact states continues to grow, and Puente said the goal is for all 50 states to join the eNLC so that a nurse with one multi-state license will be able to practice anywhere in the country.
Currently, there are 29 states in the eNLC including the following:
Arizona, Arkansas, Colorado, Delaware, Florida, Georgia, Idaho, Iowa, Kentucky, Maine, Maryland, Mississippi, Missouri, Montana, Nebraska, New Hampshire, North Carolina, North Dakota, New Mexico, Oklahoma, South Carolina, South Dakota, Tennessee, Texas, Utah, Virginia, West Virginia, Wisconsin and Wyoming.
Compact Nursing Licensure: Benefits To Travel Nurses
"The multi-state license has tremendous benefits for all nurses because a nurse is required to have a license for the privilege to practice in each state where their patients are located," Puente said.
"In the case of a travel nurse, they are physically going to other states so that means they need to hold multiple licenses. To obtain one license, it is quite a burden, because you have the licensing application fee, the fee for license verification, and a fee for a criminal background check. And then there is the processing time, which can be anywhere from a few weeks to a few months."
American Mobile can expedite the RN licensing process and will pay the fees for their travel nurses under contract.
"The multi-state nurse licensure compact saves the nurse a tremendous amount of money, time and paperwork," Puente continued. "With one multi-state license in the nurse's state of residence, the nurse is able to practice in what will be more than 26 states because we anticipate the compact will continue to grow until we get the whole country."
Once issued a compact nursing licensure, a nurse can start practicing immediately in any other nursing compact states--another major advantage to compact nursing licensure. That's a tremendous benefit not only to the nurse, but to the employer that needs that nurse very quickly.
Most travel nurse agencies, including American Mobile, will assist RNs with the licensing processes so they are approved to work in compact nursing states.
"Nurses who live in the current 25 compact states are all grandfathered into the new enhanced compact--assuming their state joins the new eNLC," Puente concluded. "So that means there is nothing they need to do in terms of determining if they need to meet the new uniform requirements."