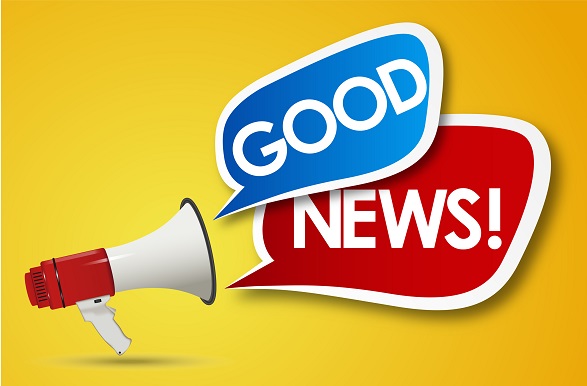 Good News and Positive Stories
Oldest COVID-19 Survivor Celebrates Birthday
William Lapschies, a resident of Oregon has recovered from COVID-19. Why is that remarkable, you ask? Because this World War II veteran has just turned 104 years old--definitely in one of the high risk categories for serious infection. 
Source: OregonLive, April 1, 2020, "World's oldest coronavirus survivor? Oregon veteran lives to celebrate 104th birthday" 
Fauci: Keep Up the Social Distancing
There's still a long road ahead of us, but the social distancing appears to be working, according to Anthony Fauci, MD, director of the National Institute of Allergy and Infectious Disease. He pointed to some early good signs of improvement in New York City, but he urged everyone to stay the course with the social distancing and other efforts. 
Source: USA Today, April 7, 2020, Dr. Anthony Fauci: There are 'good signs in US Battle Against Coronavirus but we're far from claiming victory"
Dolly Parton Donates $1 Million for COVID-19 Research
Country music legend Dolly Parton has made a $1 million donation to Vanderbilt University Medical Center in her home state of Tennessee. She announced that she was making the gift in honor of her friend, surgery professor Naji Abumrad, MD, and hoped the money could be used in the research of treatments and prevention for COVID-19. 
Source: VUMC.org, April 2, 2020, Dolly Parton Makes Generous Gift to Advance COVID-19 Research at Vanderbilt
ICU Staffers Dance It Out 
Sometimes you just have to dance it out. Good Morning America posted a rather unusual rendition of the "Cupid Shuffle." Nurses and other team members from the ICU at a hospital in threw themselves a short, impromptu dance party to shake off a little stress--while wearing face masks and shields.
Source, GMA, April 7, 2020
Maine Hotel Reserves Hotel Rooms for Free for Hospital Staffers
A hotel in Maine has reserved 50 rooms on two designated floors for staffers at the Maine Medical Center and Mercy Hospital. Workers from the hospital can stay there for free during the coronavirus crisis if they can't go home to their families. Other cities have also opened up their hotels to welcome these frontline workers.
Source: WMTW, April 5, 2020, "Maine hotel donates rooms for healthcare works to stay"