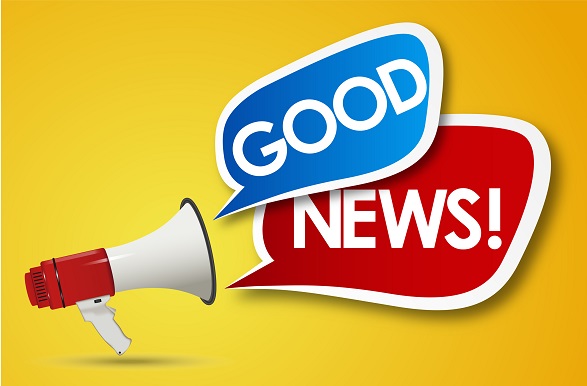 Good News and Positive Stories: April 22, 2020
A "Giving Tree" of Homemade Masks in Iowa
A 55-year-old woman in Lisbon, Iowa, decorated a tree with home-sewn masks that she's created for people in her local community, including nearby hospital UnityPoint St. Luke's, which was experiencing a shortage. She's made more than 400 masks and paid for the supplies herself. She puts them out on a tree in front of her house so that anyone who needs them can come fetch them without worrying about social distancing. 
Source: Good Morning America, April 20, 2020. "Woman creates 'giving tree' with hundreds of homemade masks for local residents"
Lilly Pulitzer Fabric Masks a Big Hit
If you have to wear a mask to protect yourself during the coronavirus pandemic, wouldn't it be nice to wear a beautiful mask made of a stylish, brightly-colored fabric? That's why resort wear brand Lilly Pulitzer has made tens of thousands of cloth masks made with its iconic colorfully patterned fabrics and distributed them to medical workers and first responders. Now those folks can be stylish and safe at the same time. 
Source: Good Morning America, April 7, 2020. "Lilly Pulitzer creates 27,500 mask covers in iconic prints for medical workers"
Hawaii Nurse Raises Money for N95 Masks for Hospitals
Certified family nurse practitioner Min Zhu worried about other healthcare workers in Hawaii not having enough personal protective equipment. She and her daughter Lydia Lan launched a campaign to raise money to buy N95 masks. They started with a GoFundMe page and quickly raised $20,000–and counting. All the funds are going toward the purchase of PPE for hospitals in Hawaii. 
Source: KHON2.com, April 20, 2020. "Oahu nurse raises over $20,000, donates N95 masks to hospitals"
Family Donates 5,000 Sandwiches to Hospital in Cleveland
Ghazi Faddoul opened five of his closed Subway franchises in northeast Ohio so his brother-in-law David Coury could make sandwiches out of gratitude for healthcare workers like the ones who cared for him during a recent cancer surgery. Coury, his family, and some of Faddoul's employees made 5,000 sandwiches, which Coury arranged to be donated to University Hospital staff in Cleveland. 
Source: CNN, April 20, 2020. "A man and his family make and deliver 5,000 sandwiches to thank hospital staff"
Nurse Practitioner Receives Cherry Cheer Gift Box
A Michigan-based retailer of cherry products, Cherry Republic has been organizing gift boxes for deserving recipients during the coronavirus crisis. One of the latest recipients of a Cherry Cheer Gift Box is Diana, a nurse practitioner in Massachusetts, who is being recognized for both her work with patients who are struggling with addiction and people affected by COVID-19. 
Source: Cherry Republic blog, April 21, 2020. "Operation Cherry Cheer Gift Box Recipients"