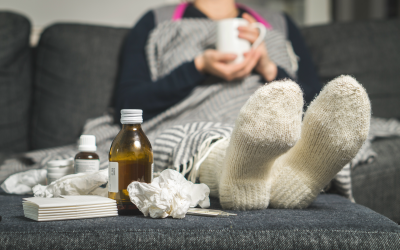 Flu Season Hitting Patients and Hospitals Hard
The flu has hit the United States hard, and you can't watch a news broadcast or open a newspaper without seeing some mention of the devastating effects it has had on all types of patient populations.
From the very young to the elderly, no one is immune from this year's flu season and rampant flu epidemic.
According to the Centers for Disease Control and Prevention (CDC), flu activity is widespread in most of the country.
Hospitals and healthcare facilities are seeing an increase in the amount of people admitted to be treated for influenza, and the CDC estimates that between 140,000 to 710,000 people are admitted into the hospital a year with an influenza diagnosis.
This surge in patients with the flu has also caused another issue among healthcare institutions. Many are reporting a shortage of IV saline fluids, an issue that the FDA commissioner even recently addressed. IV fluids--particularly saline--are a critical component to most flu treatment plans.
Patients with the flu most often present symptoms such as fever, cough, sore throat, runny or stuffy nose, body aches, headache, chills and fatigue.
Some people also may have vomiting and diarrhea. Saline and other IV fluids provide patients with the hydration necessary to help fight the many symptoms of the flu.
"A key area of focus for the FDA remains addressing the IV saline shortage, which has impacted patients, health care providers and hospitals. Based on the information we're receiving from the companies, we expect that the shortage of IV saline fluids will improve in early 2018, with continuing improvements in the weeks ahead," according to a statement from FDA Commissioner Scott Gottlieb, M.D.
While healthcare facilities are scrambling to accommodate an increased caseload of flu patients to combat the flu epidemic, there are several things that can be done to help prevent the flu.
Flu Prevention: How to Prevent This Year's Flu
When it comes to prevention, it's all about the vaccine. First off, it's important to note that there are several types of flu viruses and the vaccine tends to work better on some over others. For example, according to the CDC, current flu vaccines tend to work better against influenza B and influenza A (H1N1) viruses and offer lower protection against influenza A (H3N2) viruses.
In addition to vaccinating, the CDC also released a "3 Step Action Plan" to help fight the flu:
Vaccinate
Stop the Spread of Germs
Take antivirals if your doctor prescribes them
It seems as though healthcare professionals are taking note of the CDC recommendation that all people aged 6-months and older get an annual flu vaccine.
Healthcare workers and other clinical professionals can easily spread the flu virus to others, so vaccinating remains a critical component to any hospital or healthcare facility's treatment plan.
"Early-season 2017–18 influenza (flu) vaccination coverage among health care personnel (HCP) was 67.6%, similar to early-season coverage during the 2016–17 season (68.5%)," according to an internet panel report conducted by the CDC.
Although the clinical recommendation is to get the flu vaccine before the start of every flu season, there are still many common misconceptions about the flu epidemic.
The CDC explains that two of the most prevalent misconceptions--that getting the flu vaccine will cause you to get the flu and that this year's flu vaccine isn't effective--are in fact false.
"Flu can be a serious disease, particularly among young children, older adults, and people with certain chronic health conditions, such as asthma, heart disease or diabetes," according to the CDC's Q&A on the topic.
"Any flu infection can carry a risk of serious complications, hospitalization or death, even among otherwise healthy children and adults. Therefore, getting vaccinated is a safer choice than risking illness to obtain immune protection."
It has been proven by several studies that the Influenza vaccine can prevent flu illness and hospitalization. CDC estimates that influenza vaccination prevented approximately 5.1 million influenza illnesses, 2.5 million influenza-associated medical visits, and 71,000 influenza associated hospitalizations during the 2015-2016 season, with an overall vaccine effectiveness of 48%.
Flu Treatment: How to Cure the This Year's Flu
Knocking out the flu epidemic is no easy feat, and there are many existing flu treatment plans and recommendations depending on a variety of factors including age, pre-existing conditions, chronic issues, and comorbidities.
The CDC has released updated guidelines for healthcare professionals and clinicians caring for influenza patients both in the hospital setting and in the out-patient capacity.
This flu season, antiviral drugs are the recommended treatment option for those experiencing flu symptoms.
"When used for treatment, antiviral drugs can lessen symptoms and shorten the time you are sick by 1 or 2 days. They also can prevent serious flu complications, like pneumonia," according to the CDC.
"There are three FDA-approved antiviral drugs recommended by CDC this season. The brand names for these are Tamiflu® (generic name oseltamivir), Relenza® (generic name zanamivir), and Rapivab® (generic name peramivir). Tamiflu® is available as a pill or liquid and Relenza® is a powder that is inhaled. (Relenza® is not for people with breathing problems like asthma or COPD, for example.) Rapivab® is given intravenously by a health care provider."
Regardless of the patient's age or current health status, those experiencing severe symptoms or symptoms that persist should see a healthcare professional immediately.
In the meantime, be sure to cover your cough, wash your hands often, and of course, get that flu vaccine to give yourself the best chances of beating this year's flu epidemic.