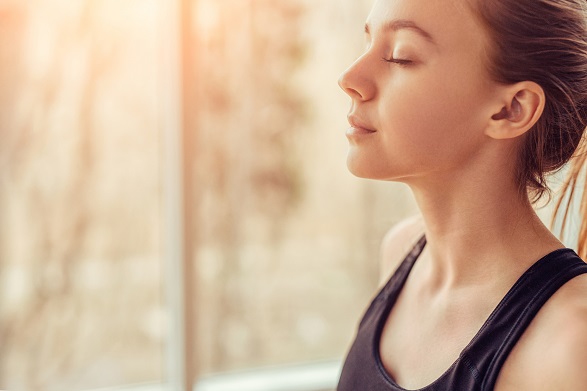 Five Ways to Take Five Minutes to Yourself
Pressing pause and regrouping for just five minutes can be a great thing to do to relieve stress before, during or after your day. To help get your wheels spinning, we've come up with a list of five simple things you can do each and every day to take five minutes to yourself during a time when many businesses are closed and we must practice social distancing.
Five Things to do in Five Minutes For You
1. Get Some Fresh Air and Get Moving
The importance of getting your body moving and allowing fresh air into your lungs cannot be emphasized more. This can look like many things. Just go for a walk or run around your block. If it is ot too crowded, consider heading out to a nearby hiking trail or beach path. If you are working, carve out a few minutes during your break time to get outside. In addition to walking, you can also do some stretching, yoga moves or other light training to get that blood flowing. 
2. Practice Self Care
"Self Care" is definitely a trend right now and there are about a million things that you can do that fall into this category. Some of our favorites:
Take a warm shower or bath using your favorite soaps/products
Try one of those cool sheet masks 
Give yourself an at home manicure or pedicure
3. Meditate (Or Just Close Your Eyes and Relax for 5 Minutes)
Ok, even if you've never gotten on board with the whole meditation movement, we urge you to give it a try. You don't even need an app to get started. Simply set a timer, find a comfortable seated or lying down position and close your eyes. Begin to clear your mind and focus on the present moment. Take deep breaths. Yep, that's it. When the timer goes off, open your eyes and enjoy your fresh new calm demeanor. Bonus points if you actually doze off for a quick nap! 
4. Phone a Friend or Family Member
Phone calls and video conferences are a great way to stay connected during this time. If you've been meaning to catch up with an old friend from college or just call your sibling to see how they are holding up, now is the time. Taking just a few minutes to reach out to someone to check in and let them know you are thinking about them can be an amazing boost for yourself and the person on the other end of the phone--or video chat. 
5. Make a List 
Writing down your thoughts is an excellent and proven way to clear your mind and ease anxiety. It can be a simple to-do list for the week ahead, or you can take things to the next level by writing a gratitude list or bucket list of all the exciting things you want to do once the pandemic is all behind us. If you are having trouble sleeping at night, make a list of what is going through your mind. Experts have found that putting pen to paper can help turn off your mind and let you get some shut eye. 
Stay informed on resources related to COVID-19 
Interested in applying for a crisis response job? Apply here.