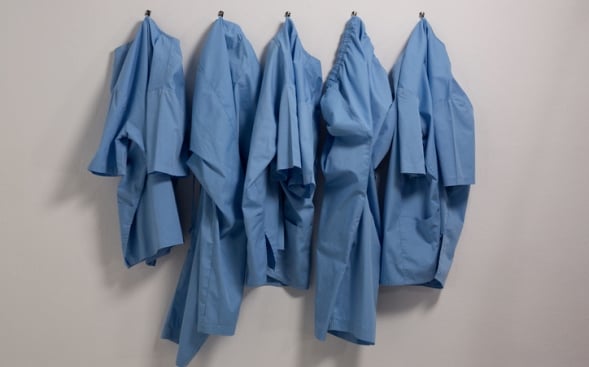 Finding the Right Nursing Scrubs: How to Choose and Benefits
Scrubs can be fashionable, colorful and comfortable for nurses and other medical personnel, but they serve many practical purposes too. They visually indicate which department you work in. They can be easily sanitized and still remain durable. They have evolved a lot over the history of nursing and continue to evolve with new fabrics and styles coming out.
Find out some of the many benefits of nursing scrubs and review a mini buying guide on how to find the right pair for you.
4 Benefits of nursing scrubs
The days of nurses wearing caps and white dresses were beginning to be phased out in the 70s, and now the accepted uniform for nurses and many other medical personnel is scrubs.
Scrubs got their name from surgeons who would have to "scrub in" to sterilize themselves before surgery, and now it's become a catch-all term for hospital garb.
What makes nursing scrubs so amazing? Check out some of these great benefits.
1.  Create a sterile environment
Nurses are continually caring for patients who may be medically fragile, susceptible to infection or extremely ill. Scrubs help shield you from germs, bodily fluids and other contaminated substances that can potentially transmit disease.
Scrubs are made from high-quality fabrics, and some even contain anti-microbial properties, depending on the brand and type.
2.  Let others identify medical staff
Hospitals are busy places. Floors are often filled with medical staff, families and other visitors in the hallways. Nursing scrubs are an easy way to differentiate a nurse from other medical staff or families. Many healthcare facilities have a color-coded system in place. This might mean that nurses on certain floors have to wear a certain color top, for instance, which helps set them apart from other staff.
3.  Scrubs have special features
Nursing scrubs have exclusive, useful features you can't find on everyday clothing.
Pockets: An assortment of various size pockets let nurses stow everything from pens and scissors to medical tape and hand sanitizer.
Bungee loops: A popular feature on scrub top necklines or tops of pants, a small bungee loop lets you attach your ID.
Antimicrobial fabric: Some nursing scrubs may be made of antimicrobial fabric to help reduce the risk of disease transmission. Although some studies on the subject have been inconclusive, some nurses may find peace of mind in wearing these scrub types.
Moisture-wicking: When you're shopping for nursing scrubs, look for those with moisture-absorbing properties. These types of fabrics are specially designed to keep you feeling dry, comfortable and less sweaty as you care for patients.
4.  Budget-friendly
The great thing about nursing scrubs becoming so commonplace these days is they're widely available from a number of online retailers, so you're bound to find pairs that are both affordable and comfortable.
If you're never bought scrubs before, it might be a good idea to try them on in person before shopping online. This can help give you an idea of how they fit and what specific features you like best, such as looser-fitting tops, elastic or drawstring waists, pant length and leg opening size.
Shopping for nursing scrubs: How to find the right pair for you
1.  Pay attention to the fit
Scrub tops and bottoms that feel too loose may get in the way of you being able to do your job, and ones that are too tight are likely to restrict movement. Nursing scrubs described as flexible or stretchy may be a good choice, as these can let you maximize your range of movement without being too restrictive.
Ensure your scrub top falls below the hip so you're properly covered while doing your job. Also, make sure the cut in front isn't too low at the neckline.
Scrub bottoms can be drawstring, useful for individuals who might be experiencing weight fluctuations. Flare-bottomed pants look stylish and can balance out your hips, but be sure they're not too long, since they could potentially trip you up if they're dragging on the floor.
2.  Note who the nursing scrubs are sized for
Nursing scrubs are typically classified as men, women or unisex. Women's tops tend to curve inward at the waist to follow a woman's natural shape, while men's and unisex tops have a looser, less defined waist and usually a longer length.
3.  Decide how many pockets you need
Some nurses love pockets on their scrub pants because it lets them carry everything they need as they go from patient to patient. Pay attention to how many pockets scrub pants and jackets have so you know if you'll have enough space for your essentials. Think of the possibilities: carry pen lights, IV caps, bandages, notepads, gloves, smartphones and anything else you need.
SEARCH for your next travel nursing assignment and rock your best pair of scrubs.
Sources:
https://www.excelsior.edu/article/why-nurses-wear-white-and-the-evolution-of-nursing-uniforms/
https://scrubsmag.com/scrubs-evolution-medical-apparel-then-and-now/2/
https://classifieds.usatoday.com/blog/marketplace/what-is-the-meaning-behind-color-coded-scrubs/