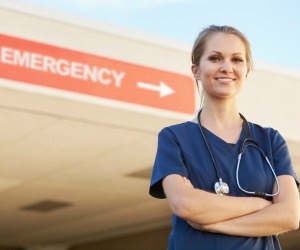 ER Nurses Using EHR Alerts to Screen for Sepsis
ER nurses screening patients for sepsis can mean the difference between life and death for children and adult patients with the life-threatening condition, a dysfunctional response to infection. Now, electronic health records (EHRs) can help alert nurses and physicians that sepsis is a possible diagnosis, leading to early treatment.
"It's critical to screen for sepsis and catch it early," said Amy Sprague, DNP, RN, ACNS-BC, CCRN, patient safety manager at Roudebush VA Medical Center in Indianapolis. "Screening everyone is so important."
Screening for sepsis is within emergency nurses' scope of practice.
Pennsylvania: Pediatric ER reduces number of missed sepsis diagnoses
Mary Kate Abaddessa, MSN, RN, nursing champion for sepsis on the ED unit at Children's Hospital of Philadelphia (CHOP), and colleagues reported in the Annals of Emergency Medicine in June 2017 on how an electronic alert, developed in-house, helped clinicians identify sepsis in children in the pediatric emergency room, before it progressed to septic shock.
A positive result of the screening, which included pulse rate, concern for infection, and either abnormal capillary refill, a high-risk condition or abnormal mental status, leads to a team huddle called by the nurse to determine whether to begin the sepsis protocol. Missed cases of sepsis decreased.
"Time to initiation of therapy was improved," Abassessa said. "Nurses were involved from the start, and its success is solely dependent on their adherence to utilizing the alert appropriately. We have made a positive impact in our department."
Louisiana: ER nurses + analytics result in 18% drop in sepsis mortality
Thibodaux Regional Medical Center in Louisiana developed a sepsis response program, focused in the emergency department, to improve recognition and reduce time to treatment by using analytics from Health Catalyst in Salt Lake City.
ER nurses screen mental status, for infection and systemic inflammatory response syndrome (SIRS). The electronic system notifies the nurse of a sepsis warning or sepsis alert if certain parameters are met.
The nurses follow protocols starting the septic workup and notifying the provider. The effort has reduced sepsis mortality by 18 percent, to half the national average.
"You need some kind of electronic assistance, because it's hard at the beginning to determine whether or not they meet SIRS criteria," said Danna Caillouet, RN, at Thibodaux Regional. "The fact we were able to do that within our electronic medical record is why we were successful."
Caillouet agreed that nursing is key, and it's all about recognition of sepsis.
North Carolina: 9 of 10 sepsis cases present in emergency departments
Carolyn Scott, RN, senior vice president of PeraHealth in Charlotte, North Carolina, reports as many as 92 percent of sepsis cases present through the ED.
PeraHealth uses the Rothman Index, a statistically validated patient acuity score, to determine a patient's condition in real time. Scott explained that vital signs and lab results can be lagging indicators as symptoms of sepsis, but the PeraHealth analytics will pick up physiologic changes.
Its algorithm includes information from nursing assessments and if the patient is trending in the wrong direction, the system sends a warning.
"Sepsis is a leading cause of death in hospitals and one of the leading causes of readmissions," Scott said. "Mortality rates are so high."
According to the National Institute of General Medical Sciences, as many as half of the more than 1 million people in the United States who develop sepsis will die.
An ER nurse job description includes triaging and assessing patients for symptoms of sepsis, which can be subtle. Symptoms of sepsis include confusion, increased heart and respiratory rates, and fever.
"The problem with sepsis is that it looks like so many other things," Sprague said.
Emergency nursing requires being alert to all possibilities. Roudebush uses the SIRS screen plus asking about infection. She said a screen takes seconds to complete. If that screen is positive, the patient should have blood drawn for a lactate level, a blood culture, and receive IV antibiotics and fluids.
"For every hour you delay antibiotics, you increase chance of someone dying by 7.6 percent," Sprague said. "Antibiotics as soon as [sepsis] is recognized is key."
At the Roudebush VA, the ER nurse job description includes following a protocol that allows them to draw a procalcitonin level, which indicates bacteria in the blood and can help making a diagnosis of sepsis.
Even as some aspects of screening become more automated, screening and assessing for sepsis will remain important parts of the ER nurse job description. Picking up on the diagnosis early can speed treatment and improve outcomes.
"Sepsis is a medical emergency and just as important as treatment for stroke or MI," said Sprague, adding that all patients should be screened in the ED. "It's the place we need to begin to watch patients."