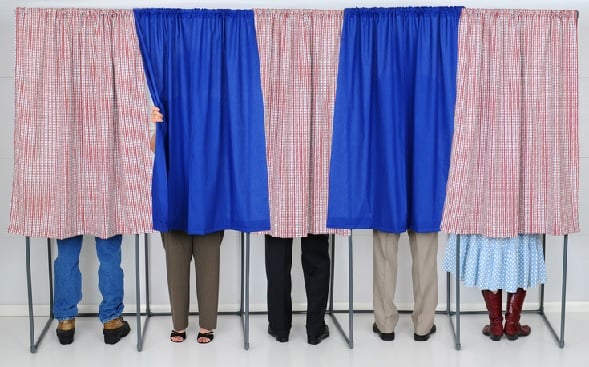 Election 2016: How Nurses Can Use Their Voices & Their Votes
Tired of the political rancor? See how nurses can spur positive change.
As members of the most trusted profession in the United States, nurses can wield a lot of political influence, both with their candidates and their communities. Yet many nurses don't know where to start.
"I view the bedside as one of the best places to see the direct impact health care policies have on our patients and how it affects their care," stated Kelly Hancock, MSN, RN, NE-BC, executive chief nursing officer (CNO) for the Cleveland Clinic Health System and CNO for the Cleveland Clinic main campus. "Over the years, our roles as nurses have really evolved into something larger; the impact we have to lead change right now is immense and will play a critical role in the changing health care landscape."
Communicating with legislators
"As a member of the American Nephrology Nurses Association (ANNA), I have regularly participated in our health policy workshop. As part of this workshop we go to Capitol Hill every other year and we each see our congressman and senator," explained Charla J. Scheve, MSN, APRN, FNP-BC, CNN, family nurse practitioner at People's Health in New Orleans and former treasurer of the ANNA.
"But nurses don't need to go to D.C. in order to influence politics," Scheve continued. "The best place to meet the candidate is on their home ground. Most politicians have local offices throughout their states and their aides will gladly set up an appointment for you. And, like most of the work world, it is typically better to send an email rather than call if you want to voice an opinion."
"I regularly contact my legislators and talk to them about my concerns regarding pending legislation," stated Katherine Evans, DNP, FNP-C, GNP-BC, ACHPN, the president-elect of the Gerontological Advanced Practice Nurses Association (GAPNA). "I established a relationship with my local state representative and invited her to speak at our local association meeting so she could understand what we are facing and so we could also learn how we can support her."
"Nurses have a unique expertise that we can provide to our legislators and it is important that they hear our voice," she continued.
Taking personal initiative
Litton points out that most of the professional nursing organizations have a political action group associated with them. That can be an avenue for nurses to become involved and gain advocacy experience within the group. There are often issues that focus directly on the specialty and also the broader nursing profession.
One step Evans has taken is putting herself in leadership positions where there is a need for a nursing perspective.
"I think any nurse can take a look at health care policy leadership roles and ask if there is a nurse at the table ... We need to find out where nursing isn't being represented and then get in there and represent," she encouraged.
Evans cited the power of the 2015 #NursesUnite Twitter campaign in response to disparaging remarks made about nurses on the TV show "The View." The hosts had made comments about Miss Colorado's speech about nursing at the 2016 Miss America pageant. As a result of the backlash, five corporations pulled their sponsorship of the show.
"We have seen the power of what our voices can do," she asserted, emphasizing that nurses need to stand together to see that their voices are heard.
"Nurses can influence policy at any level, whether it is at the bedside, the boardroom or in their communities," stated Nickitas. "I believe that nurses have the obligation to serve the health of our society and we need to know about the issues and the regulatory agencies that oversee our professions and make sure that we are advocating in a responsible and responsive way,"
"And in a final word, 'VOTE!' The importance of voting--and for that matter making sure you are registered to vote--cannot be emphasized enough," urged Hancock.
CAST YOUR VOTE for your favorite travel nursing job found in our extensive jobs database; APPLY to get started today!
Originally published on NurseZone.com
© 2016. AMN Healthcare, Inc. All Rights Reserved.