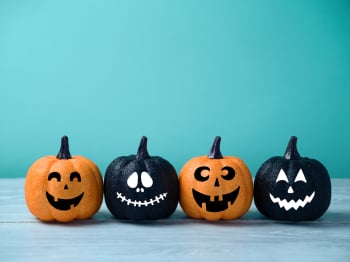 7 Creative DIY Halloween Costumes for Nurses
To celebrate Halloween, many hospitals and doctor's offices encourage their staff to dress in costume.  
Whether your floor is having a contest or you're just trying to put a smile on the face of your patients, check out our ideas for DIY Halloween costumes. 
1. Zombie Nurse 
This is probably not a good choice for a costume if you work in pediatrics, as the face makeup alone may scare younger children.  
However, a zombie nurse costume is pretty easy to pull off if it's the scary look you're going for.  
Just toss on some scrubs (that you don't mind getting face makeup on), give yourself some messy hair and use a bit of red and black makeup to make yourself look a little more deadly. 
You can even go a step further by adding baby powder or cornstarch to make your face ghostly white and black eyeshadow to complete your zombie look.
2. BLS (CPR) Card 
Print out a life-size version of the American Heart Association's BLS card — you might have to visit a printing shop to help enlarge it.  
Simply paste the large print onto a piece of cardboard or poster board, affix it to a piece of string or rope and hang it from your body. 
3. Marathon Runner 
Dress in running clothes — shorts or leggings, t-shirt and sneakers — and add some elastic wristbands and a headband.  
Print out two of the same marathon-themed numbers and tape it to the back and front of your shirt, and you'll be ready to be an active runner.  
This is a great costume for nurses, because it doesn't get in the way of the physical aspects of the job.
4. Spooky Vampire 
Forget the gory makeup and creepy blood capsules.  
All you need to be a convincing vampire is a large black cape, a fake widow's peak with some face makeup, plastic teeth and black lipstick. 
5. Aquarium 
If you're a mom-to-be, this is a fun idea that's also work-appropriate.  
Wear your favorite black maternity dress and convert your belly into a fishbowl aquarium using some felt cutouts and safety pins. 
6. Cat Costume 
Meow! A cute cat is always a safe, work-appropriate choice.  
Throw on some comfortable black clothes (or scrubs), add some ears, dot some black face paint on your nose and add whiskers.  
Finish off your cat face with some black eyeliner and you're done! 
7. Fruit Salad 
If you and a few nursing colleagues are dressing up together, consider going as fruit salad.  
Purple scrubs with large purple pompoms and a leafy head wreath make convincing grapes. 
Red scrubs with black felt polka dots with a simple green leaf hat can be a strawberry and yellow scrubs with crisscross brown patterns and a tall hat of leaves can be a pineapple. 
Keep these DIY costumes in mind and make sure your work Halloween celebration is safe, fun and entertaining.