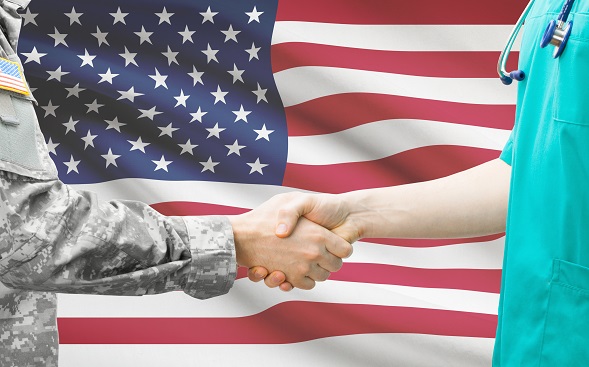 Caring for Veterans: What's Your Military Culture IQ?
Nurses often hear about cultural competence in nursing, and thoughts may go to caring about people from a different country or ethnic background. But cultural competency also comes into play when caring for military veterans. 
"Nurses that are culturally competent have an increased ability to be supportive, thus enhancing more significant therapeutic relationships with their veteran patients," said Tomeka Royster, DNP, FNP-BC, a faculty member with Kaplan University School of Nursing in Alabama.
Only about one-third of veterans seek care from a Veterans Affairs (VA) facility. The rest receive health services in the community. That means all nurses should be prepared to deliver culturally competent nursing care to this population. 
"Nurses will have veterans as patients," said Lisa Butler, PhD, associate professor in the School of Social Work at the University at Buffalo, The State University of New York, lead author of a 2016 study published in Military Behavior Health that asked veterans about the care they desired. 
EXPAND your cultural competence with travel nursing jobs across the U.S.
4 aspects of culturally competent nursing care for veterans
Understanding military culture
The military is a unique institution with its own values and culture. 
"The nurse is challenged to understand the person's regular culture and military culture," said Ora Strickland, PhD, DSc (Hon.), RN, FAAN, dean of the College of Nursing and Health Sciences at Florida International University (FIU) in Miami. "When you care for any patient, you have to consider all of those cultures."
Each branch of the military also has its set of customs and values, and jobs and deployments vary the military experience, added Maria Olenick, PhD, RN, chair of the undergraduate nursing program at FIU, which has several programs to better prepare nurses to care for veterans. 
Asking as the first step to culturally competent nursing care
Butler recommends nurses make it a standard practice to ask patients if they have served in the U.S. military, what branch and if they had a combat experience. 
Nurses will also want to know what a veteran patient's answer might imply about "the exposures they may have had or the kinds of things in their background that may be affecting the presenting condition or treatment," Butler said. 
Catherine Harrington, RN, BS, a hospice case manager at Norwell Visiting Nurse Association and Hospice in Norwell, Mass., said she always asks her patients if they had served in the military. The hospice provides nurses with special education in the care of veterans and has received We Honor Veterans certification from the National Hospice and Palliative Care Organization and the VA. 
Honoring their service
If the patient has served in the military, Harrington will notify a volunteer team that will deliver a plaque to the patient, thanking him or her for serving. 
Ingenue Willis, LPN, at the Georgia War Veterans Nursing Home in Augusta, also asks about her patients' service, saying, "It lets the veteran know that you are interested in their life journey, helps the veteran relax and trust in your skills." It also helps in developing an individualized plan of care.
Acknowledging the differences in veterans' care 
Veterans are proud, tough people who come from a culture of stoicism and strength. 
Tasha Ellsberry, RN, a FNP student in the Simmons University in Boston online nursing program, became interested in nursing as she has cared for her husband, who was injured during deployment and medically retired from the Army after 10 years. She said that asking for help may be considered a sign of weakness by some veterans, and suggested that nurses ask if the veteran has a VA-appointed caregiver.
"If they do ask for help, it should be taken very seriously, because it takes a lot for them to ask," Butler agreed. 
"Both their words and/or their silence may be a cry for help or an indication that an evaluation is warranted," Royster added. 
Olenick indicated that veterans tend not to be afraid, having been trained as warriors, and they usually do not show emotions.  
Veterans may suffer from post-traumatic stress disorder (PTSD). Butler suggests nurses screen for the condition. 
"Knowing about it, what it looks like and implications for treatment is important," she said. 
In the hospice situation, some veterans do not want to discuss PTSD and others may want to try to resolve the issues that have been haunting him or her, said Harrington, adding, "If it is too strong a memory, we try to stay away from it and keep to the present and making them comfortable."
Nurses also should be aware a veteran may have a traumatic brain injury and not look ill. 
"Invisible injuries and disabilities do in fact exist," Ellsberry said. 
Nurses working with veterans take pride in caring for people who have given so much to our country.
"It is an honor and a privilege to provide care to our veterans, who've sacrificed so much of their lives and family life," Willis said. "This reminds us that our freedom isn't free, as they've paid the ultimate price, risking life and limbs."
APPLY with American Mobile to advance your nursing career and start your travel nursing adventure.
Originally published on NurseZone.com.