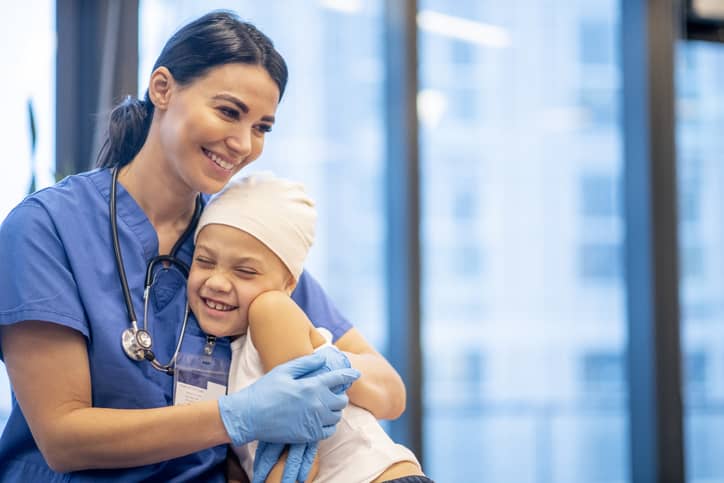 Career Series: Pediatric Nursing - A Challenging Yet Satisfying Career
By Jennifer Larson, Contributor
Pediatric nursing is about a lot more than just runny noses and sore throats. Today's pediatric nurses say the profession is very challenging but infinitely rewarding.
In fact, despite the challenges inherent in the practice of pediatric nursing in today's health care climate, many of them would encourage young people to consider this specialty because they've had such rewarding experiences themselves.
Browse thousands of nursing jobs at top-notch hospitals through American Mobile.
The Privilege of Working in Pediatrics
The work has affected Cynda Hylton Rushton, RN, DNSc, in a profound way.

 

"Working with children really creates a certain kind of vulnerability in our caregivers because children aren't supposed to get sick," said Rushton, an assistant professor at the Johns Hopkins University School of Nursing.

 

She focuses on palliative end-of-life care for children in her practice, which opens up a new set of challenges for her as a nurse. "They're not supposed to die. It adds a dimension of concern that sometimes you don't have with adults," she said.

 

Spending time with children and their families during this time is painful, but it's also a privilege, said Rushton, who is also the mother of two young daughters.

 

"It's the most intimate part of anyone's life. To share that with families…and help them through what is the most difficult thing any parent could face: the death of a child…" she said. "It's tremendously rewarding to be part of that process with families."

 

"If you can help families get through that part, you've really accomplished something," she continued. "You can't take away the grief, you can't take away the hurt, but you can help them go forward with their lives…to create meaning out of their child's life and their death and to be able to go on."

 

Diana Faugo, RN, BSN, works primarily with well children and children with curable illnesses, but her work is no less gratifying for her. Faugo, who is the district director for pediatrics and neonatal intensive care for Palomar Medical Center in San Diego County, California, had originally planned to become a critical care nurse. But when she moved to Escondido, California, from San Bernadino in the 1970s, the only job opening available was for a pediatric nurse. She took the job.

 

"It's funny how fate changes what your vision will be. I just fell in love with it," she said. "It's so rewarding to be able to go into a room…and to be able to do something for these kids."




The Challenge of Pediatric Nursing for New Grads

Although personally rewarding, the field does have its challenges. Increasingly, if you're a nursing student these days, you might receive only a cursory introduction to pediatrics and little to no clinical experience in this area during your schooling.

 

That concerns many pediatric nurses. They worry that future nurses might not receive enough information and training in pediatrics, as nursing schools struggle to fit everything into already crowded curriculum plans.

 

"There's been decreasing room in undergraduate education for pediatrics as a concentrated area of study," said Linda Lindeke, RN, Ph.D., a pediatric nurse practitioner and associate professor at the University of Minnesota School of Nursing.

 

Lindeke said she sometimes finds herself reminding others, "No, this is not optional. This is what every nurse needs to have."

 

Janice Selekman and Barbara Woodring published an article in the journal Pediatric Nursing in July 2002 about this issue. They detailed the concerns of pediatric nursing educators about decreased amount of pediatric content and clinical experiences within pre-licensure educational programs.

 

And there is often even less chance for nursing students to get clinical experience with pediatrics, Lindeke added.

 

It's even more important for nursing students to get a good introduction to pediatrics today, too, said Veronica Feeg, RN, Ph.D., editor of Pediatric Nursing, who agrees that there is not enough pediatrics education in many nursing programs today.

 

The required knowledge base and skill sets for this specialty area, like many others, have expanded, she said. In addition, the acuity and complexity of cases that pediatric nurses often encounter has increased.




Peds Patient and Family Education

The shorter lengths-of-stay for children in hospitals today may pose another problem for practicing pediatric nurses: they still have to fit in patient and family education, but they have less time in which to do it.

 

"We don't have a lot of time, so we have to be organized," Faugo said.

 

Without the luxury of extra time, pediatric nurses now need new ways to educate their patients' families, Feeg said.

 

She is working on a plan for Pediatric Nursing that would supplement journal articles with tear-out pages of information for parents on different diseases, strategies for care, immunization and other topics. Nurses could copy the pages and give them to parents before discharging their children.




Advocating for Children

New pediatric nurses may find that it can be challenging to work as a nurse in a pediatric unit in an adult care facility, Faugo said.

"Children are not small adults," she said. "They have very different needs and issues."

That doesn't just mean providing smaller doses of medications. Advocating for children in a facility that's primarily adult-oriented might also mean that nurses or nurse administrators make sure the facility carries an adequate supply of small gowns for small patients or puts kid-friendly foods like macaroni and cheese on the menu. A child might be more likely to eat a peanut butter and jelly sandwich--and begin to get well--than adult fare like liver and onions, Faugo added.




Pediatric Specialty Career Outlook

New pediatric nurses would certainly be welcomed into the field; the nursing shortage did not bypass this specialty. Large numbers of children receive care each year, and the need for care translates into the need for nurses.

 

Many pediatric nurses said that it's imperative that pediatric units have enough nurses trained in pediatrics because the job requires a myriad of skills. The nurses need good communication and education skills to work with children's families, Rushton said.

They must also provide a very specific type of nursing care, said Feeg, who has written an article about the "disappearing pediatric nurse" phenomenon.

"Where the shortage may be the same, the ramifications of the shortage may be more critical," she added. "We should all be concerned."

 

Children really do need nurses specially trained in pediatric care because patients on hospital units now are very acute cases, and nurses must have the skills to work with these delicate cases, Lindeke said.

 

Nursing students and nurses interested in pursuing pediatric nursing may have to take a proactive approach to learning more about the specialty.

 

Feeg recommended seeking out information by reading journal articles and talking to practicing pediatric nurses. Lindeke suggested that nursing students interested in pediatrics take a babysitting job or volunteer position that requires working with children.

 

For more information, visit these Web sites:

Pediatric Nursing

, the journal focusing on professional nurses in pediatric practice, research, administration, and education.

Originally published on NurseZone.com.




© 2016; Updated 2018. AMN Healthcare, Inc. All Rights Reserved.