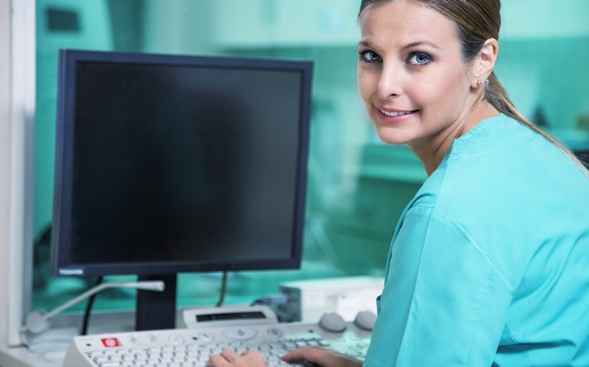 Best Practices to Limit the Risk of EMRs
Hailed for their ability to improve the quality and safety of patient care, electronic medical records (EMRs) also pose unintended risks to patient safety. In fact, ECRI Institute placed health IT configurations and organizational workflow first in its 2016 list of Top 10 Patient Safety Concerns for Healthcare Organizations.
"Electronic records in so many ways are improving our ability to coordinate and give better care," said Patricia McGaffigan, RN, MSN, chief operating officer of the National Patient Safety Foundation (NPSF) in Boston. "At the same time, there might be abilities in the system that create risk, such as cutting and pasting someone's prior medical history."
---
Expand your EMR abilities and work experience with travel nursing jobs.
---
Avoid the dangers of copy-and-paste shortcuts
Copying and pasting is a common practice, reported Tejal K. Gandhi, MD, MPH, CPPS, NPSF president, in an April 2016 report. Research indicates up to 90 percent of records contain copied and pasted text. However, medications change and patient histories change. Nurses may populate the record with inaccurate information by taking this shortcut.
"Cutting and pasting is a very dangerous approach to entering information into the electronic health record," McGaffigan said.
The Partnership for Health IT Patient Safety has released guidelines for safe documentation practices using copy and paste, such as highlighting that section as having been copied and pasted, identifying where the material came from, training nurses about the risks and monitoring the practice.
"Every note should be an original note," advised Jeremy Lewis, RN, MSN/Ed, an adjunct professor at Kaplan University School of Nursing. Hospital quality assurance teams can audit the notes to ensure they capture the right things, contain everything they should and are not copied.
Jeanette Ball, RN, delivery manager at Computer Task Group in Buffalo, N.Y., called copying and pasting a human error: how the human interacts with the computer. She has seen copying and pasting on physical exams. She suggested using a template.
"At every single engagement, there are certain things that are always updated," Ball said. In a medical office setting, allergies, medications, problem lists and dates of the most recent screening tests must be current or the provider might miss something important.
Avoid working in multiple patient records
Another dangerous practice is having more than one patient record open at the same time, Ball said. This often happens when a nurse is entering data on one patient and someone asks a question about a different patient. Now two files are open, and the nurse may accidentally start entering data on the wrong file without realizing it.
ECRI recommends incorporating patient photos into the electronic medical record to assist with identification and involving patients in the documentation.
Review EMRs with patients
The American Association of Critical-Care Nurses Clinical Scene Investigator Academy team at Regional Hospital for Respiratory and Complex Care in Burien, Wash., incorporated a review of the patient's EMR with the patient and family into bedside shift reports.
"These conversations between family, patient and nursing staff led to a more collaborative approach to care," said Christi Sifri, RN, MN, Regional Hospital's chief nurse executive, in a written statement. The team found their efforts led to fewer falls and medication errors due to miscommunication. These conversations also give the patient a chance to correct something that was wrongly entered into the record.
Additional best practices for using EMRs:
• Include facts that can stand. Lewis reminded nurses that everything must be factual and something they can stand behind 20 years from now.
• Use a privacy screen. He also recommended the computer have a privacy screen, so someone cannot look over the nurse's shoulder.
• Create a strong password, added Lewis, something colleagues cannot guess. Some hospitals have transitioned to a badge system to cut down on password issues.
• Don't share passwords (ever), Ball and Lewis agreed. For instance, a provider letting the nurse enter the data, including orders in the EMR, can lead to errors. "Those are big red flags," Ball said.
• Always sign off. Nurses should always sign off before letting the next person use that computer.
• Never access a record of someone who isn't your patient. Nurses should not access a family or friend's record nor a celebrity's record. The EMR will know and it could lead to HIPAA violations and actions taken against the nurse's license. "By law, you cannot access someone else's medical record if you are not providing direct patient care or have another reason to be in the chart," Lewis said.
© 2016. AMN Healthcare, Inc. All Rights Reserved.