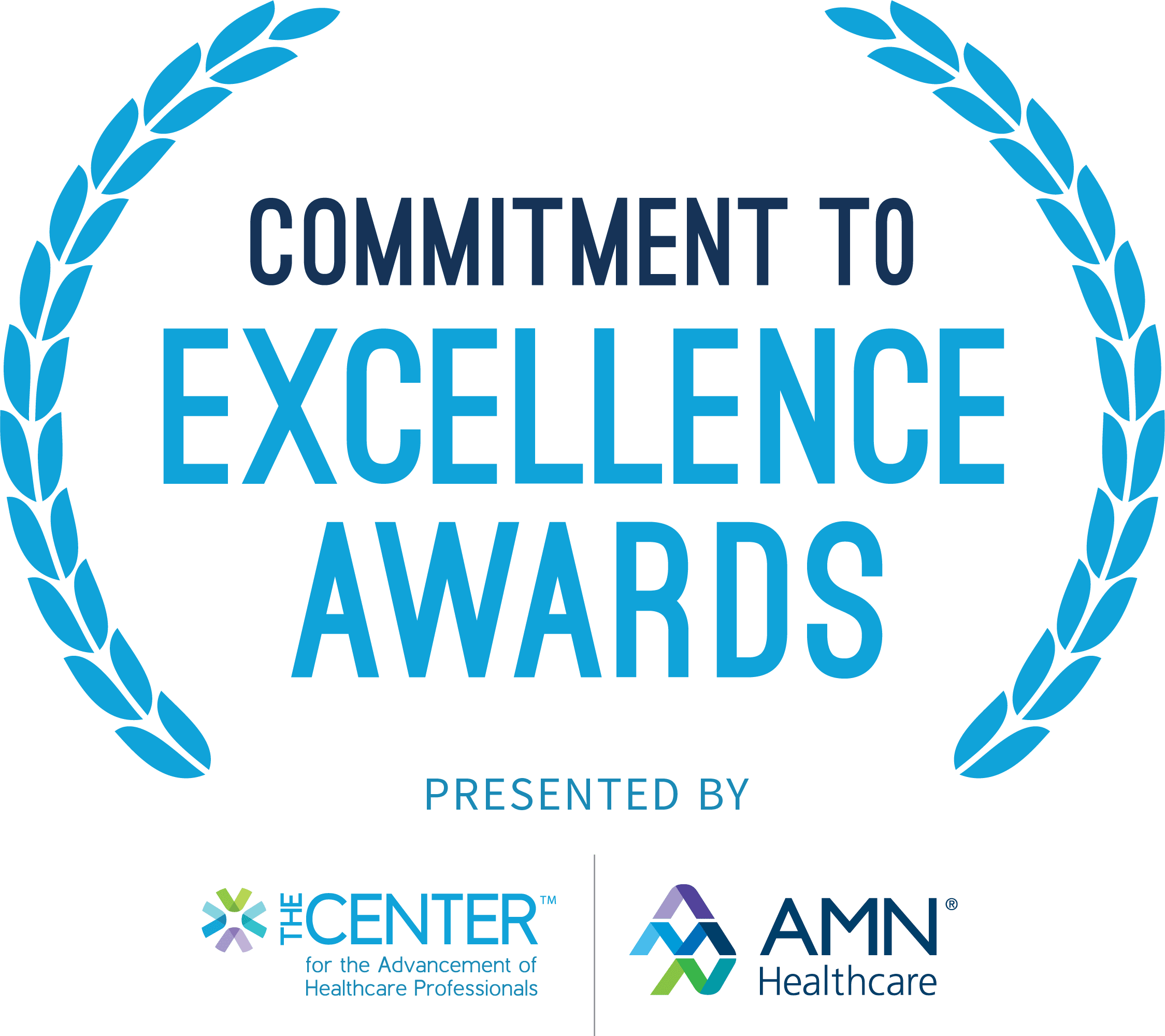 AMN Healthcare Celebrates the 2020 Commitment to Excellence Award Winners
We are proud to announce the winners of AMN Healthcare's 2020 Commitment to Excellence Awards.  The Commitment to Excellence Awards includes four categories that nurses are nominated for: Overall Excellence, Compassion, Passion, and Innovation. 
The four winners are annually chosen by a committee of AMN clients, clinicians, and recruiters. With this year being the Year of the Nurse, as well as, Florence Nightingale's 200th birthday, these awards bring extra meaning. All of these nurses exemplify the best of the profession, and we are glad to share their stories with you.
"It is an honor and privilege to practice with these four amazing nurses. Their contributions and impact are an inspiration to all of us in healthcare. Nursing is an art and science, founded on a love of humanity, this is embodied in Sunitha, Ebony, Nicole and Erin as professional nurses and role models for us all," said Dr. Cole Edmonson DNP, RN, NEA-BC, FACHE, FAONL, FNAP, FAAN, chief experience and clinical officer at AMN Healthcare.
Sunitha Ninan: Winner of the Overall Excellence Award
This year's Overall Winner of AMN Healthcare's Nurses' Week Commitment to Excellence Award goes to Sunitha Ninan, RN, BSN, MA!
Sunitha came to the United States from Dubai last summer with her husband and two children, thanks to the help of O'Grady Peyton International, AMN Healthcare's international recruitment agency.  Today, she is a registered nurse working in the intensive care unit at Bay State Medical Center in Springfield, Massachusetts. 
Her patients give her rave reviews. They call her "dedicated," "a delight to have as a nurse," "a joy to be around," and "just awesome!"
She looks for ways that she can help them, whether it's calling the chaplain or arranging for the hospital's therapy dogs to pay a visit. She gives hugs. She checks in on patients to make sure they're comfortable. She takes time to listen to her patients' concerns and then follows up to make sure that the concerns are addressed. 
Sunitha also likes to find ways to give them hope, in whatever way she can. Hope can help patients cope with being in the hospital, and it can aid them in their recovery. Sunitha knows how important it is to encourage patients and their families when they're feeling scared or anxious. Especially in the ICU, where patients are often very sick. 
"I give them positive strength," she explains. 
RELATED: ICU Nurse Wins Overall Excellence Award from AMN Healthcare 
Nicole Punch: Winner of the Compassion Award
When she has a few minutes to spare, you might find Nicole Punch, RN, sitting in a patient's room, holding their hand.
Nicole knows that it can be lonely and even a little frightening to be a patient in a hospital in the best of times. During the coronavirus crisis, it can be especially isolating. She doesn't want patients to feel alone and scared. So, she slips into their room and focuses all her attention on them. 
"Even if it's just small talk, it makes them feel like they're not being treated like any other patient," she says. "They're not. They're my patient." 
Early in Nicole's nursing career, a mentor told her to treat every patient she encountered as if they were her parent or grandparent. That advice particularly resonated with Nicole, who vividly recalls visiting her grandfather, who had metastatic cancer, in the hospital in Louisiana during this last weeks of his life.  She also remembers the nurses who gently cared for him. And she has let that experience guide her.
Nicole, who is wrapping up a travel nurse assignment in Boston, also cherishes being a part of a team. "Every hospital I've worked in has had a really good sense of community," she says. "You know that somebody is always there to back you up if something is going on. And there's always somebody to talk to if you're having a rough day or a rough shift."
The "we're all in this together' mentality is not lost on her colleagues, who know that Nicole is always willing to lend them a hand in return.
In fact, Nicole's compassion for everyone around her makes her stand out in the crowd.
"She is a team member everyone is thankful to see clock in," says Jordan Linscott, a fellow travel nurse and good friend of Nicole's. 
Erin Reeves: Winner of the Passion Award
Erin Reeves, RN, remembers when she had an epiphany that changed her life. 
After struggling to find a career that really appealed to her, she took a job as a medical assistant. She put the scrubs on, and she felt proud that she was going to be helping people. Then she realized that she could be a nurse and do so much more. The path was suddenly very clear. 
"From that moment on, I knew what I wanted to be and who I wanted to be," she says
Nursing became her calling. And she became an ER nurse because it allowed her to see a little bit of everything--sometimes all in one shift! "You get to do it all," she says with a laugh.
Eventually, Erin decided to give travel nursing a whirl. And sure enough, she discovered she loved travel nursing, too. The opportunity to work at a job she loves and get time off to travel to places like Cuba and Iceland and Europe was irresistible to her. 
In fact, she realized she loved the travel nursing lifestyle so much that she invested in a converted camper van, which she customized and upgraded to meet her needs, to make it easier for her to travel for her work. She calls her new home on wheels "Roomba," after a nickname that she had bestowed on her beloved dog, Shilo, who used to travel with her. She gets permission to park in a lot for oversized vehicles when she takes a new travel assignment. 
Erin is so passionate about being a nurse that she won't let anything get in her way of doing a job, not even a car accident. Last December, she had just started a three-month contract at a hospital in Santa Rosa, California, in an area that had been hit hard by wildfires. Then a car accident injured her back.  She couldn't see herself leaving her new employer--and the other nurses--in the lurch. 
"I called them and let them know that I was in this accident," she recalls. "And I said, 'But I made you guys a promise and you really need some help.'"
She took about a week off and then showed up to work anyway. She was grateful for the team members who supported her.  "I stayed and I worked, and I pushed through the contract," she says. 
That's just who Erin is. She's a nurse. She's a nurse who's passionate about what she does. 
Ebony Fahie: Winner of the Innovation Award
Ebony Fahie, RN, is the kind of nurse who always finds a way to make a difference. 
She could just enjoy relaxing and visiting with her friends when she's in between travel nurse assignments. But Ebony has lots of energy. So, when she's not on assignment, you'll probably find her helping out with the health ministry that she helped launch at her home church, St. John's Missionary Baptist Church, in Middlesburg, Florida. 
And as a home care nurse, Ebony approaches each day as an opportunity to learn. Her goal is to consider changes and improvements that she can make when tackling a challenging situation, all in the name of achieving better outcomes and helping her patients get better. 
"In home care, you have to be a jack of all trades," Ebony says. "It's like that box of chocolates. You never know what you're going to get. But you do have to be prepared to deal with what you get."
If one of her diabetes patients is struggling with the right diet, she helps them figure out how to safely incorporate foods with carbs into their diet. She helps patients recover from surgery. She keeps a close eye on congestive heart failure patients who need regular monitoring. 
And one of the best parts of the job, in her opinion, is the chance to educate patients. Sometimes patients don't make the connection between their behaviors and the impact those behaviors have on their health. Ebony can explain it to them in ways that they can understand. 
"What I like best about home care is the fact that I can spend more time teaching and helping a patient to remain healthy," she says. "In the hospital, you don't always have that much time to sit there and teach. This way, they can remain healthy and they can remain home longer."
Ebony often mentors and trains new nurses, and she lets them in on the tenets of her job that she holds most sacred. First, she tells them to ask themselves each day if they made a difference in their patients' lives that day. Then, she urges them to thank their patients for the honor of caring for them.
Because Ebony bids farewell to her patients with these words, "Thank you for letting me be a part of your healing process." 
It really is that important to her. 
"You become a part of their life, rather than just a part of their day," she explains. "I went into home care so I could become a part of their life." 
Follow these types of stories and more @amntraveler or Like our Facebook page.