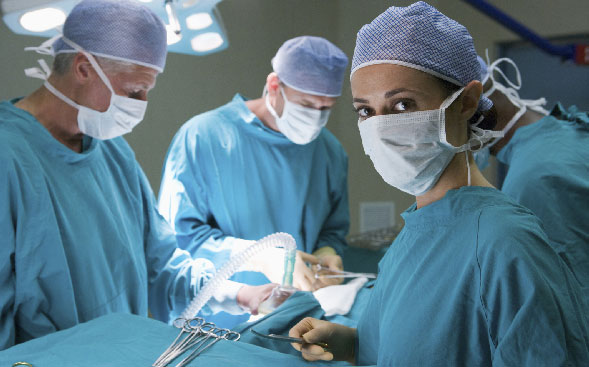 American Mobile Salutes Surgical Technologists
A recruiter for travel surg techs shares his appreciation
Surgical technologists, or surgery techs, play a critical role in the operating room and in the care of surgical patients. Working side by side with surgeons and nurses, surgery techs help prepare the OR for surgery, including gathering and arranging the instruments that will be used during the procedure. Surg techs scrub into surgery and not only pass instruments to the surgeon but they can be called upon to be very "hands-on" with a patient as they assist the surgeon.
During National Surgical Technologists Week, September 18-24, 2016, American Mobile Healthcare honors surgical technologists for their commitment to the job, the long hours they spend on their feet, their attention to detail, their ability to be team players, and for all they contribute to the well-being and care of their patients.
Lance Bowman, senior recruitment manager for American Mobile, an AMN Healthcare company, finds placements for and supports travel surgery techs.
"As a company, we value surge techs and what they do as much as any other healthcare professional. We recognize that working as a surgery tech can be a thankless job, but here at American Mobile we appreciate what you do want and thank you for representing us so well!" commented Bowman.
When it comes to working travel assignments, surgery techs with experience in ortho, neuro, and cardiac are the most sought after. Being certified also gives a tech a leg up on the competition.
Bowman notes that he can typically find work for a travel surgery tech in any state that has a major metropolitan area. Other common placement locations are with American Mobile's exclusive contract hospitals, including Stanford in Palo Alto, Calif., the Kaiser system throughout the West Coast, New York-Presbyterian in New York City, and Johns Hopkins in Baltimore, Md.
"The hard work surgery techs put in is essential to operations running smoothly and safely," noted Bowman. "As a recruiter, I value the team relationship we build together and helping my people meet their goals."
One surgery tech on Bowman's team is Vicki Rose, who has worked a number of travel surgery tech assignments with American Mobile over the past several years. She began her travel career to help her daughter through college.
"My daughter is now an accomplished RN at Strong Memorial Hospital in Rochester, N.Y.," Rose said. "She became such an inspiration to me as she was studying through college, that I was able to go back to college while traveling and finish my B.S. in psychology and healthcare administration."
"I enjoy the opportunity traveling gives me to increase my knowledge and understanding of cultural competence as I move in and out of different OR settings," Rose continued. "The many different staff members I have met during my travels have added to my life and given me a better understanding of the intrinsic nature of people and how I can work better with them as a team member in their environment. What's better is how we come together to save lives--that really takes a lot out of us in a split second--and that is why we need to work as a team."
In a final word to surgery techs, Bowman stated, "Thank you for all your service and hard work."
---
Looking for travel surgery tech jobs or nursing jobs in your specialty? Search American Mobile's extensive jobs database, or apply now to get started!