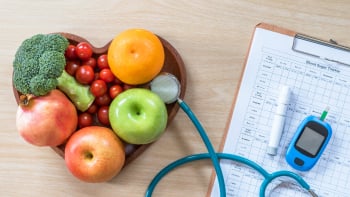 American Heart Month: 5 Ways to Keep Your Heart Healthy
February is American Heart Month, and hospitals, doctor's offices and other medical facilities across the country are celebrating by helping patients and medical personnel make healthy heart choices.  
After all, heart disease is the leading cause of death among men and women in the United States — 1 in 4 deaths are caused by heart disease annually. 
The good news is, heart disease prevention is manageable when people make healthy choices for their diet and manage any existing conditions. 
5 Tips for Keeping Your Heart Healthy and Preventing Heart Disease 
1. Eat a healthy, balanced diet 
Be sure to eat lots of heart-healthy foods and avoid unhealthy fats, especially trans fats, as much as you can. Trans fats may increase your risk of developing heart disease or having a stroke over your lifetime. Focus instead on adding a variety of heart-friendly foods to your diet, including: 
Leafy green vegetables
Whole grains
Berries
Avocados
Beans
Tomatoes
Dark chocolate
2. Get plenty of exercise
Staying active throughout the day is important — especially if you have a job where you're sitting for most of the day. For nurses who work in doctor's offices or hospital floors, it's easy to stay active during your shift since you're on your feet most of the time. 
Consistent exercise outside of work is important also — aim for 75 to 150 minutes of vigorous exercise each week, according to The Physical Activity Guidelines for Americans. 
Physical activity strengthens your heart, improves lung function and reduces your risk factors for coronary heart disease or heart attack.
3. Take care of your teeth 
This may seem surprising, but there appears to be some connection between good oral health and heart disease.  
According to the Mayo Clinic, more research is needed to fully understand it; however, several scientific studies have shown a relationship between heart disease and oral health. 
Gum disease is associated with an increased risk of heart disease.
Having poor dental health can increase your risk of a bacterial infection in the bloodstream, which can ultimately affect heart valves.
Patterns of tooth loss are connected to coronary artery disease.
Flossing and brushing your teeth daily is the best way to ward off gum disease.
4. Get plenty of sleep 
Sleep is essential to maintaining a healthy heart, as many studies have shown a relationship between the amount of sleep you get each night and your risk of developing heart disease.  
In one particular study, mortality rates from heart disease, cancer and stroke were lowest for individuals sleeping an average of 7-8 hours a night. 
Another study demonstrated that among data collected for 3,000 adults over 45, those who slept fewer than 6 hours a night were about twice as likely to have a stroke or heart attack compared to those who slept between 6-8 hours.
5. Don't smoke — and avoid secondhand smoke 
In the United States, smoking is the leading cause of preventable, premature deaths. Exposure to tobacco smoke causes about 480,000 premature deaths each year in the U.S., and of those, 39 percent are from heart disease or stroke. 
Not smoking and avoiding secondhand smoke is one of the best ways to keep your heart healthy. 
Make sure to take these tips to heart — literally — as you educate patients and celebrate American Heart Month during the month of February.