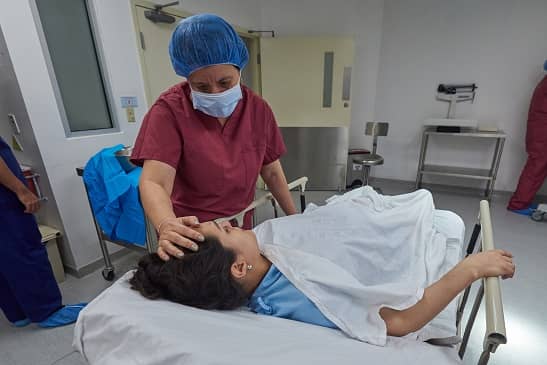 America Joins Nursing Now Movement
Nurses across the United States have joined the World Health Organization's Nursing Now campaign to empower and support nurses to lead by joining the movement.
"Nursing Now is part of a global effort focused on raising the status and profile of nurses to promote health of all, to promote gender equality and to support economic growth," said Ernest Grant, PhD, RN, FAAN, president of the American Nurses Association, at the launch event. "Nurses are part of the essential fabric of our communities. Working together we can make a difference. Nurses can lead America to health."
Achieving the goal will require collaboration. The University of North Carolina at Chapel Hill School of Nursing, University of Washington School of Nursing, ANA and the U.S. Public Health Service Chief Nurse Officer will provide strategic direction for the USA's campaign.
"This collaboration hit a home run," said Rear Adm. Susan Orsega, MSN, FNP-BC, FAANP, FAAN, chief nurse officer of the U.S. Public Health Service.
Regardless of where nurses work, they play an important role in delivering health care, she said. However health disparities exist across the country. With technology and other tools and knowledge and teamwork, those problems can be overcome.
"It's incumbent upon all of us to lift our profession up and raise our voices, because we have a responsibility to address health inequities," Orsega said. "We are the linchpin to improving health and advancing the nursing profession."
What is the Nursing Now Global Effort?
The World Health Organization WHO launched the three-year Nursing Now campaign in 2018, as a program of the Burdett Trust for Nursing, in collaboration with the International Council of Nurses. WHO estimates the world will need 9 million more nurses and midwives by 2030.
Nurses founded the campaign, which draws from the findings in the Triple Impact report from the All-Party Parliamentary Group on Global Health, calling for improving health, promoting gender equality and supporting economic growth.
Ninety-two countries have signed on, including Algeria, Brazil, Australia, Jamaica, Russia, Zambia and Pakistan.
Leadership perspectives
Butch de Castro, PhD, MSN/MPH, RN, FAAN, associate dean for diversity, equity and inclusion at the University of Washington School of Nursing in Seattle, called Nursing Now an opportunity to advance diversity and foster inclusivity. He hopes to increase recruitment of nurse candidates from under represented communities to shape the power of nursing.
"This work is especially critical for engaging the next generation of nurses," de Castro said.
Another leader of Nursing Now, Nilda Peragallo Montano, DrPH, RN, FAAN, dean of the University of North Carolina at Chapel Hill School of Nursing, talked about "the unique and indispensable capacity of nurses to improve health and transform health care around the world. That is why Nursing Now is so timely and the U.S. involvement so crucial."
Montano called Nursing Now a catalyst for great leadership and urged nurses to spread the word about nurses' ability to promote health.
Barbara Stilwell, FRCN, executive director of the global Nursing Now from the United Kingdom, said nurses lead to healthier people, to stronger economies and for women to contribute to gender equity. She urged the world to invest in nurses and nurse leadership.
"Nursing is not a cost; it is an investment," Stilwell said. "We have to show how nursing contributes to health."
Nursing and the Nightingale Challenge 2020
The year 2020 would be Florence Nightingale's 200th birthday, and WHO will declare 2020 the Year of the Nurse and Midwife.
Nursing Now will launch the Nightingale Challenge 2020 in June 2019. It calls on every major employer of nurses to provide leadership training for 20 young nurses and midwives. Seven hospitals and health trusts have committed to providing the leadership training. If 1,000 employers sign on, that will lead to 20,000 young nurses with additional education to influence global health.
"The reason we are going for young is we want to change the culture of nursing," Stilwell said. "We want nurses to see themselves as disrupters and influential."
Get involved
Nurses are innovating and leveraging technology, said Bonnie Clipper, DNP, RN, FACHE, vice president of Innovation at the ANA. They are starting businesses and managing practices.
"Lean in, get involved," Clipper advised. "The innovation space is huge and fun."
Sue Birch, RN, director of the Washington State Health Authority in Olympia, called on nurses to speak up, get involved in the political arena and shape policy, adding that health takes place on the local level.
"This is our year, and this is our time," Birch said.
Kelsey Hirsch, PhD, RN, an oncology nurse and a faculty member at the University of Washington in Tacoma, called Nursing Now an opportunity for all nurses to educate people about the role of the 21st-century nurse.
Hirsch called on nurses to join the Nursing Now USA initiative "to position nurses as more than caregivers, as vital leaders in advancing America's health through policy, innovation and informed care delivery." Urging them to "sign up to support this initiative, show up at events and activities that support the effort and stand up for our profession, so we are seen as vital leaders in health care."