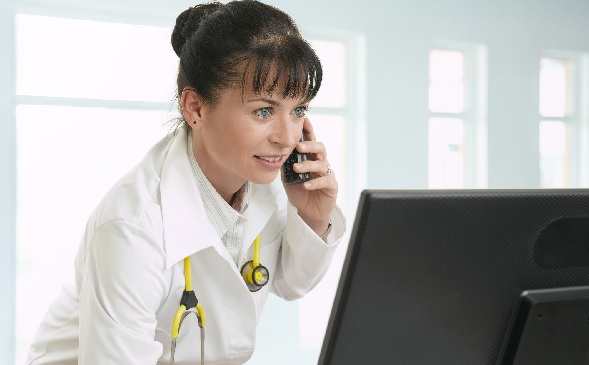 A Telehealth First for Home Dialysis Patients
Home dialysis patients in small communities often have to drive long distances to visit their nephrologists, straining an already difficult situation. But a new study is finding that telehealth visits may be able to stand in for face-to-face doctor appointments. It is believed to be the first study of its kind in the United States, and could influence future patient care and work environments for dialysis nurses.
Eric Wallace, MD, a nephrologist and University of Alabama at Birmingham assistant professor of medicine, is conducting this pilot study through a UAB School of Medicine partnership with the Alabama Department of Public Health.
Two of the patients involved in this study include Ellen McGowen, 63, who visits with Wallace from the Colbert County Health Department in Sheffield, Ala., 115 miles away, and Mary Epp, 84, who visits from the Dallas County Health Department in Selma, 88 miles from UAB.
Wallace is able to give home dialysis patients like McGowen and Ebb full checkups. With the use of a high-definition, handheld examination camera, he can check each patient's legs for swelling, her mouth for signs of dehydration, and her dialysis catheter for redness, drainage or other signs of infection. He even listens to each patient's heart and lungs with his Bluetooth-enabled stethoscope, and a nurse draws blood to be shipped to a central lab for testing.
"What these dialysis visits mean for Alabama is what I'm most excited about. If I can provide a fully comprehensive telehealth visit for a home dialysis patient--which is one of the most complicated visits to do--then I can do this for any patient and virtually any disease."
SIGN UP for free job alerts for dialysis nurses and other specialties.
Reimbursement issues hampering telehealth access
Most states have developed very robust telehealth networks and more than half have laws in place requiring coverage for telehealth-provided services. Alabama has not enacted such health parity laws. However, Blue Cross/Blue Shield of Alabama began to reimburse telehealth costs for five health conditions in December 2015--cardiologic and dermatologic conditions, infectious disease, behavioral health, and neurologic diseases, including stroke.
"What Blue Cross/Blue Shield did is a fantastic step in the right direction, but many other patients with other disease processes could benefit from this technology," Wallace said.
Partnering with the public health department  
The ADPH began developing a statewide telehealth network at county health departments in 2015 to work with medical partners to build an infrastructure that would provide greater access to care. The partnership with Wallace at UAB led to the first dialysis telehealth visits in March 2016. Currently, 13 patients from seven counties are enrolled in the study with a targeted enrollment of 40.
"There are so many patients in our state who have little to no access to subspecialty care like nephrology and have limited access to home dialysis care," Wallace said. "As soon as telehealth carts are deployed, UAB physicians could get to any county in the state."
Improving quality of care and quality of life
Telehealth can also cut down on the time involved in caring for a major disease. That includes driving to clinic visits, waiting in waiting rooms, taking off work and maybe losing pay because of it, and being away from loved ones. "My hope is that telehealth will provide the patient less time caring for their disease and in turn will improve their quality of life," Wallace said.
Wallace estimates up to 1 in 4 of his patients are driving more than an hour to Birmingham for their visits. Virtual visits would solve this issue.
"Now that we are showing it can work clinically and be better for the patients, there is so much more that is possible," he said. "I hope this is just the beginning for telehealth in our state."
Source: UAB
Looking for dialysis jobs? American Mobile has numerous opportunities across the U.S.