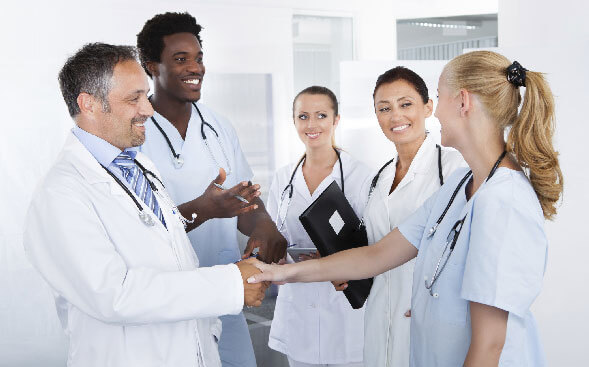 What are Hiring Managers Looking for in New Nurse Graduates?
The current economic climate has kept more experienced nurses in the workforce and made securing a nursing job a little more competitive, so new nurse graduates need to be prepared, poised and in position when beginning the job search. As a new nurse it is important to prime yourself to be the best candidate possible, as positions at the best hospitals and programs always fill quickly.
In order to stand out from the rest of the candidates, new nurses need to do their research, prepare for the interview and let their confidence and clinical knowledge shine through. Here, nurse leaders share their insider secrets on what hospitals are really looking for in new nursing school graduates.
Characteristics of a Caretaker
Kimberly Horton, MSN, RN, FNP, DHA, vice president and chief nursing officer at Mercy Hospital and Mercy Southwest Hospital in Bakersfield, California, said that hiring managers look at personality and critical thinking skills when hiring new grads.
"Knowing that new nurses are very green in regards to their technical skills, we look to whether a nurse is really ready to step into the profession," Horton said. "We are looking for those who are really interested in making life better for people who are suffering."
There are many characteristics that we look for when hiring a new graduate, Horton said. "We look for someone who is compassionate, nurturing and has a desire to learn and grow."
Maria-Jean Caterinicchio, RN, MS, director of workforce development for Orange County Memorial Care University and board member of the Association of California Nurse Leaders (ACNL) said that she concentrates on personality, attitude and talent when hiring new graduates.
"We expect our new nurse graduates to have the basic fundamental nursing knowledge and we are also looking for compassion, a sense of teamwork, accountability and communication," Caterinicchio explained. "We look for an attitude of collaboration and communication."
Acing the Interview
As far as the actual interview and hiring process is concerned, Horton says the best piece of advice she has for new graduates is two-fold--always be honest and never stop asking questions.
"The best thing for a new graduate to do is be honest about what they are good at and what they may need to work on," Horton said. "Never be afraid to ask questions."
Caterinicchio also encourages graduates to be as honest as possible in the interview, and to come prepared with specific examples of experiences that exemplify both strengths and weaknesses.
"When we interview, we ask candidates to give specific examples of situations that highlight the characteristics we are looking for--such as accountability, team work and communication," she said. "Give examples of clinical experiences during the interview, or how you reacted when you received criticism or how you've handled a difficult patient or customer."
Research, Preparation and More…
An important element to any hiring process is research, Caterinicchio stressed. "Come prepared," she said. "Research the organization. It makes a nurse look so much better when they have done their research. They need to see if the facility is a good fit, and ask themselves, 'Is this a place that is going to support and nourish me in my growth as a nurse?"
She also recommends that every nurse arrive at the interview with a résumé. "I really recommend having a résumé. It should state where you have done your clinicals and any certifications such as EKG and ACLS. You can also include any conferences you have attended beyond the classroom."
Preparation and a positive attitude are key to standing out amongst other new nurse graduates, especially during these uncertain economic times.
"Every hospital is facing financial challenges," Caterinicchio said. "They are looking at the best new grads out there that they want to invest money in. Even though there is a nursing shortage, it is still very competitive."
Originally published on NurseZone.com.
© 2016. AMN Healthcare, Inc. All Rights Reserved.