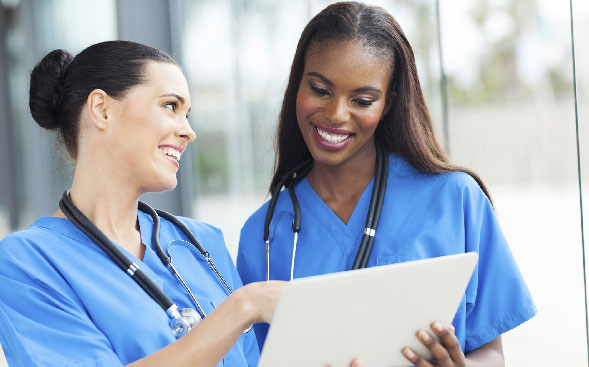 Real-World Advice for New Nurses
So, you're a new nurse. How does it feel? Are you overwhelmed? Starting to become comfortable? Adjusting to the pace? Do your feet hurt? Do you find yourself thinking about your patients or actions you performed even after you are at home?
These are all normal reactions to the stress of the first few months of a nursing position. You have transitioned from the role of student to that of professional with serious responsibilities in a short period of time. It's no surprise that it takes some adjustments.
As you grow into your new role, remember that countless others have made this transition--and survived! Nurses, who have passed through those first 90 days, can relate specifically to what you are going through and offer real-world advice.
"Make sure that your preceptor fits your learning style and ask all questions that come to mind," advised Lunette Castillo, RN, a new nurse in the adult surgical heart unit at Christ Medical Center, in Oak Lawn, Illinois. "If your preceptor does not fit your learning style/needs, then request another preceptor. Don't be afraid to speak up!"
Being a team player also helps create a better rapport with experienced nurses. "Remember that small gestures can make big differences, [such as] hanging a courtesy bag of IV fluids, removing IV bag/tubing if the cap was left off, labeling IV tubing, etc.," said new nurse Juanita Allen, a hematology/oncology nurse at Pennsylvania Hospital, in Philadelphia.
"The nurse is the glue that holds patient care together," added Shelby Wintermute, RN, about what she first noticed as a new cardiac nurse at Licking Memorial Hospital, in Newark, Ohio. "Nothing happens without the nurse. We are the communication link that connects the physicians, pharmacy, RT, PT, and so on to the patients and their care."
Adjusting to your role as patient advocate and communicator takes time and effort, but hopefully, you are also experiencing some of the personal rewards that nursing can bring to you. Realizing you can truly make a difference in a person's life is rewarding. Just ask Nina Vella, RN, a new ICU nurse at St. Edward Mercy Medical Center, in Fort Smith, Arkansas.
"Being a nurse will change your life. It changes your outlook on a lot of things--makes you more passionate about some, thankful for some and just down-right mad about others," Vella said, adding that the best part of being a nurse is "getting to genuinely make a difference in someone's life. When a patient tells you 'thank you for saving my life,' you can't help but to be proud. When you get to watch a patient that you didn't know would live or not walk out of a hospital and know that you are a part of the reason they can live again, you can't explain the feeling!"
Getting it right
Each day you gain new skills and new confidence.
"I've learned that I need to be patient with myself. As a new nurse, I'm not going to know everything or always do everything exactly right at first. So, my advice would be to give yourself time, learn from everything and don't sweat the little stuff," said Kerry Willis, RN, a new critical care nurse at Tampa General Hospital in Florida. "The worst part is feeling like you just are not prepared. Slowly but surely those feelings subside with each and every new experience. As a new nurse you must learn to grow from every experience."
Depending on your specialty and the facility where you are working, you may still be in orientation, or be looking at completing it soon. In either case, on a daily basis, familiarity with patients, procedures, other staff and even simple items like how to make sure a sample gets to the lab, are increasing. Just knowing these simple items makes each day "easier" than the one before.
At some point, you transition from "novice" to "advanced beginner," according to Patricia Benner, who discusses this transition in her book "From Novice to Expert" (Prentice Hall, 2001). As an advanced beginner, you start applying basic knowledge to different situations. Similar patient types or situations are occurring and you can apply the knowledge you have to slightly different situations.
As an advanced beginner, you will have gained rapport with staff, patients, physicians and others. You have skills you can perform independently. You can assess, plan, intervene and evaluate accurately and safely. Each day brings new added confidence in yourself, your skills and abilities--and, hopefully, in the fact that you have chosen the right profession. This is the perfect time for you to learn and hone the skills that interest you.
"Take in every experience that you can during orientation, take the sick patients while there is someone to hold your hand, ask many questions, and read everything that interests you," said Shannon Hilton, RN, BSN, a new nurse in the cardiac ICU at University Hospital of Cincinnati, Ohio.
Reap the rewards  
Nursing is a great profession and probably one of the few careers that give you skills and abilities that you can apply in many different situations. No matter what specialty you have chosen, you are gaining skills and expertise that will apply as you move through your career, whether in your current specialty or in another one. Remember this as you face the inevitable challenges of your first year.
"Working as a nurse is the best job that anyone could have," concluded Sarah Jaber, RN, a new ICU nurse at St. Anthony's Medical Center in St. Louis, Missouri. "It gives you satisfaction knowing that you are making a difference in someone's life. Whenever you see a patient smile or they give you a compliment, you know that you have done a good job and it makes you feel really good about yourself."
Originally published on NurseZone.com.
© 2016. AMN Healthcare, Inc. All Rights Reserved.