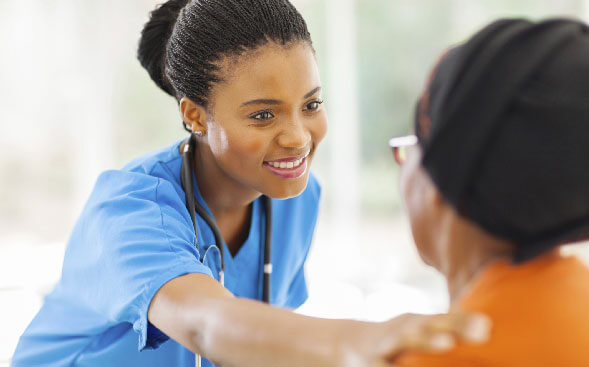 New-Grad Interviewing Tips: How to Make the Right Impression
Here's some advice on how to make that great first impression.
Before the Interview
Prepare your Credentials
•  Have a perfect, complete résumé in a folder along with the other documents you may need. (For tips on preparing and checking your résumé, click here )
•  Bring your nursing license or notice of passing board scores (if you have it), CPR/BCLS card, driver's license, immunization record and social security number with you. Have them quickly accessible for copying. Or, if you really want to make an impression, have several copies of all documents already copied and ready to provide to the human resources department and the hiring/interviewing manager.
•  Prepare a typed reference list complete with names, titles, current addresses and telephone numbers of previous managers and personal references. Make sure you have the most current contact information for these people.
•  Have at least two copies of your references with you--one to leave with the human resources department and one to leave with the hiring manager. (You may bring along reference letters, but most employers will use them only to supplement the references they will obtain and not as a substitute for them.)
•  You may be asked to give permission for a criminal background check. The permission form may ask you to list all of your addresses for the previous five to seven years. Have those addresses with you! Take along a copy of your most recent cumulative grade report, demonstrating that you are not at risk to fail the licensing examination, if you have not yet taken it or are awaiting results.
Practice Interviewing
•  Anticipate and create answers to some of the most standard questions: How would you describe your skills as a teamplayer? What will you do to get along with difficult staff members? How do you plan to handle problem patients and/or families? What will you do when your unit is short-staffed and you have to give a treatment that you have never done before?
•  Develop and practice an answer to the question, "Tell me a little about yourself." This question is designed to test your judgment. The interviewer does not want a chronological biography, or any self-deprecating remarks. The correct answer is one that gives the interviewer insight into what unique skills, talents and attitudes you can bring to the unit. Be prepared to define those, and to give examples to substantiate your claim. For example, if you plan to talk about your team-playing or team-leadership skills, give an example from your nursing schooling or a previous work experience that validates your self-assessment.
•  Ask a friend or relative who is in a management position or who is familiar with the interviewing process to do a "mock" interview with you, asking the thought-provoking questions they would ask of their candidates. Don't be afraid to pick someone tough.
Practice Answering the Tough Questions
•  Consider: You are being interviewed because the manager has a problem. There is a vacancy. It is no doubt causing stress for the manager and the other workers on the unit. Be prepared to give examples of your ability to be a part of the solution to the problem.
•  As a new graduate, what type of assistance and support will you need to get up to speed? What special attitudes do you bring with you that will help you quickly carry your own weight on the unit? (If you have done an accurate/honest self-assessment before deciding to apply for this position, you should be able to answer these questions easily).
•  Practice answering the questions until they feel "right" to you. "Right" means that the answers accurately reflect your skills and personality, not what you think the interviewer wants to hear. Be true to yourself. Otherwise you may find yourself hired, but in a position, that does not "fit" you well.
•  If you have had an unpleasant experience as an aide or in another pre-nursing work setting, what did you learn from it? Be prepared to answer questions about negative situations positively.
The Interview Day
Dress to Impress
•  The first impression starts with getting dressed. What are you going to wear? Until you know the personality of the hiring manager, and the "corporate culture" of the hospital, play it on the conservative side.
•  Prepare to dress professionally, as if you were interviewing for a business position in a conservative organization.
•  What does "conservative" mean? It varies around the country. Ask your most "image conscious" nursing instructor for advice about what to wear. If you have nothing in "business conservative," to wear, you may be sufficiently "tailored" in slacks and a blazer. Whatever clothes you choose, make sure they are freshly cleaned and pressed!
•  Be sure your shoes are in good repair, and freshly polished. Yes, this matters. Hiring managers pay attention to the details, as they are usually a good reflection of the candidate's attention to detail as an employee.
•  Before you walk out the door for your interview, put yourself in the position of the hiring manager. Look at yourself in the mirror, and ask, "Would I hire me for this position?" Fix what you need to fix for that answer to be "yes." Practice your smile!
Out the Door
•  Leave early. There may be a traffic jam; you may have trouble finding a parking place or the interview room.
•  Allow yourself double the time you think you will need. Punctuality isn't everything, but it is a major consideration as the hiring manager wonders, "Can I trust this person to be on time to work?"
•  If you are a smoker, do not give into the, "I'm tense, I need a cigarette," urge. If you are interviewing with a nonsmoker, the smell of smoke on your clothes and breath can give a negative first impression.
The 30-Second Impression
•  Studies of decision-making behaviors by human resource professionals and hiring managers reveal that most make a decision to hire or not within the first 30 seconds of the interview. This is why dress and grooming is critically important.
•  People hire people they trust. Start building trust from the first moment. Offer a firm handshake and look the interviewer straight in the eye during the initial greeting.
•  Find some common ground with the interviewer. Take a quick look around the interviewer's office and make an appreciative comment about something personal that you see. If the office is devoid of any personal items, it's OK to talk about the weather or the traffic for about 30 seconds...just long enough for you and the interviewer to settle-in.
•  This demonstration of "other-orientation" will help both of you "settle in," and gets the interview started on an upbeat note.
•  Make frequent eye contact throughout the interview.
On the Hot Seat
•  It is natural to be nervous, and OK to say so. Don't worry if you stumble with your first sentence or two. (You will have practiced enough so that you can quickly settle down, and get over your jitters!)
•  Although you have practiced, you do not want your answers to seem "canned." You may come across as "glib" or "cocky" if you answer questions too quickly. Take a deep breath, and take your time with each subsequent answer. Be sure you understand what is being asked.
•  The questions asked may not be the ones you rehearsed. If not, take a few seconds to think about your answer to each, so that you are presenting your best self.
•  In some hospitals, each individual who interviews you will likely ask you different questions. In others, you will be asked the same questions repeatedly. Many times, this is a planned interviewing technique. In such cases, the interviewers will compare the answers you give to each one. Be consistent in your responses.
Your Turn to Shine
•  Most interviewers will give you a chance to ask questions. Do not take their time to ask questions that are answered in the hospital's personnel literature, e.g., pay scales, scheduling of vacations, health care benefits, etc. (However, do be sure you get this literature as part of the interview process.)
•  Use this precious time to ask questions about the unit, e.g., How are medications stored and prepared? What charting system is used? If computerized, how would you be trained in its use? How will you be oriented and assimilated? Is there a formalized preceptor or mentorship program?
•  Remember, you are being interviewed because there is a problem, a vacancy. Select questions that indicate your willingness and ability to be a part of the solution.
•  Get a Feel for the Place
•  Ask for a tour and the opportunity to meet some of your peers-to-be. If possible, ask to take a coffee break with a nurse who came to the unit as a new graduate.
A Match
•  Does the job seem like a match for you? If so, ask for the job.
•  If not, do not ask for the job. The most important indicator of job success and satisfaction is how you feel about the job and the company. If it doesn't feel good, move on to to the next interview opportunity. In today's nursing job market, you have the luxury of finding a good match!
After the Interview
In today's environment, few applicants follow through on their interviews with thank-you letters. However, this indicator of interest and thoughtfulness is a powerful device that reinforce a favorable impression, and can win the job for you. So, if you want the job...write a letter and send it within 24 hours of the interview. Typically, it is acceptable send a formal, typed letter or e-mail--and remember, no spelling errors!
The letter or e-mail should be three to four paragraphs and include the following components:
•  Open with thanking the interviewer(s) for their time and attention and express your interest in the job.
•  The next one to two paragraphs should focus on your accomplishments and what you can bring to the facility. If you remembered to inquire about current challenges (also known as problems) the manager or unit is facing, mention a specific contribution you can make to a resolution. This is dynamite!
•  Wrap up by asking for the job. (What if you don't want the job? Write the note anyway, letting them know you are no longer interested. Hiring managers appreciate this.) If interested, stress the match between the needs of the hiring manager and your skills and personality. And, conclude with another thank you for their time and attention.
Haven't Heard Anything?
Call to convey your interest and to ask if there is anything else you can do to be the candidate chosen. Find out when the decision will be made.
If you still haven't heard, call again the day before the decision is made. In that call, wish the hiring manager great success with the hire, even if you are not the one selected. This demonstration of graciousness may be the nudge that throws the decision your way.
Originally published on NurseZone.com.
© 2016. AMN Healthcare, Inc. All Rights Reserved.