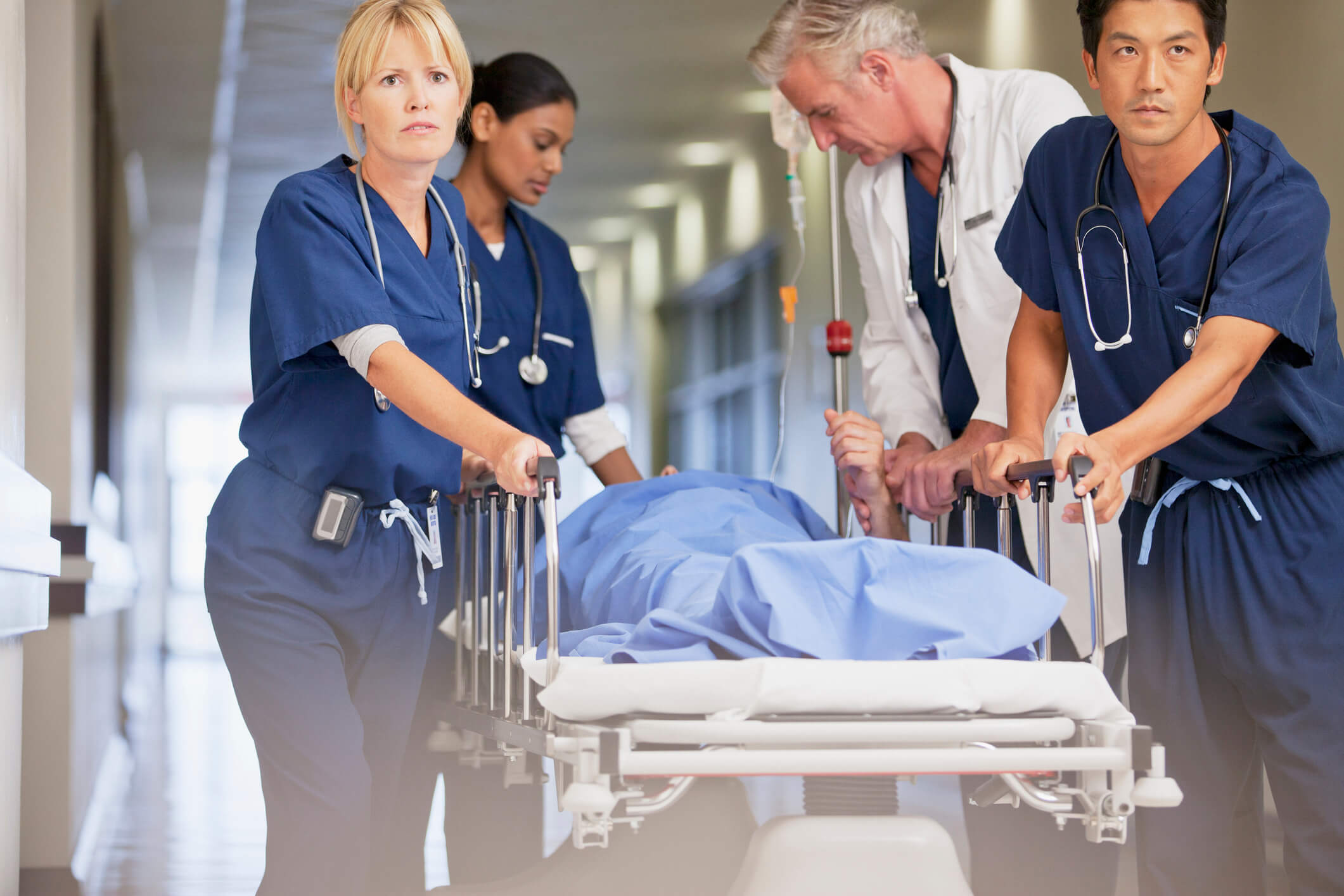 What Is The Emergency Room Nurse Certification
Three patients enter the emergency room. A woman in her mid-30s has a collar bone break jutting through her skin. An elderly man is suffering from severe abdominal pain. And a young boy, pale as a ghost, vomits profusely into a nearby trashcan. Each demands immediate attention, but there's only one bed available in the emergency room, what do you do?
This is the type of scenario any nurse might find themselves in while
working in an emergency room
. ER nurses have to perform triage—deciding the order of patient care based on urgency—manage patient treatment, and handle admissions and discharges. It's hectic, stressful work, but it's incredibly rewarding.
While it's not required to have an emergency room nurse certification,
being certified helps
in many ways. It makes you more hirable, increases your
ER nurse salary
, and allows you more responsibilities. For all things ER certification related, read ahead.
Educational Requirements
Earning a degree is the first requirement on the way to becoming certified. Nurses must graduate with an ADN (Associate Degree in Nursing) or a BSN (Bachelor of Science in Nursing). The ADN program is typically about two years and is the fastest track toward becoming a registered nurse, while the bachelor's degree is geared toward the standard four-year university experience.
As hiring processes have become more competitive, many hospitals are trending toward hiring BSN graduates over those with an associate degree. This mainly applies to new hires; on the job experience outweighs your educational background.
RN License
To practice as an RN, graduates must then take and pass the NCLEX (National Council Licensure Examination). This test is designed to determine whether someone is prepared to work in a hospital or not. The questions revolve around four different categories: safe patient care environment, health maintenance, psychosocial knowledge, and physiological knowledge. Each exam is graded based on a predetermined standard, and those who pass will be granted their RN nursing license.
Emergency Room Nurse Certification
While some hospitals allow RNs to work in the emergency department, to be able to work anywhere, you'll need to become ER certified. The Board of Certification for Emergency Nursing (BCEN) handles all five emergency nursing certifications.
Those are:
CEN – Certified Emergency Nurse
CFRN – Certified Flight Registered Nurse
CPEN – Certified Pediatric Emergency Nurse
CTRN – Certified Transport Registered Nurse
TCRN – Trauma Certified Registered Nurse
Each has a unique examination built around the skills needed to excel in that field.
How to Become Certified
The nursing certification process can take up to four months, so get started as soon as you think you're ready. To begin, go to
BCEN's homepage
and create an account to set up a profile. Once you've done that you can fill out an initial application and pay for the exam.
Within the month, you'll be approved and given a 90-day test window in which you need to schedule and complete the exam. The test will be set up through Pearson VUE, not through BCEN. Once you've set up the testing date, it's time to crank out the textbooks and start studying.
Most nurses will be working and preparing for the exam simultaneously. To avoid becoming completely overwhelmed, try to focus on a small chunk of information each night. This will prevent you from having to cram at the last minute and suffer a performance drop at work or on the exam.
You will receive your results before walking out of the exam center. If you don't pass, BCEN will email you with instructions on how to reapply for another test.
What is the Exam
First off, the CEN exam is designed for nurses to demonstrate their knowledge and expertise working in an emergency room. The examination is not there to test any other skills but the ones needed to handle critical patient care, perform triage, and to assess emergency situations correctly.
What makes the certification exam stand out is that it's a test created by nurses for nurses. The exam committee is made up of practicing emergency room nurses across the country. That means the questions you see on your exam will be based on the realities of the job.
The possible test questions are analyzed by Pearson VUE to ensure the examination is psychometrically fair and that each question is written in an understandable, straightforward format.
Renewing Your Certification
Nurses must renew their certification every four years to be able to collect the benefits of being a certified ER nurse. This can be done by either retaking the certification exam or working to accrue continuing education hours.
Continuing Education Recertification Program
Within the four-year recertification window, nurses must complete 100 contact hours to be able to skip the certification exam. At least 75 of the contact hours must be done in emergency room clinics, while 25 of the contact hours can be non-clinical. Some examples of non-clinical hours would be teaching ER nursing material, taking emergency room classes at an accredited institution, or authoring articles, chapters, or textbooks.
All this to say, as long as you're working as an ER nurse in an accepted hospital (this can be confirmed by reaching out to BCEN directly), you'll be able to recertify without any trouble.
Do note that the hours must be in the emergency room field, any work done as an EMT, paramedic, or other emergency nursing specialty will not count toward your contact hours.
Eligibility Requirements for Emergency Room Nurse Certifications
As mentioned above, in order to qualify for an ER nurse certification, you must be a registered nurse or have a nursing certificate equal to that of an RN. Nurses must also have a clean nursing record. Any suspension or probation from an authorized nursing license institution that limits the number of ER-related tasks a nurse can perform will disqualify the candidate from taking the exam.
An additional note—if you are retired or are going to be retiring before the end of your certification window, BCEN also has a retired designation.
Fees of Nurse Certification
Among other benefits, becoming a certified nurse will offer you a higher annual. Any costs that come with the certification will be an investment toward your future. That being said, there are three different costs to consider.
The first is the initial exam cost of $370. If you pass, there won't be another recertification cost for four years. When that comes, it will be an additional $350. If you don't pass, the retest cost will be $340.
There are a number of ways to save on these fees. If you're in the military, the fee will be reimbursed to you once it's been approved by the VA (the Department of Veteran Affairs). Or if you're an ENA member, you are eligible for a discount of $140. Check with your hospital as well to see if they have any programs set up to pay for your first examination. Hospitals benefit from having their nurses certified, giving them plenty of incentive to pitch in.
Prepping for the Exam
Working full-time as an ER nurse already fills up a lot of your schedule. Plus, add in time for family, friends, and other commitments; where is there any time in the day to study? Sometimes nursing is a never-ending battle with your planner. From late-night studying in nursing school to balancing all that comes with your first nursing job, free time can feel like a strange, elusive concept that only exists for other people.
Luckily, the entire certification process will be over and done within only a few months. And its value will extend to the rest of your career. To make sure you pass the exam, put together a checklist of everything you need to study before the big day.
Preparation Checklist
The first step in any successful study session is knowing what to study. BCEN offers a content outline to familiarize test-takers with both the different areas of concentration and the number of questions for each area. Focusing on this content list will bring structure to your studying and can help save time.
The test is broken down into eight different categories from cardiovascular, respiratory, and neurological emergencies to professional issues. Once you have your timeline set, you can organize your studying into chunks based on this content.
Study Material
Another challenge, apart from knowing what topics to study, is knowing how to gather the information. For this, BCEN also provides a list of study material including textbooks, references, and websites. Take some time before you begin reviewing to identify which texts you should focus.
Taking a Practice Test
Once you're feeling confident, the next step is to grab a practice test and see how you do. Practice exams will inform you of any gaps in your knowledge, and they help prepare you for the format.
Although you've taken many tests before, you might be a little rusty when it comes to dealing with test-taking nerves. If this sounds like you, try setting up the practice exam as realistically as possible. Prep the test with a timer, a water bottle, a scratch piece of paper, and your laptop. Complete the exam without stopping to make it real. This will give you a reference for your progress, and it will help calm the nerves come test day.
Be sure not to take the practice exam too early or too late. If you take the test too early, it won't accurately reflect what you need to work on because you'll be lacking in everything. Taking the test too late can also lead to unnecessary stress right before the big test day. Plan your schedule to be ready to practice two weeks before the exam. This will provide you with ample time to make any study adjustments and master last-minute concepts before the real examination.
Frequently Asked Questions
You probably still have some questions about the exam. That's completely natural! Here are some additional items many nurses are curious about.
How is the Exam Set Up?
The exam is a computerized test that is administered at a registered Pearson testing center. These testing centers are located across the US, and you cannot take the test from anywhere else.
How Long is the Exam?
The total time allotted for the exam is three hours. Once you see the rules and regulations screen, the time will begin, and the test will shut off after 180 minutes.
What is the Scoring System?
During the three-hour examination, you will need to answer 106 of the possible 150 questions correctly to pass. This number, 106, is an average and changes by the year and exam.
What is the Pass Rate for the Exam?
The only numbers available on BCEN's website are from 2017. This year had a 61% passing rate.
Can Accommodations be Made in Advance?
When it comes to the certification exam, the most important factor is ensuring that only ER nursing skills are tested. The difficulties some people have with taking exams should not be a significant factor. For this reason, accommodations are available through Pearson.
BCEN will approve any requests deemed reasonable, and Pearson will provide the necessary environment for you to complete the exam.
What are Certifications Used For?
Certifications are proof that you are capable of the increased responsibilities that come with working in an emergency room. They're used by employers to narrow in on qualified candidates, and they're used by nurses to further their career.
Will a Hospital or Third-Party Institution be able to Verify Certification?
You've put in all the hard work and passed the test. It would be nice to be able to prove it! Yes, BCEN makes it possible for third parties to view and confirm a nurse's certification credential. From their website, you can find "Certification Verification Request" in your account profile. This will send an email with a copy of the certificate to any email address provided.
Becoming Certified
Becoming certified is beneficial to patients, the hospital, and the nurse. Patients will be happier in the hands of a nurse who has gone through specialty training and testing. Hospitals know that certified nurses are less prone to mistakes. And nurses enjoy a bump in pay, increased responsibilities, and the confidence that they are an expert in their field. All these benefits make the four-month process, though strenuous, worth it.
Sources:
American Association of Critical-Care Nurses. Certification Benefits Patients, Employers and Nurses
BCEN. Homepage
Nurse.com. Enjoy the perks of nurse certification