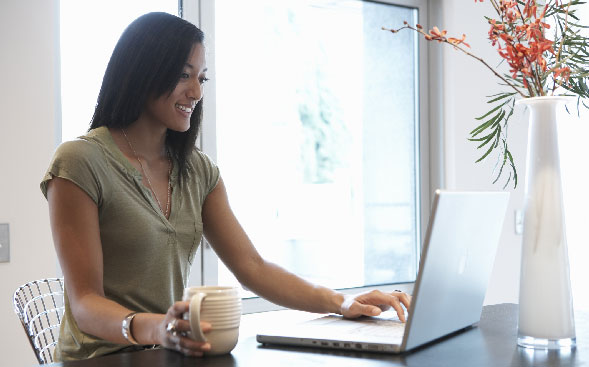 The Process: From Application to Travel Assignment
Congratulations on your decision to enter the exciting world of travel healthcare. American Mobile is here to help you every step of the way. In order to obtain a travel assignment, follow the simple steps below
Step 1: Application
For starters, use AmericanMobile.com to complete and submit the following three forms:
1) Online Application
2) Skills Checklist
3) Professional Reference Requests Form
Upon acceptance of your application and skills checklist, a professional recruiter will be assigned to you.  Your recruiter will discuss your career goals, location preferences, work experience and choice of setting.  
Step 2: Submission Process and Facility Interviews
 Your recruiter will identify the potential opportunities that align with your interests and goals, and will inform you of the jobs available.  As a team, you will decide which opportunities your profile will be submitted to.  
Before we submit your profile to a potential employer, make sure your recruiter is aware of the following:
* Your available start date
* Best interview times
* Any time off needed during the assignment
* Licensure status or timeframe in which you expect to have your license
* Housing requests, if applicable, including travel companions and pets
* If you have applied to other positions outside of American Mobile (permanent or travel)
* If, for any reason, you will not be able to make a decision within 24 hours of receiving an offer
After we submit you to the selected jobs, our placement team will work with the facility contacts to schedule interviews and obtain feedback from the managers regarding your profile.
At this point, you could encounter many possible scenarios. A client facility might be ready to schedule an interview immediately, or they might have encountered a delay.  Some positions you were submitted to may have already been filled, or a location may not be able to take on a new traveler after all. These are completely normal occurrences which reinforce the importance of putting in multiple applications and being open to any and all opportunities available to you. 
Most interviews take place via phone, usually at a scheduled time. If you somehow miss the manager's phone call, it is imperative that you call them back as soon as you are able to do so.  Most interviews last approximately 20-30 minutes, and provide your best opportunity to learn exactly what will be expected of you while working in that facility.  You will also be able to ask questions related to the position, but questions regarding pay are not to be discussed; those are handled by your travel staffing company.   
Following the interview, your recruitment consultant should have a response from the facility client within 48 hours about whether they would like to offer you the position or not.  
Step 3: Accepting a Job Assignment
 As part of the decision process, your recruiter will help ensure that you are completely clear about the vital aspects of the assignment, including:
* Your pay package
* Start/end dates
* Time off confirmed
* The number of guaranteed hours per week (if applicable)
* Cancellation notice policy
At American Mobile, we honor our word and expect our providers to do the same, so please ask any necessary questions before accepting an offer; your verbal acceptance is binding.  What that means is, as soon as you tell your recruiter "I accept," you are expected to fulfill that commitment. 
After you accept a position with American Mobile, you will be introduced to our quality service analysts, or QSAs, and transition to working primarily with the QSA team. They will work diligently to assist you in getting any and all pre-employment requirements completed in time for your anticipated start date. Please note that this step is not just "doing the paperwork"; we consider this one of the most important parts of the entire placement process, and it's a major reason why American Mobile continues to be a leader in the allied staffing industry.
Because we're Joint Commission-certified, our compliance process is thorough, to say the least. Being "compliant" means that you have completed our organization's requirements, as well as any additional facility requirements. You will NOT be able to start your job if these requirements are not met, which can cause a delay in your start time. Clients have been known to cancel travelers for non-compliance, so it is important to partner with the QSA team and ensure every detail is covered. 
American Mobile will tell you everything you need, and make the process as convenient and efficient as possible. In fact, more than half of our pre-employment requirements are available online and can be completed electronically. This compliance process will be significantly streamlined after your first assignment because most of the documentation will be kept on file for you.  Remember that good communication is essential throughout the compliance process, and if you have any concerns about getting things completed on time, you should contact your QSA and/or recruiter immediately.  
Step 4: Submit Your Information and Documentation 
Begin gathering or obtaining the documents below and fax them to your QSA: 
License/Credentials  
A current, signed copy of your license or certification for your discipline is required for all states in which you hold a license. If your signature appears on the back of the license, please provide a copy of both the front and the back.  Be sure to ask your recruiter about the specific licensing requirements in the state of your assignment.
CPR Card 
Check with your QSA to see if your card is accepted, or if you need to re-take the course. Some facilities recognize online CPR courses, while others do not.
Medical documentation 
The most frequently required medical documentation is listed below. Of course, some facilities have more stringent requirements so always check with your QSA to ensure you are doing everything possible to get compliant as soon as possible.
* Required: Hepatitis B — Documentation of a declination, completed series or a positive titer.
* Required: Mantoux TB skin test — Completed within 365 days prior to your assignment start date.
* Required: MMR/Rubeola — Documentation of two (2) MMRs, two (2) vaccines or a positive titer.
* Required: Annual physician's statement 
* Recommended: Varicella — Documentation of a written history, physician's statement, vaccine or positive titer.
Other Important forms
* Form I-9, Employment Eligibility Verification:  Visit http://www.uscis.gov/files/form/i-9.pdf for instructions and acceptable documentation.
 * Background Authorization Form and proof of professional liability insurance. Prior to your first assignment, you will receive a login to our travelers-only site, The Service Connection. Many of the forms you will need will be available there and can be filled out online.