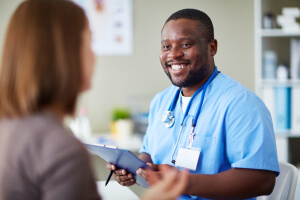 The Importance of the Nurse Patient Relationship for Patient Care
Written by: Sarah Stasik
Maintaining good nurse patient relationships are essential, but not always easy. 
Whether you're battling the front-lines in emergency rooms or creating long-lasting nurse patient relationships with home health clients, how you interact with those you serve has a big impact on patient care.
Even RNs in positions that require only a few minutes with patients can take actions to build trust, develop a connection and make the patient feel more confident in his or her healthcare. 
Nurse Patient Relationships Have Far-Reaching Implications
Your relationship with each patient is vital, which is why it's important for every RN to take action to improve patient care and the overall experience.
In some scenarios, it's obvious why the nurse patient relationship is critical. 
In a pediatrician's office, for example, nurses might see the same kids through the years. Developing a trusting nurse patient relationship makes treatment easier and more enjoyable. 
In a long-term healthcare setting, such as a nursing home or hospital wards that treat chronically ill patients, your relationship with those you treat is important because you may be working with the same patients for days, weeks or even months.
But positive nurse patient relationships aren't something only some RNs need to worry about. Here are three reasons they're important in every healthcare setting.
1. Patients Know That Someone Cares
Taking time — even a few minutes — to develop a relationship with your patient helps them know someone cares. 
That increases their overall trust in the healthcare team around them and can relieve some of the stress inherent in seeking any type of medical treatment.
Mark Iniego, RN, is in charge of the cath lab room at Adventist Health Glendale. He said his role on the team includes managing the hemodynamic and moderate sedation monitoring, the administration of the medication and the facilitation of through put in the lab.
And while all those clinical components are clearly critical for the success of the cath lab and their patients, Iniego doesn't count any of them as "most important." 
Instead, he says, "Most importantly, I manage the care of the patient's safety and comfort, sometimes offering to say a small prayer before and after their procedure."
The cath lab team often sees patients only for moments or single procedures, but Iniego notes that even then, the nurse patient relationship is important. 
He recounts a time that the team was called in to help with a stroke patient. They helped retrieve a blood clot and stabilize the patient, and normally that would be the end of their interaction with the patient.
"But a few days later," says Iniego, "we see the same patient walking into our control room wearing heeled shoes, without any help, and with make up on! 
The patient was accompanied by the stroke coordinator and the neurovascular interventionalist that led the procedure. The patient looked well and was very thankful of the work that our cath lab team did. 
"This moment was especially meaningful to my teammates and myself because, in reality, we rarely see the outcome of our work."
Iniego's story is a great illustration of the importance of every moment you spend with your patients — both clinically and with regard to relationships.
2. Relationships Help Enforce Good Follow-Up
Teri Dreher, RN, is a private professional patient advocate at NShore Patient Advocates in Chicago. She points out that a good nurse patient relationship helps patients engage more with their own healthcare, and that can lead to better outcomes in treatment and with follow-up.
"Good nurses are very relational and supportive and provide education with every interaction with patients," says Dreher. 
"When a nurse really cares, the patient will be more engaged. They know that someone cares for their welfare and there will be ongoing accountability and a resource for questions or concerns."
The modern healthcare setting can be fast-paced, with too small a number of clinicians trying to get to too many patients in need, but Dreher points out that nurses can stand in that gap. 
"It always helps to have a third party present when doctors see patients today as the encounter is often very quick," she says. "Patients forget to ask important questions or misunderstand instructions regarding the treatment plan."
When a good nurse patient relationship is present, individuals are more likely to reach out with questions later or ask for help with medication compliance and other critical follow-up requirements.
3. A Positive Nurse-Patient Relationship Can Impact the Bottom Line
Information published by the National Institutes of Health notes that patient care itself isn't the only beneficiary of good nurse patient relationships. 
When clinicians are able to respond to patient's emotions and unmet needs in the most appropriate manner, a range of key performance indicators are impacted in a positive way. 
Research notes, for example, that therapeutic interpersonal relationships between clinicians and their patients have implications for length of stay in hospital environments and cost burdens.
RNs probably won't be surprised to hear that nurse patient relationships are important. But you might not realize how critical they are, even in settings where you only see patients for a few minutes at a time. 
Remember to operate with empathy, kindness and honesty to foster a relationship that improves overall patient care.