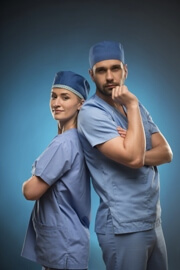 The Differences Between Doctors and Nurses
Thank you and a tip of the stethoscope to our favorite physicians on National Doctor's Day, March 30th. We toast doctors everywhere for their compassionate care, medical knowledge and promoting good health. In celebration of Doctor's Day, here's a light-hearted look at the differences between doctors and nurses.
---
Spring into a new challenge
Apply for a Travel Nursing Job Today!
---
The Real Differences
The love-hate relationship with doctors is largely a myth these days. Most nurses agree that in the evolving healthcare world, respect and clear communication between doctors and nurses is a priority. With that in mind, here are a few things RNs would like to say to doctors:
•    Spend more time listening to the patients' concerns.
•    Get the nurse's opinion on the patient's condition and care.
•    Hold the patient's hands, look in their eyes and take a human moment, before dispensing medical advice.
•    Speak simply and translate technical medical information and explain procedures so the patient and their family understand.
•    Use the computer to write your notes; no one can understand your writing.
•    Sanitize, sanitize, sanitize those hands in every patient room.
The "Just Kidding" Differences
Laughter is the best medicine, say the health experts. In honor of Doctor's Day, we've compiled some "Just Kidding" differences between doctors and nurses. Travel nurses, do you recognize any of these?
You Know You're A Doctor When…
•    Parking at the hospital is never a problem.
•    The room falls silent when you walk in.
•    Your weekend shifts – what weekend shifts?
•    Lunch is served. Thanks pharma reps!
•    Doctor's lounge bathroom, with Martha Stewart décor.
•    Your gym morning work-out is your a.m. rounding walk at the hospital.
•    Your idea of funny? When the nurse asks you to help ambulate the patient.
•    The only family drama you deal with is the family of nurses you just upset.
•    That borrowed pen at the end of the day is better recycled to the waste bin.
You Know You're A Nurse When…
•    Your 'Honey Do' list is longer at work than at home.
•    Your call button tolerance had deteriorated to the point where the song "Bells are ringing, for me and my gal" makes you want to curl up in a ball and cry.
•    The patients think your male nurse colleague is the doctor.
•    Weekend plans – what weekend plans? You're working!
•    Lunch? Gone the way of the bathroom break and the dodo bird.
•    Your work-out routine consists of lifting patients and responding to bed alarms.
•    Your drug of choice is STRONG COFFEE.
•    You wear your pajamas to work, better known as scrubs.
•    Your idea of funny? Bedpan jokes…and saying "this won't hurt a bit."
•    You panic when you have a "free moment" because it probably means you forgot to do something during your shift.
•    You do your happy Hallelujah dance when you see the next shift coming in.
All kidding aside, travel nurses are grateful to work with good doctors and visa-versa. Despite their differences, doctors and travel nurses make unstoppable teams and neither one could do their job properly without the other.
Travel nursing jobs offer you freedom, flexibility and fun. American Mobile is recruiting RN's for all locations and specialties.
© 2016. AMN Healthcare, Inc. All Rights Reserved.