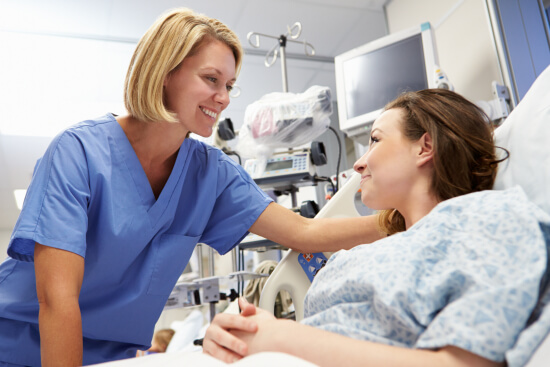 10 Steps to Float Nursing Like a Pro
Float nursing is often seen as a cost-cutting measure by many hospitals and medical facilities. But it can fill many veteran and new RNs with anxiety and stress, mainly due to their lack of familiarity with the new unit's processes and protocol. While it can be nerve-wracking to have to transfer to another floor that's outside the scope of your specialty and be expected to provide quality patient care, float nursing can have tremendous professional benefits under the right circumstances.
Find your next rewarding travel nursing job at American Mobile to grow your career. 
10 tips for mastering float nursing skills
Incorporate these ten steps to put your float nursing skills to work in your existing or new position.
1. Gain experience on all floors whenever possible
Float nursing may be inevitable no matter where you're employed –a hospital, nursing home or health care agency. Administration views it as a cost-effective means of filling staff needs by using nurses already available within the facility and to avoid calling nurses to work overtime.
Susan Mehaffey, RN, a former nurse who is now retired, suggests starting to float after gaining a bit of experience on all the floors in a hospital, except for those where specialized training is required, such as labor and delivery or midwifery."Then when you are asked to [replace a nurse who is sick or work on a floor that's understaffed], you are ready to work when needed."If you can, arrange to visit the floor during an off-shift or downtime, so you can gain a basic understanding of how things work in case you're asked to float to that floor in the future.
2. Remember professional obligations and be cautious of overworking
This applies to regular nursing shifts as well, and not just float nursing. When requested to work a double shift, request the next day off, advises Mehaffey. "One has to remember that you are representing your license and [not to] jeopardize it if asked to [work extra shifts]for the sake of your supervisors having trouble finding enough staff."
3. Face the unknown with professionalism and a can-do attitude
American Nurse Today, the official journal of the American Nurses Association (ANA) recommends float nurses speak with the charge nurse right away and share any concerns you have about that particular floor and the patient population. Knowing this information, the charge nurse can devise a plan that ensures you work within your competence level and make the best use of your abilities.
4. Remember that it may not be as bad as you think
Matthew Thomson, CCRN, BSN, has been a nurse since 2010. In his experience, he says, "a floating shift is never as bad as we fear." While adjusting to a new working environment and medical conditions can be challenging, Thomson says, "Nursing is nursing. When you worry about your upcoming float shift, it's unnecessary suffering. Our worst fears rarely, if ever, come true."
5. Enter with a positive attitude and be friendly
When beginning a new float shift, Thomson says the first thing he does is "introduce myself to the unit secretary and support staff. When you're unsure of where to find supplies, they'll direct you to it faster than you can find it yourself."Thomson also recommends making an effort to meet every nurse on your shift. If you're honest and let them know that you're inexperienced with floating, "they're likely to go out of their way to offer help and keep tabs on you."
6. Don't be afraid to ask questions
One of the most challenging parts of float nursing is having to apply your existing skills and expertise to another floor or unit that may have different protocols and patient procedures.Thomson reminds nurses not to put too much pressure on themselves in an attempt to prove their competence. "Ask questions. I'm more afraid of new nurses that don'task questions rather than ones that do." 
7. Review your assignment carefully
When you take five minutes to review the float nursing assignment you're given, it gives you a chance to anticipate areas where you may need help. A little bit of planning can make it easier on yourself and others as well.
8. Consider it an opportunity for growth
Float nursing lets you flex your intellectual muscles and put existing skills and expertise to use in new areas. Embrace it as a professional challenge: put on your thinking cap, learn quickly and consider it an important positive step in your travel nursing career.
9. Know your limits
While you are expected to apply skills and knowledge in new areas in float nursing, you shouldn't accept an assignment that's well beyond your competencies, especially if it could potentially place the patient in jeopardy. Remember that you're responsible for protecting your patient and your license, and only you can determine whether or not you can safely perform the tasks expected of you on a new unit.
10. When in doubt, think FLOAT
Finally, when facing a new float nursing assignment, remember these five steps, which all can be remembered using the FLOAT acronym.
F: Find a resource person. Ask the charge nurse for the name of an experienced nurse who may be willing to be your point of contact during the shift when you have questions.
L: Lower your stress level. Take a deep breath and think positively. Breathing deeply helps to reduce any stress or anxiety you may feel. Remember, you're a professional and you've got this.
O: Orient yourself to the new unit. A staff member should be able to show you where everything is (crash carts, IV supplies) and explain the usual routine for that shift.
A: Ask questions and ask for help when you need it. If you've never performed a particular task or are unsure of how to complete it safely, ask.
T: Take five minutes to review your assignment and evaluate areas where you might need assistance.
When you keep these ten tips for float nursing in mind, you can help ensure your shift proceeds as smoothly as possible, and you'll make great strides professionally and personally.