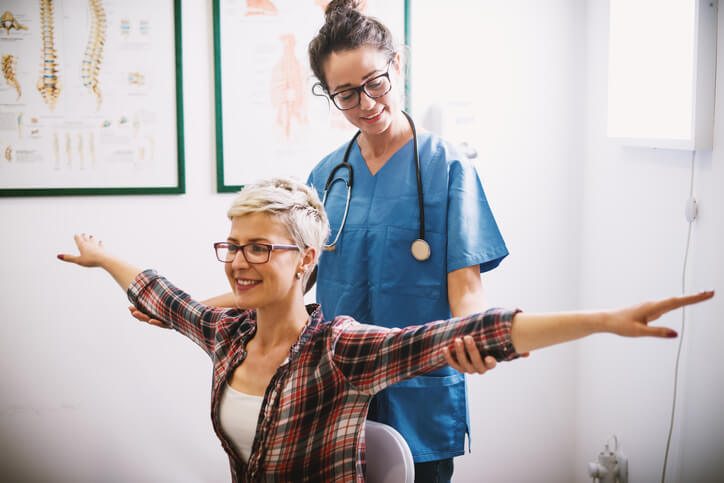 Pain Management Nursing: Why Specialize and How to Do It
A great way to grow your nursing career is to become certified in a specific niche. Pain management nursing is a great field to consider — it's in high demand, and you provide effective pain management solutions for patients who are suffering from chronic pain conditions.
About Pain Management Nursing
 In general, pain management nurses care for patients with chronic or acute pain. They may provide medication to alleviate symptoms and may also educate patients and families on how to manage their pain effectively.
The current position of the American Association of Colleges of Nursing (AACN) on advanced nurse training is for all existing master's programs to transition to doctorate programs, specifically the Doctorate of Nursing Practice (DNP) for APRN (Advanced Practice Registered Nurse) training. APRNs include nurse practitioners, certified nurse-midwives, certified RN anesthetists and clinical nurse specialists, which is the category pain management nursing falls under.
Nurses thinking critically about their future may want to consider continuing their education now and earning their DNP so they're eligible for pain management nursing jobs down the road.
Apply for thousands of nursing jobs in pain management and other specialties at American Mobile.
Necessary Skills for Pain Management Nursing
Many pain management nurses have years of experience under their belt as an RN before they pursue their certification. Pain management is a specialty that requires precision, knowledge of the field and excellent interpersonal skills.
Pain management nurses have to be able to relate to patients and their families and assist them in determining pain severity so they can properly control it. Those who work in pain management nursing also need to have patience, as these types of patients are often physically uncomfortable, which can make caring for them challenging.
Benefits of becoming a pain management nurse
• Earn a great salary: According to Payscale, pain management nurses earn an average of $60,000 a year. Depending on your location and years of experience, you have the potential to earn more, as much as $78,000 annually. Pain management nurses with advanced degrees, such as a BSN or DSP, can expect to earn more.
• Grow leadership skills: In your role as a pain management nurse, you may have the opportunity to lead, guide and support other nurses you work with as they provide patient care.
• Hands-on: You work directly with patients in the pain management specialty.
• Varied work routine: As a pain management nurse, you'll likely take on varied tasks, situations and patients each day.
Work settings
 Pain management nurses work in a variety of medical settings that aren't limited to hospitals. They may work in outpatient pain or physical therapy settings, in palliative and hospice care programs or in acute, long-term health care facilities.
They typically work as members of multidisciplinary teams to help patients suffering from chronic pain improve their quality of life. They also often educate colleagues about safe and effective methods of pain management and control.
How to become a pain management nurse
The majority of nurses in pain management begin their careers with a BS in Nursing. They then take the NCLEX to become a licensed RN.
The American Nurses Credentialing Center (ANCC), in partnership with the American Society for Pain Management Nursing (ASPMN), provides certification in pain management for RNs. To be eligible, you must have at least two years of working as an RN, 2,000 hours of experience in pain management and 30 hours of continuing nursing education, at least half of which must be related to the pain management field.
Tests are held periodically throughout the year. RNs can apply to take the computer-based test year-round and then choose a date within a 90-day window that fits their schedule.
Once the RN-BC credential is awarded, it's renewed every five years.
If you're interested in a nursing pain management career as an RN, now is a great time to get started. The American Society for Pain Management Nursing provides valuable resources for certification and professional development and maintains a few publications. Additional benefits are available for paid members