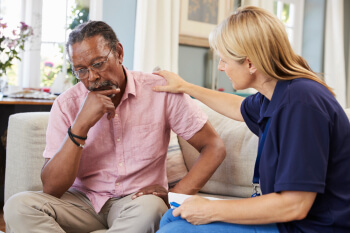 Nurse Tips: 5 Tips for Caring for Patients with Dementia
Caring for patients with dementia or Alzheimer's can be challenging since they face significant cognitive difficulties.  
Maintaining a positive yet realistic attitude is crucial for success for the care that nurses provide.  
Read these five tips and utilize them the next time you're caring for a patient with dementia. 
5 Expert Tips for Caring for Patients with Dementia 
1. Tips for Handling ADLs
When caring for a patient with dementia, simple tasks such as bathing, dressing, eating and toileting can become challenging.  
Dr. Yael Katz, the co-founder and CEO of BrainCheck, an interactive cognitive assessment and care management technology for physicians, offers some advice for nurses helping patients with dementia with their ADLs.
Bathing: Helping a patient bathe can seem unpleasant to a person with dementia, and so it's important to make the patient feel like they're in control by allowing them to do as much as safely possible. Katz suggests installing grab bars and non-slip shower mats, using an adjustable bath seat and keeping the floor dry.
Dressing: Anxiety and frustration can arise when a nurse attempts to rush the process of dressing. Katz advises to simplify the number of clothing options to choose from and keep their closet free of excess clothing. Clothing in general should be comfortable and simple.
Feeding: Katz says that once dementia progresses beyond the early stages, too many food choices and changes in perception, taste and smell can make mealtimes challenging. To help address these issues, serve meals in a quiet place free of distractions and offer one or two items at a time to prevent confusion. Provide only the utensils needed to eat, and keep the table free of other decorations or items that might distract or confuse the patient.
Toileting: Keep the path to the bathroom clear of any obstacles, and remove any house plants or trash bins that might be mistaken for a toilet. Allow them plenty of time to empty their bladder or bowels, and if you need to wipe for them, use wipes to make it easier.
2. Focus on the patient as a person and show empathy
Nick Angelis, author of How to Succeed in Anesthesia School (And RN, PA, or Med School) reminds nurses to focus on the best possible outcomes for the patient as they are now. 
"Many times you have to reorient them to reality, but other moments require you to be with the patient where they are. Don't overthink this, because each moment stands alone, like a confused space traveler warping to different dimensions, one after the other." 
He also advises nurses to remember that "empathy and compassion speak a language innately understood by those who no longer remember their name." 
3. Keep instructions simple whenever possible 
Dr. Judi Kuric, DNP, ACNP-BC, ACNP, FNP-BC, CNRN, SCRN and academic program coordinator for the Walden University MSN Adult/Gerontology Acute Care Nurse Practitioner program offers nurses a useful reminder when caring for patients with dementia: keep instructions simple and easy to understand. 
"Provide one-step directions for each process or task. For example, brushing your teeth can be a complex task that can be broken down into simpler step-by-step tasks. Where is your toothbrush? Place some toothpaste on the brush. Brush your teeth. Rinse your mouth." 
And, when giving directions, says Dr. Kuric, speak "calmly, clearly and concisely." Use simple words, short sentences and be careful to keep your vocal tone even.
4. Listen to their stories 
Dr. Kuric says that in her experience, "many patients will have vivid memories from 30 years ago." Engage them in these stories, encourage them to tell you about the distant past and let them share stories they remember. It will make them happy and allow you to learn a bit more about their lives. 
Diane Sancho, a 30-year veteran of elder care and who will serve as executive director of Alice's Clubhouse, a first of its kind memory day care center outside of Charleston, SC, says that "We tend to treat people with dementia as though they're not the persons they were. But they're still here. What they loved before the illness, they will still love!"  
Talk to family members and find out what are some of their favorite things – photo albums, music, jewelry are just a few examples. 
5. Encourage independence
While sometimes it can feel challenging to encourage independence in a dementia patient, Dr. Kuric of Walden University says that it's important to "help the dementia patient feel as much independence as possible" especially with ADLs and other physical care tasks. "The patient will benefit from a little more time and support to complete tasks on their own." 
And when you need it, Diane Sancho says – don't be afraid to reach out for help. "You can't be a caregiver by yourself," she says. 
Use whatever means available that are appropriate – reach out to family members for assistance, or if that's not possible, ask colleagues and supervisors for advice and support. 
When nurses keep these five tips for caring for dementia patients in mind, they can help ensure a better quality of life for those they care for with memory challenges.