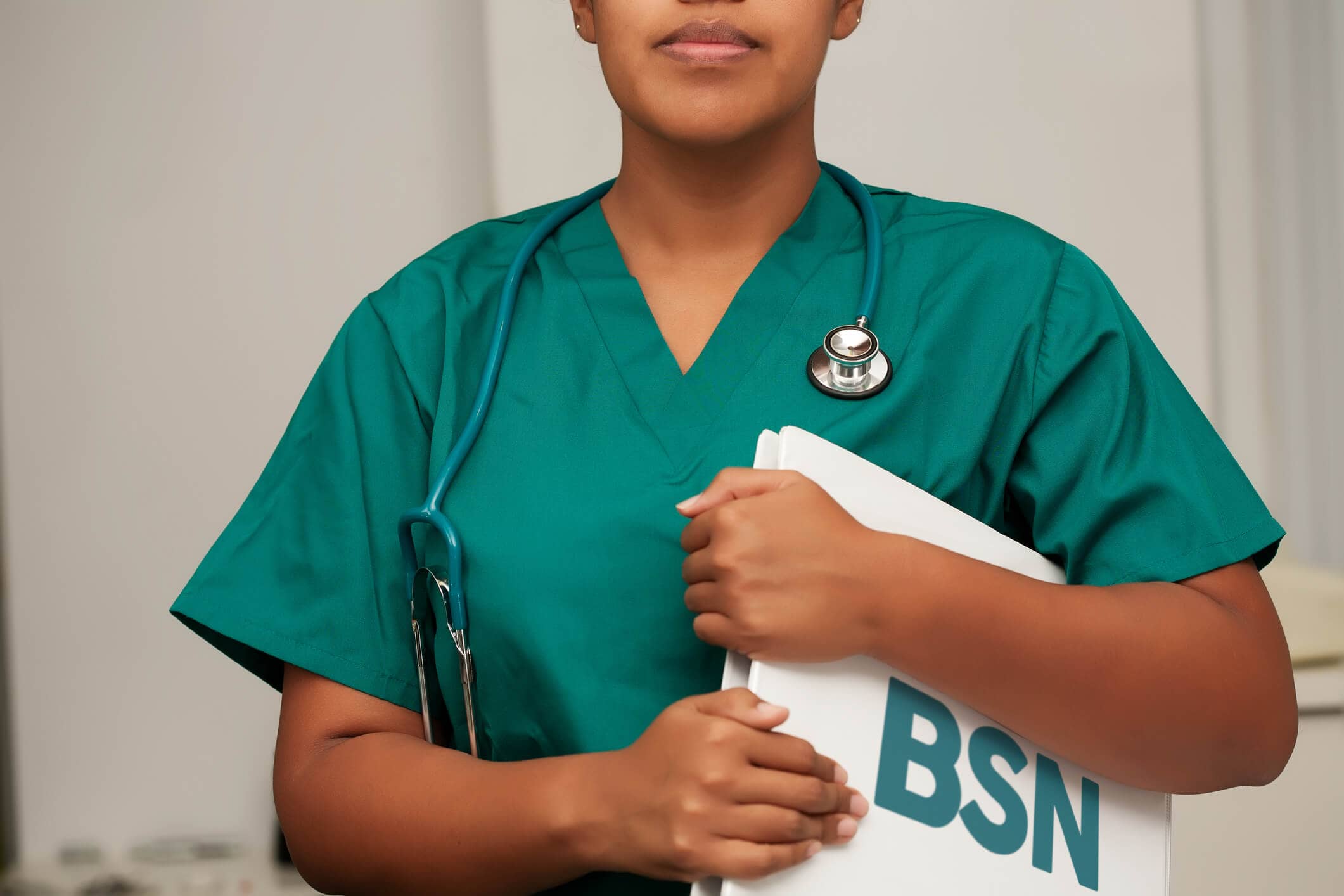 Labor and Delivery Nurse Certifications
Labor and delivery nurses find joy in helping women bring new lives into the world. They skillfully support their patients throughout the birthing process, checking on both the mother and infant's health, coordinating care with obstetricians and midwives, and educating parents on what to expect.
Labor and delivery nurses have a passion for women's and children's healthcare," said Jamil Norman, PhD, RN, CNE, senior core faculty at the School of Nursing at Walden University in Minneapolis. "It is one of the most rewarding careers in the profession of nursing. Being part of the miracle of childbirth and caring for mothers through the hardships of childbirth is fulfilling.
Certifications for nurses demonstrate those clinicians' competencies in the specialty.
Labor and delivery positions may be difficult to find; however, there are some important certifications that would help make a nurse a better candidate for an L&D position, Norman said. She added that these certifications are essential to have the foundational skills and knowledge of life-saving support for women and children when working in labor and delivery."
How to Become a Labor and Delivery Nurse
Becoming a labor and delivery nurse begins with nursing education. Someone desiring to work as an L&D nurse needs to become a registered nurse by completing an accredited nursing program and passing the National Council Licensure Examination (NCLEX-RN) to become licensed.
L&D nurses must hold Basic Life Support certification and Advance Cardiac Life Support certification. Other labor and delivery nurse certifications include the Inpatient Obstetric Nursing and Neonatal Resuscitation Program certification, which are available after practicing in the specialty. Certifications for nurses may give job candidates a competitive edge when it comes to hiring and salary negotiations.
L&D Nurse Required Education
Labor and delivery nurse requirements include the completion of an accredited registered nurse program. The Accreditation Commission for Education in Nursing accredits practical; diploma; associate; baccalaureate; masters, including post-master certificate; and clinical doctorate, including doctor of nursing practice programs.
The Commission on Collegiate Nursing Education accredits baccalaureate, graduate, residency, and nurse practitioner fellowship/residency programs.
Currently, most RNs graduate from two-year associate degree (ADN) programs, often offered by community colleges, or four-year university-based baccalaureate (BSN) programs. Some hospitals still offer two-to-three-year diploma programs, which do not usually include college-level courses. Many hospitals prefer to hire BSN graduates, who also tend to earn more money.
Obtaining a Bachelor of Science in Nursing is advantageous, Norman said. Better patient outcomes have been statistically linked to nurses with a bachelor's degree. Nurses that are credentialed in their specialty area are recognized as credible and stand out among their peers."
ADN and BSN graduates receive exposure to different nursing specialties during clinical rotations at hospitals and community health sites. They also learn about nutrition, psychology, pharmacology, anatomy, and physiology.
Accelerated Academic Path
L&D nurses who have completed a diploma or ADN program can enroll in accelerated RN-to-BSN programs, which are designed to work around a busy nurse's schedule. Many hospital employers offer tuition reimbursement for these degree-completion programs. RN-to-Masters Degree programs also exist. Both programs build on the nurses' existing skills and prior learning and prepare nurses to advance in their careers.
Also, for candidates with a bachelor's degree in another field, many universities offer accelerated BSN and Master's degree programs. These programs consider the students' life experiences and help them transition to a nursing degree.
Labor and Delivery Required Licensure
Labor and delivery nurse requirements include licensure through their state's board of nursing. The licensure process is an important means to ensure all nurses have the necessary competencies to perform their duties. Applicant's skills and knowledge must satisfy predetermined criteria. Without this stringent regulation, patients' lives would be at risk.
Applications are generally accepted after three steps: verification of graduation from a nursing program, verification of successful completion of the National Council Licensure Exam, and in some states, passing a criminal background check.
National Council Licensure Examination (NCLEX-RN)
State nursing boards assess an applicant's expertise as a nurse by requiring passage of the National Council Licensure Examination (NCLEX-RN). In 2022, 80.9 percent of first-time U.S.-educated graduates of nursing programs passed the NCLEX-RN, according to the National Council of State Boards of Nursing (NCSBN).
The test consists of four major categories: physiological integrity; safe and effective care environment; health promotion and maintenance; and psychosocial integrity. Subcategories for physiological integrity include management of care, safety and infection control, basic care and comfort, pharmacological and parental therapies, reduction of risk potential, and physiological adaptation, according to NCSBN. Questions can target both recall abilities and critical thinking.
The Nurse Licensure Compact (NLC)
The Nurse Licensure Compact allows nurses to practice in 39 states and U.S. territories without obtaining additional licenses for each state. Nurses in their primary state of residence can apply for a compact license, also referred to as a multistate license. Then they can travel to other compact states to practice L&D nursing, for permanent jobs or travel nursing assignments.
Basic Life Support (BLS) Certification
Labor and delivery nurse requirements include BLS certification, which can be obtained from the American Heart Association, the American Red Cross, and some other organizations, such as the National CPR Foundation. The courses include performance of cardiopulmonary resuscitation, the use of an Automated External Defibrillators, first aid, wound care, and care of heart conditions, fractures, choking, burns, poisoning, shocks, and injuries of other kinds.
BLS certification must be renewed every two years. The recertification course is shorter than the original educational program.
Advanced Cardiac Life Support (ACLS) Certification
ACLS is among the required certifications for many nursing positions, including those practicing in labor and delivery. The American Heart Association and other organizations, such as eMedCert, offer ACLS courses, which include basic life support skills, recognizing and managing respiratory and cardiac arrest and peri-arrest conditions, airway management, pharmacology, managing stroke, and communicating and leading a resuscitation team. Some course providers offer continuing education credits and online options.
ACLS certification must also be renewed every two years.
Inpatient Obstetric Nursing (RNC-OB) Certification
Experienced L&D nurses can obtain Inpatient Obstetric Nursing certification (RNC-OB).
The RNC-OB indicates clinical competency in labor and delivery and serves as a mark of distinction in the profession, Norman said.
The National Certification Corp. offers labor and delivery nurse certifications and other certifications to U.S. or Canadian nurses with a current and unencumbered license and 24 months of experience, with a minimum of 2,000 hours in direct patient care, academia, research, or administration. Nurses must have been employed in the specialty at some time in the past two years. The three-hour certification test is computer-based and can be taken at a test center or through live remote proctoring.
The RNC-OB certification remains in effect for three years and can be maintained by earning continuing education hours in the specialty.
Electronic Fetal Monitoring (C-EFM)
Another labor and delivery nurse certification is Electronic Fetal Monitoring (C-EFM). L&D nurses need to know how to read electronic fetal heart monitors, but certification indicates to employers and patients that the nurse is skilled in such monitoring.
All labor and delivery nurses must be proficient in fetal heart monitoring, Norman said. Becoming certified in electronic fetal heart monitoring will help to validate your knowledge in this area.
The National Certification Corp. offers C-EFM for nurses and other medical professionals who must hold a current and unencumbered U.S. or Canadian license. Testing takes place online.
Neonatal Resuscitation Program (NRP)
The NRP course offered by the American Academy of Pediatrics (AAP) is another labor and delivery nurse certification. It introduces nurses and other healthcare professionals to basic skills needed for successful neonatal resuscitation. It is evidence-based and uses a blended learning approach, with hands-on simulation and online testing.
AAP cautions on its website that other entities offering NRP certification or verification cards are not associated with the academy and are not official NRP Course Completion cards.
Certified Nurse Midwife (CNM)
Some L&D nurses may go on to become a Certified Nurse Midwife (CNM). Certified Nurse Midwives are advanced practice registered nurses, having completed either an MSN or DNP degree. CNMs diagnose and coordinate care during the birthing process, according to the U.S. Bureau of Labor Statistics (BLS). They also provide well-woman care.
BLS reports nurse midwives earn a median salary of $112,830 annually, and projects growing employment opportunities through 2031.
Ready to travel as an L&D nurse? Complete American Mobile's quick application or search our current L&D nurse jobs or use the quick links below.