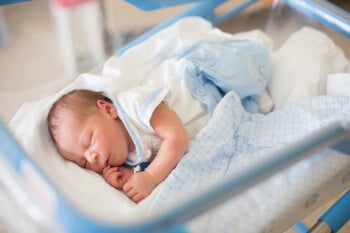 How Early is Too Early for Preemies?
With all the tubes and monitors on their tiny baby, the parents felt helpless. They had to stay upbeat for their other two children, and tried to smile and send happy thoughts to the newest little member of their family. 
One source of comfort was the efficient and compassionate care their doctors and NICU nurses provided 24/7. Little did they know that their nurses' hearts ached as much as their own.
Babies born before the 37th week of gestation are considered premature and sometimes referred to as preemies. 
While emerging new technologies help reduce health complications and infections for premature babies, the question about whether or not science is pushing the boundaries of life to the point that quality of life becomes less important than medical advancements, remains at the forefront of the debate.
How Early is Too Early? 
This issue is being debated by experts, from medical researchers to NICU nurses and physicians. It's a tough call, especially for those preemies who are medically frail, have birth defects or are facing a long future of medical complications.
For families with a premature baby, it's hard to know the long-term health issues a child will face if they survive. In the U.S., about 380,000 babies are born too soon every year according to California Healthline. The cost of care for preemies is astronomical and the uncertainty of the child's future health poses a significant burden for both the family and the hospital.
Doctors and nurses now face challenging choices on how aggressively to treat the sickest and most premature babies. Most medical experts agree that 24 weeks is the baseline, but leading medical groups are now debating lowering the age of viability for premature births.
New Research Redefines the Issue: According to a New York Times article, "A small number of very premature babies are surviving earlier outside the womb than doctors once thought possible, a new study has documented, raising questions about how aggressively they should be treated and posing implications for the debate about abortion. The study, of thousands of premature births, found that a tiny minority of babies born at 22 weeks who were medically treated survived with few health problems, although the vast majority died or suffered serious health issues." (NYT, May 6, 2015)
According to the New York Times, about 18,000 very premature babies are born annually in the U.S., with 5,000 born between 22 and 23 weeks. Babies born at 22 to 23 weeks remain somewhat of a medical mystery, though their odds of survival seemed dependent on their birth weight and whether or not the mother received treatment before delivery with corticosteroids. &
Emerging Technology Helps Preemies: New technology is making it possible to keep premature babies alive at younger ages. In 2015-16, these three technologies were introduced in the NICU:
1.    The Pea Pod: At Cedars-Sinai Neonatal Intensive Care Unit, Maxine Dunitz Children's Health Center, doctors have begun using a device known as the Pea Pod to measure the body composition of the babies. The Pea Pod looks like a mini MRI machine. It is heated, and the baby is placed inside for approximately three minutes. Using an air displacement method, the machine senses changes in pressure and can determine the percentage of body weight that is fat and the percentage that is lean body mass. With this information, health care workers can then personalize the baby's nutritional supplements to help with appropriate weight gain, helping babies gain weight and go home sooner. (Science Daily, 1/16/2015)
2.    NeoSense Technologies: At Stockholm's KTH Royal Institute of Technology, NeoSense Technologies developers have created a new monitoring tool for preemies that could help reduce complications from dangerous blood-oxygen levels by 30 to 50 percent.
3.    NTrainer: UT Medical Center helps babies get home sooner with an NTrainer, a device that helps preemies learn to eat on their own without the use of a feeding tube. The computer has a pacifier attached that pulsates in the baby's mouth, teaching them to suck, swallow and breathe while medical staff uses the computer's assessment to see how the babies are doing. (WVLT TV, Knoxville; 10/8/2015)
As technology improves, the debate as to "how early is too early" for premature babies will continue to go on. Science will always continue to push the boundaries of what we currently deem as acceptable, but ultimately parents should have the final say about what's right for their child.
Learn what's new in maternal/child healthcare with a travel nursing assignment. For travel nurses looking for NICU jobs, there is no better time to make a difference. Enjoy the freedom, flexibility and fun working in a new, state-of-the-art NICU unit.