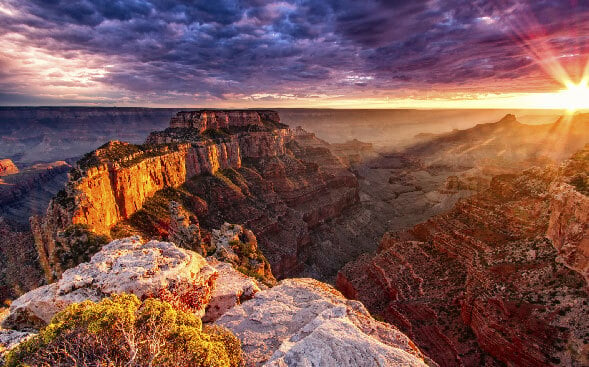 What to See at the Most Popular National Parks
Use This Concise National Parks Guide to Launch Your Next Travel Nurse Adventure
More than one outdoor advocate has referred to this country's national parks as "our cathedrals," especially when comparing the United States to Europe. If you've visited some of the most popular national parks, you can probably understand this comparison. If you haven't, it's time to make a plan to visit these awe-inspiring national treasures for yourself.
The first national park--Yellowstone in Wyoming--was created in 1872 by President Ulysses S. Grant. Since then, 58 have been added to the list. The newest is Pinnacles, located 80 miles southeast of San Jose, Calif.; it was added in January 2013.
Whether traveling to your next assignment or working in a national park neighborhood, don't miss the opportunity to see some of America's magnificent "cathedrals."
A national parks guide for novices
• Get informed. Read about the park you're planning to visit, then head for the visitor center upon arrival. Rangers offer information you won't find online and can provide current conditions of trails, viewpoints, etc.
• Take a hike that fits you and your goals. Ask for trails according to preferences of time, difficulty, scenery, and/or wildflowers.
• Book early. If you are planning to stay in or near a national park, especially during peak season, make your reservations early. Lodges, cabins, campsites, and other accommodations can fill up several months in advance. Tours can also fill up, so reserve online or call ahead when possible.
• Follow basic dos and don'ts. DO stay on the trails, carry lots of water, have weather-appropriate gear, and hike with a buddy, if possible; DON'T smoke or leave anything behind but footprints.
• Buy an annual pass. The National Parks and Federal Recreational Lands Annual Pass costs $80 and allows entry to all national parks, wildlife refuges, national forests, and lands managed by the Bureau of Land Management and Bureau of Reclamation. (Entry fees below are for those without a pass.)
The following are America's most popular national parks, as determined by the number of visitors: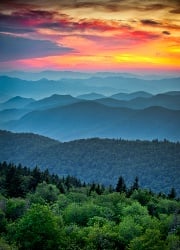 Great Smokey Mountains National Park
Where: The crest of the park lies on the North Carolina-Tennessee border, which also is part of the Appalachian Trail. Elevations reach more than 6,600 feet.
Entrance fee: Free; camping $14-$23.
Recommended length of visit: 2+ days.
Ranger recommendations:
• Start early to avoid heat and crowds.
• Popular: Mountain Farm Museum and Mingus Mill (next to Oconaluftee Visitor Center)--a collection of farm buildings from another era that demonstrate how pioneers lived a century ago. Includes a farmhouse, apple house, spring house, and working blacksmith shop.
• Less traveled: Mount Cammerer Fire Tower for spring flowers and autumn colors (11-mile roundtrip loop); and Oconaluftee Valley for wildlife viewing.
Website
Grand Canyon National Park
Where: Northwest Arizona; South Rim (most popular and accessible; open year-round) is 90 minutes from Flagstaff. North Rim is open in spring and summer. It may look like a giant backdrop, but it's real.
Entrance fee*: $25 per vehicle/$12 for individuals.
Recommended length of visit: 2+ days.
Ranger recommendations:
• Come informed and prepared. It's cooler on top than in the desert below. Remember that it takes longer to ascend than descend.
• Popular: Mather Point, Mohave Point, and Desert View Watchtower--close enough to see in one day.
• Less traveled: the North Rim. Come in spring and late fall.
• Tips: Use the free shuttle buses around the South Rim.
Website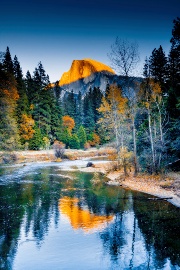 Yosemite National Park
Where: In Central California in the Sierra Nevada Mountains, due east of
Modesto.
Entrance fee*: $30 per vehicle ($25 Nov–Mar); $15 motorcycle or hiker.
Recommended length of visit: 3+ days.
Ranger recommendations:
• You don't have to climb Half Dome to enjoy Yosemite. Start with a bus tour of the valley floor for an informative overview of the geological and human history of this glorious park.
• Popular: The valley floor, especially in summer. Glacier Point with its iconic view of Half Dome and the valley; Cook's Meadow for wildlife viewing, especially at sunrise and sunset.
• Less traveled: Get up early and take the free shuttle to stop #16 and walk to a marshy meadow called the Fen to see wildlife. Also, avoid the shutterbugs at Glacier Point by hiking just a mile down the Panorama Trail. (Note: Some distant shuttle destinations require a fee.)
Website
Yellowstone National Park

Where: Mostly in Wyoming, but extends into Montana and Idaho. Bozeman,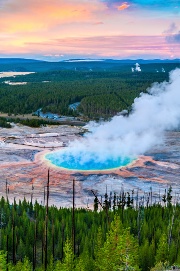 Mont., is about 90 miles north; Jackson Hole, Wyo., is 60 miles to the south.
Entrance fee*: $25 cars; $20 per snowmobile or motorcycle; $12 pedestrians.
Recommended length of visit: 3+ days
Ranger Recommendations:
• Popular: Summertime, but if that's your only option and the crowds at Old Faithful are massive, head to Canyon Village, about 25 miles away. See the beautiful, 20-mile long Grand Canyon of Yellowstone, where the odds are good that you'll sight bears, elk, bison, and/or wolves.
• Nearby Old Faithful: Grand Prismatic Spring in Midway Geyser Basin. It's the park's largest hot spring (370 feet wide and 121 feet deep).
• Not to miss: Norris Geyser Basin--An other-world landscape with the park's hottest geysers (300 in all), some tucked among the trees. New geysers are constantly forming.
Website
For more details on the most popular national parks, or to find a national park near you, visit the National Park Service website.
*Entrance fees are for those without a National Parks annual pass.
Plan your next travel adventure with American Mobile, the leader in travel nurse staffing. Sign up for free RN job alerts in your location of choice, or apply today!