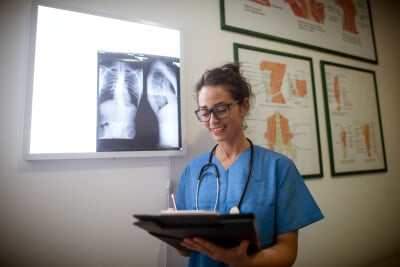 Travel Nursing vs. Full-Time Perm: Benefits of Being a Travel Nurse
As the population ages and the need for skilled nurses grows stronger than ever, many nurses are turning to travel nursing and enjoying the benefits associated with temporary assignments rather than a permanent full-time position.
"It's the adventure of it all and a desire for change," said Kay Slane, RN, a travel nurse and author, using the pen name Epstein LaRue, of Highway Hypodermics, the 2019 edition will be released September 9, 2018.
"Travelers thrive on something different to keep things exciting."
Slane mentioned the adventure of going to California, Hawaii, or Alaska while getting paid. Between assignments, travel nurses can plot a route that lets them see the sights between locations.
"You can pick your mountains, beaches," she said. "Every place has something new and exciting."
Slane likes to say she became a snowbird at 35 rather than 65, thanks to travel nursing. She works six months in California and makes enough money to take the summer off in Idaho.
"Some people do it to be close to family and some do it to get away from family," Slane says.
Top Benefits of Travel Nursing
Gaining Skills From New Experiences
By working in different facilities, travel nurses learn a variety of new nursing skills, policies and procedures. Slane offered as an example methicillin-resistant Staphylococcus aureus prevention.
Some hospitals require fully gowning, gloving and masking, while other facilities require only gloves unless the nurse expects to come into contact with bodily fluids.
"You have to be very adaptable as a traveler," Slane said. "It makes you more versatile as a nurse, if you learn different ways to go from point A to point B."
Nancy Congleton, RN, of Oklahoma and author of Autopsy of the NP: Dissecting the Nursing Profession Piece by Piece, which will be released September 5, 2018, cautioned that nurses should only agree to assignments in their field of expertise.
"This is not the time to learn a new area, or work in one where you've only clocked a handful of shifts," Congleton said.
Adapting to Change
Travel nursing can build a nurse's confidence. Many nurses are able to flex and step into different positions as demand changes.
"The more places you can float to, the more valuable you are as a traveler," Slane said.
Traveling and successfully adapting to new environments builds resilience and change stamina, important qualities for all nurses, reported Donna Cardillo, RN, MA, CSP, the Inspiration Nurse and author of Falling Together-How to Find Balance, Joy, and Meaningful Change When your Life Seems to be Falling Apart.
Enjoying Your Assignments
Travel nurses can stay out of hospital politics and the need to serve on committees.
"It's easier to avoid workplace drama," Congleton said.
Traveling also offers the nurses the opportunity to meet new people and make friends in new communities.
Congleton offered a couple of suggestions for making the most of a travel assignment, including being prepared for cranky, over-worked core staff and taking low-maintenance, easy-to-eat meals and snacks.
"If a department is so short-staffed that they're bringing in travel nurses, it's unlikely that anyone's getting an actual lunch or break," Congleton said.
Congleton urged nurses to remain kind and professional, even when dealing with a difficult fellow nurse. She also suggested remaining engaged and supportive of nurses on the unit.
"Travel nurses must know their stuff, have a strong personality, and be prepared to earn every dollar of that awesome, travel-nurse pay," Congleton concluded.
Ready to transition from perm to travel nursing? Start your travel nursing job search today!