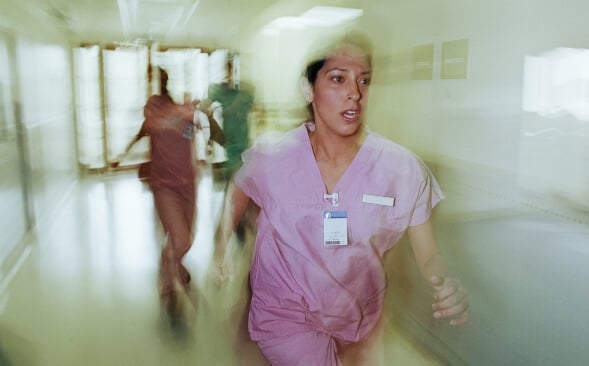 Travel Nurse Safety During a National Emergency
After any terrorist act, natural disaster, or mass shooting (355 occurred in the U.S. in 2015), hospitals become focal points. In Paris last fall, it took 35 surgical teams in 10 hospitals to handle the 350 injured and 129 that eventually died when gunman opened fire in a busy urban night spot. After the Boston marathon bombing, nurses and doctors ended up treating 144 patients in several hospitals. Foreign-born terrorists, like the married couple in San Bernardino, and American-born random shooters have equal ability to shock the nation.
Potentially even more calamitous, earthquakes, mudslides, wildfire and tornadoes rip through unsuspecting communities, leaving dozens, even hundreds, of victims in their wake. While caring for the citizens affected is, of course, the prime directive for both permanent and travel nurses, those in caregiving positions must look out for their own well-being, too. Every travel nurse should know the basic tenets of travel nurse safety to keep society running during times of crisis and minimize losses during chaotic times.
Travel Nursing Safety in an Active Shooter or Terrorist Scenario
Healthcare staff will nearly always intervene after an active shooter or terrorist has struck. Many citizens don't realize that hospitals must also prepare for the possibility of a terror incident on site as well. In an editorial, FierceHealthcare's editor, Ilene MacDonald, makes clear the raw challenges nurses face in a shooter situation:
"…the grim reality of the rate of mass shootings taking place in this country is that healthcare workers must be ready at any time to treat multiple victims with traumatic injuries that are typically seen in times of war."
Ilene MacDonald Executive Editor, FierceHealthcare
While an emergency resulting from an off-site event isn't as traumatic as coming face to face with a shooter in a stairwell, nurses can still be affected. With emotions running high, frightened, often hysterical, patients who have been involved in a shooting can actually pose a threat to permanent and travel nurses. This is why travel nurses need to be prepared in advance, so they can remain level-headed and react in a manner that will diffuse, rather than escalate, the situation. Part of that preparation involves knowing the hospital or facility's emergency protocol when they start an assignment.
Last year OSHA expanded its National Emphasis Program on Nursing and Residential Care Facilities, an inspection protocol for assessing workplace violence. Hospitals out of compliance face punishment. When a Brooklyn, New York, hospital failed to increase security measures following a series of violent attacks on healthcare workers, OSHA fined it $78,000.
As we all know, an active shooter on the premises is a rare, but potential, threat. OSHA, the U.S. Health and Human Services Department, Homeland Security, doctors, nurses and all healthcare staff are pushing hospitals to design and/or adopt active shooter plans like this from the California Hospital Association. It covers:
• Active shooter prevention which includes specific communication skills that calm angry, upset people rather than inflame them.
• Active shooter preparation which includes drills and communications systems protocols.
• Response plans involving deciding whether to hide, run or fight.
• Typical police response and process.
• Strategies to reduce incivility and create a culture of respect among staff and between staff and patients.
Traveling nurses should always ask their recruiter for the destination hospital's safety plan and active shooter plan. Take the time to read through the materials and take any training offered. In the months after the Paris attacks, French hospitals worked with the government to create a national plan that would mobilize a force of 100,000 healthcare workers in 40 hospitals in the case of another national emergency. American hospitals have stepped up efforts to model what the French medical establishment termed the "white plan." Many of these shooting emergency protocols are still in formation, but every hospital should have something to share.
Last fall, the American Nursing Association (ANA) issued a statement declaring the nursing profession "will no longer tolerate violence of any kind from any source." Its "2016 Culture of Safety" proclamation is one of the most visited pages on the site. While pressuring hospitals to design robust protection programs, it also put some responsibility on nurses to pursue active shooter/terrorist response training. After all, one cool head often prevails in a delicate situation. When travel nurses empower themselves with knowledge and training, they benefit patients, staff and the hospital.
Travel Nurse Safety Following a Natural Disaster
Despite the travel nurse's strong caring instinct, he or she must consider personal safety in the event of an earthquake, tornado, hurricane or tsunami. The first information needed is whether a structure is safe to enter or must be abandoned. The horrifying choices doctors and nurses had to make in prioritizing patient evacuations during and after Hurricane Katrina in New Orleans illustrate how tough these decisions can be. There, one doctor was indicted for killing two chronically ill, DNR patients through morphine drips. Her conviction was later overturned. There was NO precedent for what she went though and many argued that her actions were acts of mercy.
Again, hospitals have extensive natural disaster plans, videos and training. Take advantage of them because one never knows when something catastrophic can hit. World Health Day is a time to reflect on events around the world and learn from policies in other countries.
While you may not be able to put a stop to violent crimes or natural disasters, you can arm yourself with the knowledge needed to provide you and your patients the best possible outcome.
Have questions about how to stay safe on the job? Talk to an American Mobile recruiter today.
© 2016. AMN Healthcare, Inc. All Rights Reserved.