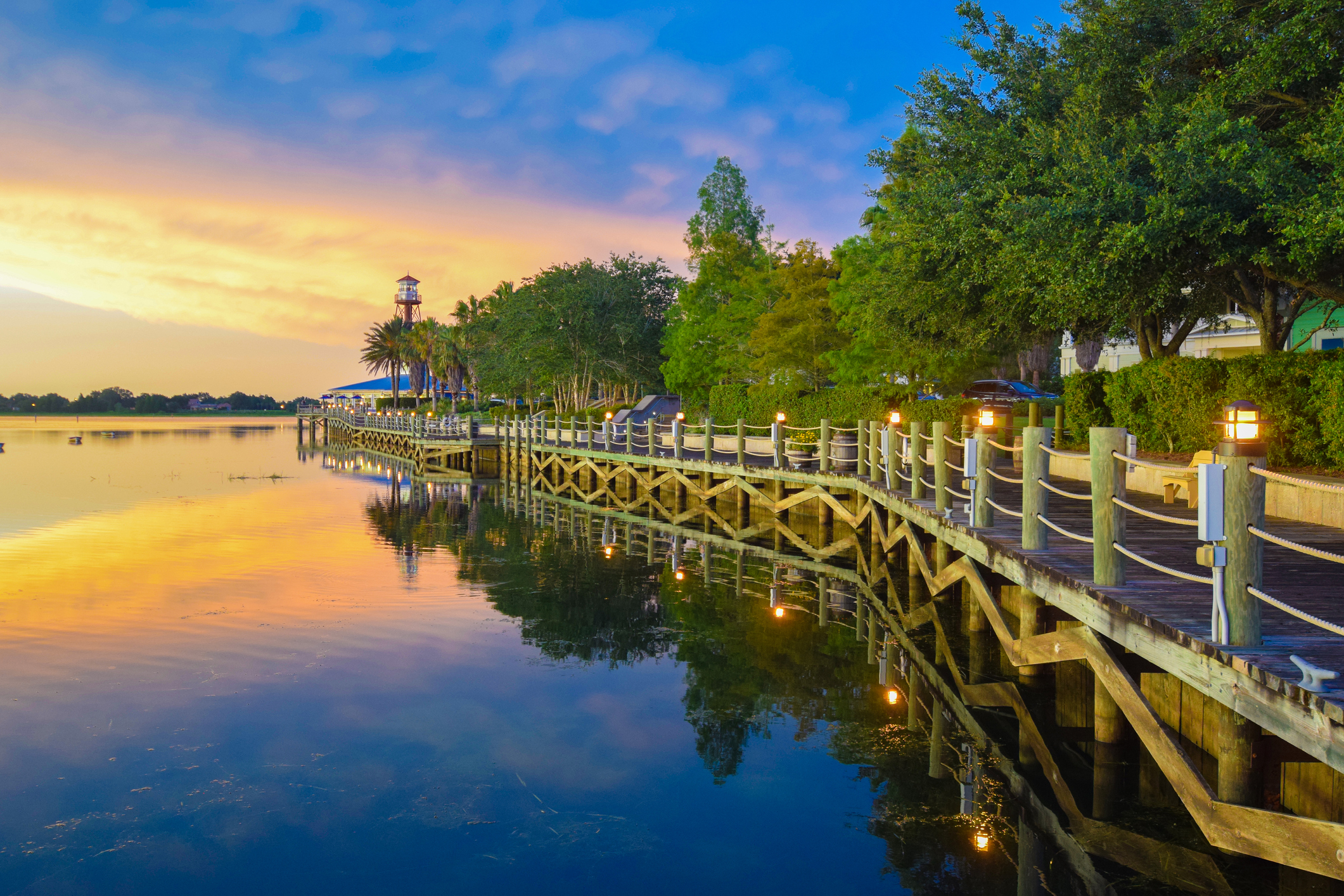 The Travel Nurse's Guide to Central Florida
Palm trees, sunny days, world-class theme parks, and a wide variety of natural attractions—these are just a few of the many things that have people flocking from all over the world to visit Central Florida.
The Central Florida region is generally considered the Orlando metropolitan area, located in the middle of the state, making day trips to nearby cities and beaches a breeze. The cities of Tampa, Daytona Beach, Ocala, Winter Park, Kissimmee, Lakeland, and many others are all easily accessible from this area.
Travel nurses working in Orlando and the surrounding suburbs can enjoy a variety of assignments at top-rated hospitals and medical facilities, competitive nurse salary, unique experiences at famous amusement parks, delicious restaurants, gorgeous lakes, and a bustling downtown area, complete with lively bars and nightlife.
American Mobile has taken the guesswork out of working as a travel nurse in Central Florida, by creating this comprehensive guide to help make the most out of your next assignment in the Sunshine State. Here you'll find everything you need to know about living and working in the Orlando area.
Lifestyle Benefits for Travel Nurses in Central Florida
The City of Orlando is nicknamed "The City Beautiful," and it's no wonder why. The city is home to distinct architecture, hundreds of lakes (the largest of which is Lake Apopka), towering skyscrapers, and plenty of walkable areas to explore by foot or bike.
There are countless benefits to taking a travel nurse assignment in Central Florida, including an affordable cost of living. According to data from Payscale, as of mid-March, 2022, Orlando's cost of living is 5 percent lower than the national average, with living expenses coming in at 6 percent below national averages.
Most major travel nursing agencies, such as American Mobile, offer several housing options to accommodate their travel nurses in the Orlando area. You can choose from free, company-arranged housing that is close to your assignment facility, or accommodations that you find on your own if you opt for the housing stipend.
Since you'll be saving money on living expenses and enjoying competitive compensation, travel nurses can enjoy an elevated lifestyle. Spend your day:
Relaxing on a nearby beach (be sure to check out Cocoa Beach - just an hour from Orlando);
Strolling through the botanical gardens and arboretums, or biking on the West Orange Trail; or
Paddleboarding or kayaking on one of the area's many lakes. Lake Eola Park is a fan favorite located in the heart of downtown Orlando. It features a sidewalk that circles the lake and is nearly a mile in length, making it a perfect track for a run or energizing walk. The lake's famous swan-shaped paddle boats are a must-do for anyone looking for a fun and memorable activity.
Live like a local in Central Florida by working hard and then enjoying a laid-back yet active lifestyle!
Facilities for Travel Nurse Assignments
Travel nursing is a great way for nurses to expand their skills, experience, and clinical knowledge by working in some of the nation's top healthcare facilities and learning from other talented nurses, physicians, and healthcare professionals.
Central Florida is a hot spot for healthcare and it's home to several notable health systems and medical facilities, including:
Regional Medical Centers
Several major medical centers can be found throughout Central Florida and assignments are available in most nursing specialties including ER, ICU, Med-Surg, L&D, and oncology, just to name a few. There is also one Level 1 trauma center in this area. Patients range in all ages and acuity levels and travel nurses can gain excellent clinical experience as they work with patients presenting with a variety of different conditions.
Teaching Facilities
Central Florida is home to a top teaching facility that is highly rated and nationally ranked, making it a great place for any traveler looking for their next nursing assignment.
Children's Hospitals / Pediatric Facilities
There are three pediatric facilities in this area, all members of the Florida Association of Children's Hospitals. And there is a Level III neonatal intensive care unit.
Nursing Homes / Long-Term Care Facilities
According to U.S. News & World Report, there are 72 licensed nursing homes in the Orlando metro area.
Outpatient Clinics and Medical Practices
From internal medicine and pediatric offices to surgery centers, infusion centers, and cardiac catheterization labs, travel nurses can find a number of outpatient jobs in the Orlando area.
Things to do in Central Florida
Top Activities & Experiences:
Known as the "Theme Park Capital of the World," there is no shortage of fun and adventure to be had while working as a travel nurse in Orlando. Perhaps the most iconic of them all is the Walt Disney World Resort. There's nothing more magical than that famous set of mouse ears. Here, you'll find:
Looking for an experience that brings your favorite cinematic experiences together? Look no further than Universal Orlando Resort where travel nurses can explore both lands of The Wizarding World of Harry Potter at Universal Studios Florida and Universal's Islands of Adventure. If you need a break from amusement parks, be sure to check out Universal City Walk, which is an attraction in and of itself. This modern attraction features a variety of restaurants, shops & family shows.
The other main Central Florida theme parks include:
SeaWorld
Discovery Cove
Legoland
Busch Gardens (Tampa)
Another fun fact: Orlando is also referred to as the "Hollywood of the East," due to multiple movie studios that can be found throughout the city.
Not really into theme parks? Not to worry. Orlando offers plenty of other attractions, experiences, and fun things to do that don't involve rollercoasters and animated characters. First up on our list:
ICON park is located on 20 acres in the heart of Orlando's International Drive. Here you'll find over 40 restaurants, The Wheel at ICON Park — a 400-foot-tall observation wheel, SEA LIFE Orlando Aquarium, Madame Tussauds Orlando, and Arcade City.
Are you an adventure seeker? Consider:
Go-karting
An escape room
Indoor skydiving
Axe-throwing
All of these activities can be found around the International Drive area. There are also airboat rides and alligator tours. And speaking of animals, a visit to Orlando isn't complete with a trip to the Central Florida Zoo. You'll feel like you've entered a jungle as exhibits are nestled among lush, green tropical foliage. The zoo has 23 acres of native gardens and more than 500 animals including an insect zoo, a reptile house, a children's area with animals that kids can feed and pet, and a splash playground for those hot days.
Don't forget to check out the city's fun shopping venues, get dressed up, and head out to an event hosted at the Orlando Museum of Art or the Dr. Phillips Center for the Performing Arts.
All About the Eateries
Now that you've worked up a healthy appetite with all of those activities, it's time to explore the most delicious food Orlando has to offer. Lucky for travel nurses, you'll never run out of a new place to try during a typical 13-week assignment!
According to restaurant research firm The NPD Group, there are over 7,000 restaurants in Orlando, Daytona Beach and Melbourne. Cuisine types vary throughout different neighborhoods and regions, with a wide variety of international flavors to be sampled. From traditional Southern BBQ to mouth-watering Cuban cuisine, there's something for every food lover here.
To get you started, here are some of the yummiest dishes to try at some of the most popular restaurants in Orlando, including culinary delights that have been featured in magazines, blogs, articles and "most famous" lists:
And don't forget the theme park food, which is another category entirely! Just a few of our must-haves: the Dole Whip icy treat from Magic Kingdom Park, Granny's Apple Fries at Legoland, and the Butterbeer at the Wizarding World of Harry Potter in Universal Studios.
Getting Started as a Travel Nurse in Central Florida
From the award-winning healthcare facilities to the celebrated theme parks and attractions found throughout the region, the Orlando area is an ideal destination for travel nurses of all ages, skill levels, and backgrounds. It's a place where you can boost your income and advance your skills while having fun at the same time!
How can you get started with a travel nursing assignment in the Orlando area? It all starts by selecting a travel nursing agency, and it's our goal to make American Mobile your No. 1 choice.
We've been helping travel nurses find the right assignments for more than 35 years, and offer a number of benefits and perks:
Access to the largest database of travel nursing jobs in Central Florida and throughout the country, offering competitive pay and many exclusive assignments.
Premium travel nursing benefits, including PPO and HMO optioned health benefits, as well as life insurance, vision insurance, and disability insurance, all starting on Day One.
Free, furnished, private housing near your assignment facility, all arranged by our housing department, or a generous housing stipend to let you find your own accommodations. Travel reimbursements are also included.
The largest clinical support team of all staffing agencies, with 24/7 availability. We take customer service and support very seriously, so if you are on assignment in Orlando and you have an issue, support is just an email, text or call away—regardless of the time of day or night.
Whether you need to obtain your Florida nursing license through the Nurse Licensure Compact, or by endorsement from a non-compact state, our licensing assistance and credentialing experts can make sure you have everything you need to accept your next travel nursing assignment in Central Florida. In many cases, we can even help pay your state licensing fees!
The AMN Passport mobile app is also available to all American Mobile travel nurses, making it easy to browse and book your own assignments, submit your time cards, stay in touch with your recruiter, and more.
Take the First Step
Interested in working as a travel nurse in Central Florida? American Mobile provides you access to Central Florida nursing jobs that best fits you.