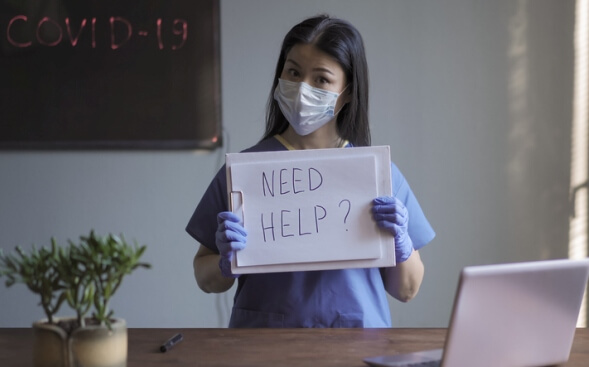 The Rising Cost and Demand for Travel Nurses in 2020
COVID-19 has placed an unprecedented burden on the nation's hospitals and health systems as more and more people contract the virus and require significant nursing care.
Some parts of the country were already experiencing nursing shortages, with many facilities depending on travel nurses to fill in the staffing gaps. Early in the pandemic, nurses from areas less affected by the coronavirus traveled to New York, New Jersey and other locations hard hit by COVID-19. Now, the entire country is dealing with surging cases.
"Hospitals are doing the best they can," said Angelina Salazar, CEO of the Western Healthcare Alliance (WHA), a network of 29 hospitals in Colorado and Utah.
The COVID-19 crisis has accelerated the demand for travel nurses in 2020, and with it, the amount of money registered nurses are earning in crisis pay, as high as $10,000 per week as a bidding war has developed.
"There are nurses taking those positions, because of the attractive salary," Salazar said.
Brock Slabach, senior vice president at the National Rural Health Association in Leawood, Kansas, acknowledges that he does not know which hospitals are paying those rates but does not doubt that it is happening. He thought it was done only as a last resort.
While some large medical centers may be able to temporarily afford these rates, rural hospitals cannot. Forty-eight percent of rural hospitals are operating at a negative margin with few cash reserves.
"It's very difficult," Slabach said. "Combined with the remoteness of the facilities, the premiums go up from [$8,000] to attract individuals to want to go there."
The shortages include other healthcare personnel, such as respiratory therapists and certified registered nurse anesthetists (CRNAs). Complicating shortages in rural areas is the "bench strength," he said, explaining that a hospital might have two respiratory therapists, but if one becomes sick, it is down to one. And one person cannot work nonstop.
Nurses traveling to crisis assignments must remain flexible with scheduling and assignments. They receive a housing and meal stipends. Some contracts include ensuring the nurse has adequate personal protective equipment.
Federal Assistance
Facilities learned earlier in the pandemic that adding beds and securing ventilators was an easier task than finding skilled nurses and other clinicians. The federal government often assisted in building temporary field hospitals, such as at the Javits Convention Center in New York and the Westchester County Center in Westchester, New York.
The U.S. military has assisted with nursing care as well. U.S. Army North in Fort Sam Houston, Texas, reported about 740 Department of Defense medical and support professionals were assisting hospitals in Texas and California. These military clinicians train daily to maintain their clinical skills.
The CARES Act included Provider Relief Funding and the Paycheck Protection Program, but Slabach said some rural hospitals are hesitant to use those funds for fears that they may have to return the money.
"The COVID-19 pandemic has exposed and widened the fractures that have long existed in rural communities," Slabach said.
Alternative Staffing
Demand for travel nurses in 2020, which has driven up costs, has led some facilities to come up with alternatives. Many rural hospitals have turned to volunteers to provide some unskilled care.
"Hospitals are rethinking the typical staffing of their hospitals, relying on external volunteers," Salazar said. "They are getting creative and innovative."
Hospitals have reached out to retired nurses, providing "invaluable relief" to allow permanent staff a day off, Slabach said. Hospitals also have had anesthesiologists and CRNAs providing ventilator care in intensive care units.
Salazar said some hospitals are sharing staff.
Wisconsin and Nebraska are waiving licensing requirements for retired nurses to return to the front lines. Iowa is offering temporary licenses for new nurses. But these nurses may be at greater risk of severe disease.
Sixty-one percent of rural hospitals do not have ICUs. In normal times, they stabilize the patient and then transfer to a tertiary care center. But now many larger hospitals are not receiving transfers, because they are full.
Salazar reported that the WHA and the Colorado Hospital Association have developed the "Combined Hospital Transfer Center," in which the larger "sister" hospital agrees to accept transfers from its rural partner. If that hospital cannot accept a transfer, the center works to find another hospital that will accept the patient.
"It's unfortunate that it has taken a crisis to be more efficient and collaborate," Salazar said.
Rural communities often have few ambulances, so if one takes a patient to a metropolitan hospital, that ambulance is not available to bring sick patients to the local hospitals.
Slabach indicated that foreign nurses might be allowed to come in and help staff U.S. hospitals. Those nurses are enticed by the high rates being paid, but it may deplete the number of nurses in the home country.
Longer-term, rural communities have developed "grow our own" programs to provide scholarships to educate local people as nurses and other healthcare professionals. Slabach said that has been successful, but it does not meet immediate needs. Area Health Education Centers, with Health Resources and Services Administration funding, are generating a pipeline for nurses.
The Affordable Care Act included the National Healthcare Workforce Commission, but it needs funding. If that is funded in the next administration, it will help policymakers understand rural and urban healthcare workforce issues and develop a national strategy.
Until then and until the pandemic is brought under control, hospitals will struggle to fully staff up to serve a ballooning number of seriously ill patients with COVID-19. And many will continue to pay nurses the high crisis rates.
"I am hopeful, that because there is a spotlight on what is taking place that we will collaborate as a country on a larger scale," Salazar said. "We have to keep our sights on the shiny spots."
AMERICAN MOBILE offers competitive pay rates to travel nurses at facilities across the U.S.