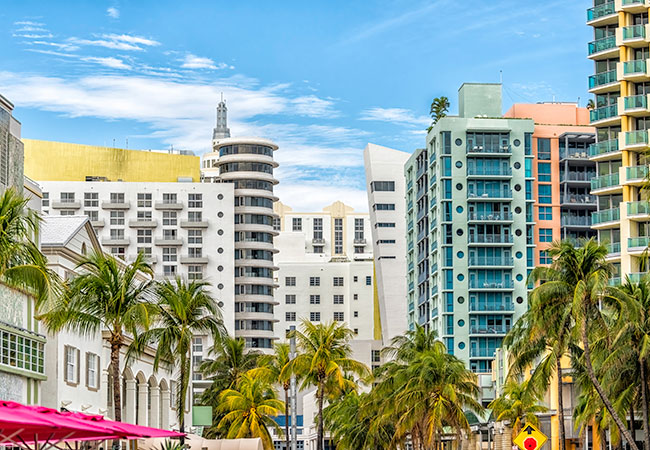 The Best Cities for Travel Nursing: Nurses' Top 10
Nurses Voted: These Are the Best Cities for Travel Nursing
With an abundance of job opportunities across the country, it can be overwhelming to choose where to work your next (or first) travel nurse assignment. So, we asked the experts. We recently polled nurses on Instagram (@amnnurse) and asked them to share which cities are their favorite for working a travel assignment.
Their top travel nurse locations covered the gamut, from big cities to small, stretching across all regions of the country. Find out the best cities for travel nursing as voted on by nurses, below.
The 10 Best Cities for Travel Nursing
1. Miami, Florida
One of the most popular vacation spots in the country, Miami has something to entice every travel nurse. From the trendy nightlife of South Beach and the iconic Art Deco District to the endless water sports, dining options and shopping venues, the city seems to truly have it all. Want to try deep-sea fishing, beautiful golf courses, art festivals, professional sporting events and more? There is always something to keep you entertained in the Magic City.
2. Englewood, Florida
Even if you haven't heard of Englewood yet, this hidden gem should be on your list. This welcoming beach town is nestled along the shores of Lemon Bay, an estuary of the Gulf of Mexico, situated just a few miles south of Venice. North Port is nearby, and Fort Myers is just over an hour to the south, providing numerous opportunities for entertainment. In Englewood, travel nurses can enjoy an abundance of outdoor activities, miles of beautiful beaches, a popular farmers' market, a historic downtown, nearby wineries and much more.
3. Honolulu, Hawaii
This island paradise is a perennial favorite with travel nurses, boasting incredible weather, numerous amenities and a laid back style that will have you truly relaxing on your days off. From Diamond Head and Waikiki Beach to the Pearl Harbor Memorial, you can find plenty to see and do in Honolulu and the surrounding areas. You can easily explore the entire island of Oahu and enjoy snorkeling, surfing and endless water sports; hiking to see waterfalls and other scenic wonders; learning about the culture and history of the island; or simply enjoying the amazing restaurants, shopping venues, entertainment options, and that infectious Aloha spirit. One nurse shared that she felt like she was on vacation every day.
4. Boston, Massachusetts
Boston is popular with travel nurses for a number of reasons, and often has a wide variety of assignments available. Whenever you're not working, you'll have plenty of time to tour this sprawling city and visit historic sites, cultural attractions, professional sporting events, and much more. Some of the city's "don't miss" attractions include the Freedom Trail walk, the Museum of Fine Arts, Boston Commons, the Boston Harbor, a Red Sox game at Fenway Park, Harvard's campus, the picturesque Beacon Hill neighborhood, and of course the city's legendary seafood restaurants, breweries and other eating establishments.
5. San Antonio, Texas
What can travel nurses do in San Antonio? Anything they want! The most visited city in Texas, San Antonio attracts people of all interests and backgrounds. While on assignment, you can visit the Alamo and other historic sites, restaurants at the famous River Walk, the San Antonio Zoo, exciting theme parks (including Six Flags and SeaWorld), the El Mercado shopping district, the botanical gardens, and many natural wonders. The food and culture here is actually world-famous, as San Antonio has been recognized as a UNESCO Creative City of Gastronomy.
6. Atlanta, Georgia
Friendly, welcoming and diverse, Atlanta stands out as a top destination for travel nurses. From the thriving downtown district to the artsy Midtown, to trendy Buckhead, to historic Sweet Auburn where Martin Luther King Jr. grew up, every neighborhood has something to offer. This "City in the Forest" is also known for its lush foliage and green spaces, plus attractions ranging from the Georgia Aquarium and Zoo Atlanta to the World of Coca Cola Museum, to an array of museums and historical sites celebrating the Civil Rights movement. Outdoor enthusiasts can enjoy extensive parks, bike trails, nature preserves, zip lines and more, while foodies will find Atlanta to have one of the most diverse culinary scenes in the nation.
7. Philadelphia, Pennsylvania
Sure, the City of Brotherly Love is known for its historic district, which could keep you busy for days, touring everything from Independence Hall to Betsy Ross's house, to the cobblestone streets of Elfreth's Alley and the Benjamin Franklin Museum. But visitors can also find plenty of entertainment choices and fun dining spots—from famous cheesesteak sandwich shops to Reading Terminal, the Italian Market, Chinatown and other venues scattered throughout this picturesque city. If you enjoy sports teams, museums, unique shopping venues, biking trails, or special events, you're sure to enjoy your time off in Philly.
8. Los Angeles, California
A major city with enviable weather, nearby beaches, famous attractions and theme parks, and an incredible nightlife and dining scene make LA one of the premier destinations for travel nurses. Assignment opportunities are plentiful here, and the high pay rates will help you enjoy all that the area has to offer. Like arts and culture? How about a concert at the Hollywood Bowl, or an all-day tour of the Getty Center and Museum? Other area highlights include the Griffith Park and Observatory, numerous museums, the Santa Monica Pier, Beverly Hills and of course Hollywood. You'll never want for things to do on your days off in LA.
9. Sacramento, California
The capital of California lies in a strategic location for nurse travelers, and is known as America's farm-to-fork capital, as well. The city's farm-fresh restaurants, plentiful farmers markets, home-grown breweries, and colorful street murals invite visitors to sit and stay for a while. You can visit sites from the California Gold Rush-era, take a sunset walk along the river, or enjoy one of the area's many music festivals and other local events. Day trips and short getaways to San Francisco, Napa's wine country, Yosemite National Park and Lake Tahoe can also add to your assignment experience.
10. Seattle, Washington
This Pacific Northwest gem has plenty to offer visitors, from the seaside markets and famous coffee shops, to a thriving city surrounded by natural beauty. While on assignment in Seattle, you can take a ferry to nearby islands, watch grey whales and orcas in their natural habitats, enjoy a view of the city from 600 feet up in the famous Space Needle, visit the unique Museum of Pop Culture, and choose from a wide variety of museums, theaters and parks. The Emerald City is also known for its vibrant culinary scene, exuberant sports fans, outdoor enthusiasts, and a quirky culture that will keep you coming back.
Don't see your favorite destination? Don't worry. American Mobile, an AMN Healthcare company, has more assignments in more travel nursing locations than any other staffing agency. And our team is here to help you every step of the way.