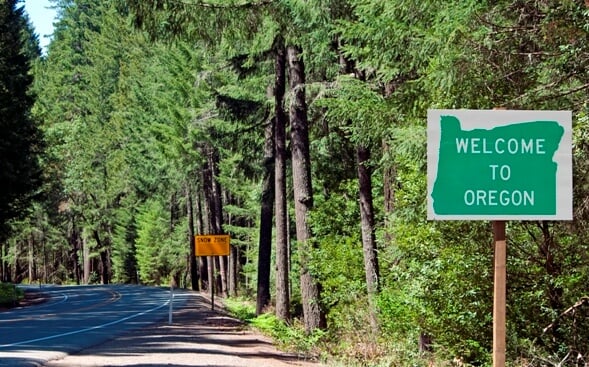 Summer Travel Nursing Jobs in Oregon: 6 Off-Hours Adventures
Considering it hosts popular television shows "Grimm" and "Portlandia," the largest population of adult captive sloths, and the slogan, "Keep Portland Weird," it makes sense Oregon calls to the most adventurous travel nurses.
Not your urban, cement jungle, and as far from the Bible Belt as you can get, Oregon offers a mecca for cyclists, culture vultures, beer connoisseurs, and outdoor enthusiasts. Its top-notch bike trail network provides both paved scenic paths for tourists and bike highways for those looking to pedal to work.
Biking isn't the only way to get out and see the Pacific Northwest terrain. The state is full of opportunities (and adventure companies) for camping, hiking, climbing (Mt. Hood), kayaking, skiing, fishing, and more. Oregon's rich culture and history, too, provide the intellectual depth to complement the majesty of the mountains and coastline. Any travel nurse making it to Oregon will leave with a new appreciation of nature, art, music, and the varieties of human ways of being.
1. Summer Time Just Calls for Craft Beer
When the temperatures rise, sometimes the only thing to slake a post-hiking or biking thirst is a cold brew. Oregon has the resources for you to combine recreation with a repost.
Considered the epicenter of the craft beer movement sweeping the nation now, Portland has more breweries than any other city. In the town of Bend, 16 breweries lie within walking distance of each other. The town's visitor's center will provide you with a Bend Ale Trail™ Atlas and Passport. Once you collect stamps from every brewery on the trail, Oregon-inspired prizes are yours. If you can't get to Bend, Portland boasts its own "Beervana" scene, especially in its Pearl district. Plus, don't miss Portland's Oregon Brewer's Festival held on the last week of July held at the Waterfront Park.
2. Wine Tasting in Williamette Valley
Those who prefer grape to grain should be sure to travel through Oregon's burgeoning wine region of Willamette Valley, located just south of Portland. Some oenophiles (wine lovers) and critics have been calling the area's Pinot Noirs the best in the world. You can travel from winery to winery by car, but since it's Oregon, bike paths wind through the community as well. Popular van tours take the responsibility into their own, abstaining hands. The region also boasts fun art galleries, hiking trails, and eclectic boutiques. Read about the Williamette Valley wine scene for more information.
3. Rafting at the Rogue River
Water adventures are just way more comfortable in the summer. Known as the rafting capital of Oregon, the Rogue River in southern Oregon flows from the Cascade Range to the Pacific Ocean. This scenic river boasts 25 different rafting companies that will get you started on your whitewater adventure. This popular spot features a mix of small and large rapids, as well as ample wildlife such as deer, blue herons, eagles, and beavers. After a day of rafting, relax in one of the many delicious restaurants in the town of Rogue River, where you can get enjoy Italian, pub burgers, Mexican fare, and more.
4. Hippy-Vibe College Towns
Have a hankering for lots of skin, beads, cut-off shorts, and flip flops? For a fun, young scene where peace and counterculture hippy love thrive, be sure to visit Ashland and Eugene. Ashland, where Southern Oregon University is located, not only has a thriving arts community and a delicious restaurant scene, it also hosts the Shakespeare festival, where you can see the bard's entertaining plays from February to November. Eugene, the second-largest city in Oregon, is the site of the University of Oregon. In the summer, its downtown outdoor market, which runs on Saturdays from April through November, requires that all vendors make or grow all their own products.

5. Summer (Yep, Summer) Skiing or Snowboarding in Mount Hood
Yes, you read this correctly. You can actually ski or snowboard in the summertime atop Mt. Hood. At Timberline Ski Resort, located about 60 miles east of Portland, between the months of June and September two lifts will take you to the top of the Palmer Snowfield runs. The Resort even offers ski/snowboard/boot rentals, for your convenience. Here's a cool fact: The exterior of the Timberline Resort was used as the setting in the horror movie, The Shining. If the snow doesn't give you the chills during the summer months, maybe that memory will!
6. Pick From a Plethora of Oregon Summer Festivals
Music and theater lovers, gardeners, epicureans, even Scandinavians can find a festival that fits their interests and ideas of fun. The Oregon Shakespeare Festival mentioned above is one of the longest-running in the United States. Also nationally recognized, the Portland Jazz Festival runs 10 days in February and features the world's best jazz musicians. Not to forget the descendants of the Norse, the Midsummer Scandinavian Festival in Astoria Oregon celebrates with traditional dancing, food, folklore, music, and a Viking feast! Find your favorite Oregon event or festival and start planning!
American Mobile has plenty of travel nursing jobs in Oregon. Your tour of the United States isn't complete without a trip to "Pacific Wonderland." favorite
© 2016. AMN Healthcare, Inc. All Rights Reserved.