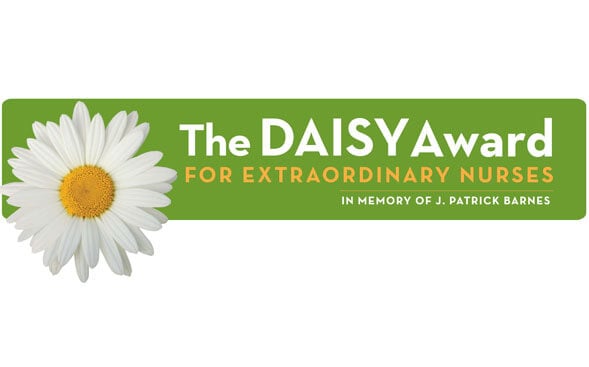 American Mobile Travel Nurse Recognized for Outstanding Service
Congratulations to American Mobile travel nurse Steven Hash recognized for his outstanding service at Duke Raleigh Hospital in North Carolina. Hash was nominated for the prestigious Daisy Award as an outstanding role model in key areas including compassion, care, and "superhuman" efforts in patient care. Although travel nurses can't win the staff award, the competition is fierce and it's a huge honor.
"The nomination for The Daisy Award made me feel good that I'm being recognized by the people I work for and the people I'm serving," says Hash by phone from North Carolina, where he accepted a travel nurse assignment to be near his mom (a nurse), brother and family. "The people who nominated me said that I always came in with a smile and took care of their requests, no matter how many times they rang the call button."
The secret to being a good nurse, Hash says, is excellent patient care. His advice? "Listen to the patients. Doctors don't have time to listen, so help them get what they need, even if it's a cup of coffee. Know what they need, let them get their rest, and work around that."
Hash suggests that new RN grads on their first travel assignment do what he does: "Be flexible, work the days they need you, even if it's Saturday and Sunday." As for staying healthy on the job, Hash believes that eating right ("no sugar for me") and getting enough sleep does the trick.
His current assignment expanded his nursing skills. "I came for the holidays, and I started working at the neuro step-down unit. For ten years I have been a cardiac nurse, and at first, I wasn't sure I could do this. But I like to challenge myself and I've learned a lot," says Hash, who recommends that travel nurses embrace opportunities to learn new skills. "Be flexible and adaptable," he advises.
As a son of a nurse, Hash knew nursing was his calling. Hash graduated with an Associate Degree in Nursing at Southern West Virginia Community College and started off working in telemetry at Pikeville Medical Center, moving on to a telemetry/step-down unit at Wake Medical until he decided to try travel nursing in late 2014.
"I had seen the East Coast, but I wanted to try out travel nursing so that I could work in Colorado, California, and Hawaii," says Hash, who is single. "I love it. My first assignment was in North Carolina, but then I worked at St. Luke's in Houston until November 2015."
While on his Texas travel nurse assignment, Hash took advantage of his time off to see a real rodeo ("But I never made it to the Space Center," he says with regret.). A Wrestlemania and Star Wars fan, he volunteered to work the Houston Comic-Con. "I did line control for Stan Lee, the Green Power Ranger, and William Shatner," he says, recalling that volunteering to work First Aid at the event opened doors for him.
His Star Wars passion helps him keep patients engaged as well. "The other night, a patient came in with a tattoo of an obscure character and it helped us connect."
Faith helps Hash maintain his equilibrium. And his mantra? "Remember the caring aspect of nursing; you can always learn the skills, but you can't learn caring. Without a caring personality, you're not a nurse."
Keep up the good work, Steven!
For more information about what nurses say it takes to become a top travel nurse like Steven, visit our travel nurse resource page.
---
About American Mobile, an AMN Healthcare Company
Becoming an American Mobile travel nurse early in your career gives you the chance to see the country, meet new people, learn new nursing skills and build your résumé.
• Apply now
• Search travel nursing jobs
• Sign up for job alerts
• Refer a friend
• Pay and perks
• Like us on Facebook