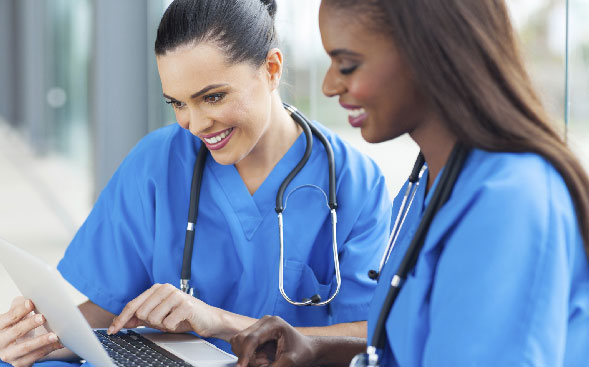 CVOR Travel Nurse Jobs in Top Cardiovascular Facilities
American Mobile has CVOR travel nurse jobs available at leading facilities across the country.
Many leading healthcare facilities are looking for Cardiovascular Operating Room Nurses (CVOR). There's never been a better time for CVOR nurse jobs, and travel nurses looking for a four to 13-week contract are in high demand. American Mobile has well-paid CVOR travel nurse jobs available at leading cardiovascular facilities across the country.
There's also a huge demand for travel nursing specialty related to CVOR nursing jobs. American Mobile is also recruiting RNs for ICU Nursing Jobs, Operating Room Nursing Jobs, Emergency Room Nursing Jobs and CVICU Nursing Jobs.
About CVOR Nurses – Skills & Education
This highly skilled profession requires a bachelor's degree in nursing, completion of departmental training program and CVOR specialty nursing course.
CVOR nurses help treat patients with cardiovascular needs, working among surgical services, operating room teams and specialized areas. Their duties include administering anesthesia and operating cardiopulmonary bypass machines. Clinicians in this specialty ensure that sterile procedures are followed and that patient safety is assured at all times.
Here are four fantastic cardiovascular facilities to consider when looking for a CVOR nurse job.
MedStar Heart & Vascular Institute is a national leader in research, diagnosis and treatment of cardiovascular disease. With more than 140 physician specialists across nine MedStar acute-care hospitals, MedStar is consistently ranked as one of the nation's top cardiac programs by U.S. News & World Report and The Society of Thoracic Surgeons, and have been the premier destination for cardiac care in the region for more than 55 years.
The Ohio State Wexner Medical Center houses the The Ohio State University Richard M. Ross Heart Hospital, the only hospital in central Ohio nationally ranked in cardiology and heart surgery by U.S. News & World Report. The Heart and Vascular Center physicians and staff can treat any cardiovascular condition and its researchers are continually turning today's science into tomorrow's treatments.
Click here to read more about its cardiovascular care and commitment to excellence.
PeaceHealth Medical Center – Cottage Grove, Oregon
For CVOR nurses who love outdoor adventure, Oregon is waiting for you. If you're looking for the best cardiovascular care in Oregon, look no further than PeaceHealth Medical Center. PeaceHealth is a not-for-profit health care system with medical centers, critical access hospitals, medical clinics and laboratories located in Alaska, Oregon and Washington.
Enjoy the excitement of Chi-town culture and cuisine while working at one of the country's leading cardiovascular facility as a CVOR nurse at The University of Chicago. The Heart & Vascular Institute is a leader in innovative, comprehensive patient care. Their cardiac and vascular experts have pioneered treatments and continue to make advancements in patient care:
The Heart & Vascular Institute offers one of the nation's most comprehensive programs using robotic surgery for cardiovascular operations and its nationally acclaimed program in bloodless cardiac surgery and cardiovascular imaging.
Offers advanced diagnostics, including three-dimensional echocardiography, nuclear imaging, and 256-slice CT imaging as well as state-of-the-art electrophysiology and interventional cardiology labs
The expert, multidisciplinary transplant team is experienced in heart, heart-lung and multi-organ transplant.
Click here to see current CVOR positions at all types of healthcare facilities. Small-town hospitals to state-of-the-art medical centers. Contracts range from four to 13 weeks. Extended employment options may be available as well.
---
About American Mobile, an AMN Healthcare Company
Are you a new grad RN? Becoming a travel nurse early in your career gives you the chance to see the country, meet new people, learn new nursing skills and build your résumé.
• Apply now
• Search travel nursing jobs
• Sign up for job alerts
• Refer a friend
• Pay and perks
• Like us on Facebook