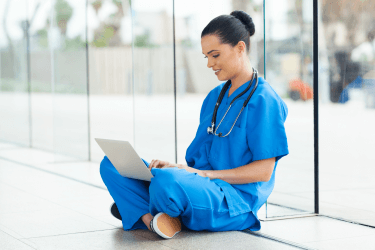 6 Common Mistakes Nurses Make When Choosing a Travel Nursing Agency
Choosing a travel nursing agency, like American Mobile, is a major decision that can chart the course of your travel nursing career. From the integrity and financial stability of the company to nurse reviews and travel nursing salary packages, there are many things to evaluate before deciding which travel nursing company is right for you.
With all of the choices available to travel nurses, things can get confusing. In fact, there are many common mistakes or misconceptions that can trip nurses up when choosing an agency. So, we asked our expert travel nurse recruiter, Victorya Y., to explain the biggest mistakes that nurses make when choosing a travel nursing agency and how to avoid them.
6 Mistakes to Avoid When Choosing a Travel Nurse Agency
1. Not doing enough research
"Choosing a travel nursing agency that has your best interests in mind is one of the most important things a traveling nurse has to do," explained Victorya, a seasoned recruiter with American Mobile, an AMN Healthcare Company. "And, the only way to find out if a company is a solid choice is to do your due diligence and conduct plenty of research. This should include online research as well as talking to various contacts at each travel nursing agency that you are considering."
Travel nurse compensation packages are closely watched by the IRS due to the tax advantages of some stipends and reimbursements, which makes it important to ensure a company is financially savvy. "One really cool thing about AMN and American Mobile is that our pay rates are determined by a financial analyst who has been doing it for a very long time and is really good at it," Victorya said. "This kind of expertise is one of the many things nurses should look out for when researching a travel nursing company."
2. Overlooking reputation and industry standards
"The other thing that is really important about going with a well-known company that has a good reputation is that when a candidate's profile comes over if it has an AMN stamp on it versus a lesser-known company, the facility is most likely going to choose the travel nurse that is coming from the travel nursing agency with the best reputation, Victorya said. "Nurses should also look to make sure the agency is credentialed by the Joint Commission. The purpose of their Healthcare Staffing Certification Program is to provide an independent, comprehensive evaluation of a staffing firm's ability to provide qualified and competent staffing services, according to the Joint Commission.
Agencies that obtain the certification must complete a strict qualifications process, ensuring you would be traveling with a company that has upheld the highest standards in the industry.
3. Trying to find the perfect agency
As a nurse you already know that perfection doesn't exist, and it's important to keep that in mind when choosing a travel nursing agency. Sure, start with your wish list, but realize that even the best organizations have limitations. Keep an open mind and prioritize what is most important for you to see in a potential travel nursing company. One way to help you prioritize and ensure that your needs are met is to build a strong relationship with a travel nurse recruiter.
Don't be afraid to ask questions and talk to multiple recruiters before deciding on one who fits your needs and personality. That personal connection is vital to your success, especially since you are relying on that person to help you find the right job, prepare you to start strong, and support you throughout your assignments.
4. Missing out due to fewer job choices
One thing that nurses need to evaluate closely when considering travel nursing companies is the number, and type, of travel nursing jobs they have available. Nurses should look at the number of job openings, the locations of the contracts, and the types of assignments available in their specialty.
If you are a NICU nurse, for example, it will be important that you ask about the availability of NICU jobs right off the bat. The number of jobs is also important because you don't want to have to do your credentialing and compliance over and over again every 13 weeks.
"If you go with a company that has a lot of jobs, they are always going to keep you employed so you won't have to redo your credentials for each new assignment," Victorya explained.
5. Relying solely on online travel nurse reviews
Travel nursing company reviews are a vital piece of the puzzle, but it's important not to put too much weight on online reviews. Just like you wouldn't stop going to your favorite restaurant because some random person had a bad experience there, it's important to keep the same frame of mind when looking at reviews of travel nursing agencies."
"People are more likely to post a bad review when they want to vent versus when they've had a really good experience. I think social media presence is important, but it's not as important as the relationship that you will develop with your recruiter," Victorya said.
"Also, many review sites are owned by travel nursing agencies, making it difficult to ensure an unbiased opinion."
6. Not considering all possible perks
Although travel nurse compensation is usually at the top of any jobseeker's mind, it is also important to look at other offerings besides the usual must-have travel nurse benefits of top pay, good medical benefits, and free travel nurse housing.
"One important question to ask any travel nursing agency you are considering is what kind of clinical support they provide while you are on assignment."
"AMN has 24x7 clinical support that is on the line and ready to go. If you ever have a question and it's midnight and you are in a new place and it's scary, you have a nurse who has 20-plus years of experience who is there to pick up the phone and guide you through it," Victorya said.
Other benefits to inquire about include mobile apps to manage your assignments, retirement plans, bonus plans, free continuing education units, professional liability insurance, licensure assistance, and more.
American Mobile, an AMN Healthcare company, has been matching travel nurses with their ideal assignments for nearly 40 years. Connect with a recruiter to learn more about our end-to-end service and support. FIND TRAVEL NURSE JOBS