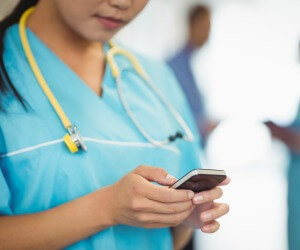 Best Apps for Nurses on the Go
What are the best apps for nurses? These days our phones are practically an extension of our bodies, but if you're only using your smartphone to text or update your Facebook status, you're missing out.
We've pulled together the best apps for nurses that can keep you focused on caring by giving you ready access to essential reference tools.
And, to ensure your days off are as fulfilling as your workdays, you'll also find top apps for nurses who travel. Use these to explore your new digs and make the most of each journey.
Download your top picks before your next travel nursing assignment.
Best Apps for Nurses
1. AMN Passport – This app is a one-stop shop for travel nurses and allied healthcare professionals. You can customize your job preferences, apply for your ideal travel job, update credentials, connect with AMN support team, and review your time and pay details all in the palm of your hand. (iPhone or Android)
2. Medscape – This app for nurses is loaded with medical content, plus you can stay up to date with news for your nursing specialty. (iPhone or Android)
3. Lippincott Nursing Advisor – Thousands of evidence-based, clinical entries that can be quickly searched by keyword or category. (iPhone or Android)
4. Pill Identifier – Ever have a patient hand you a bowl of loose pills? An indispensable app for nurses to quickly search over 14,000 meds based on imprint, drug name, color or shape. (iPhone)
5. Lab Values Medical Reference – All you need to decipher lab results for commonly ordered panels. (iPhone)
6. MDCalc – Complex calculations are a breeze with this app for nurses; risk scores, algorithms, equations, formulas, classifications, dosing calculators, and more. (iPhone or Android)
7. ECG Guide – Clear descriptions of both common and complex arrhythmias and ECG findings are all available on the best medical app for nurses. (iPhone or Android)
8. MRSA eGUIDELINE – Easy to navigate reference tool to identify and treat drug-resistant staph. (iPhone)
9. Eponyms – Eponyms are frustrating to remember, but pervasive in the medical field. Shake your way through the quiz feature or just search the app's extensive collection. (iPhone or Android)
10. Classic Anatomy – Flex your knowledge of anatomy with this beautifully illustrated quiz app. Challenge your friends and coworkers. (iPhone or Android)
11. IDdx – Match infectious disease signs and symptoms by narrowing key search criteria. (iPhone or Android)
12. Med Mnemonics – 1,900+ acronyms, rhymes and memory tricks to help you learn and recall crucial information. This particular aid made our list of the best medical apps for nurses because of its ease of use, and the fact that you can delete, edit and add your own personalized mnemonics. (iPhone)
13. MediBabble – Communicate with your non-English speaking patients with this translation tool of medical phrases organized in a standardized history-taking format. (iPhone)
14. Nursing Dictionary – Medical terms, medications and acronyms and more: this is a reference app for nurses you'll always want handy. (iPhone or Android)
15. Nursing Drug Handbook – Detailed and convenient drug information: a great app for nurses because it emphasizes the safety aspects of drug administration. (iPhone or Android)
16. Pedi Stat – Access critical information for your pediatric patients including weight-based and age-specific medication dosages and equipment sizes. (iPhone or Android)
17. Resuscitation! – Warning…this app may be addictive! You are in control of treatment and diagnosis in this virtual patient simulator. (iPhone or Android)
18. Figure 1 – A medical Instagram of sorts for sharing clinical cases and treatment expertise. (iPhone or Android)
19. Nursing Central – The premier, all-in-one clinical resource for nurses. Includes disease, drug and test information, a leading dictionary, literature searching and more. Many nurses swear it is worth the premium price. (iPhone or Android)
Travel Nurses' Picks: Best Apps for Nurses on the Go
20. Bark Happy – Your faithful friend deserves to enjoy a travel adventure too: find places to crash, play and eat together. Plus, connecting with other dogs and their owners means you can both make some new friends. (iPhone or Android).
21. Awesome Note – Organize your work schedule, birthdays, passwords and more in a colorful, easy format. You can even keep a diary of your travel adventures by attaching photos and maps. (iPhone)
22. White Noise – Don't lose a moment of shut-eye adjusting to the noise of a new city, or a different shift. (iPhone or Android)
23. Roadside America – Weird and wonderful attractions you won't want to miss can be found on the road to your travel nursing assignment and in your new location. (iPhone)
24. Gas Guru – Take the guesswork out of finding the cheapest gas around. (iPhone or Android)
25. Foursquare City Guide – You'll feel right at home in a new city because this app predicts the places you'll like based on your home city favorites. (iPhone or Android)
26. Rego – From favorite coffee shops to new hiking trails, you'll find them all again with this bookmarking app, and it's compatible with Foursquare. (iPhone)
STILL LOOKING for your next travel nursing assignment?