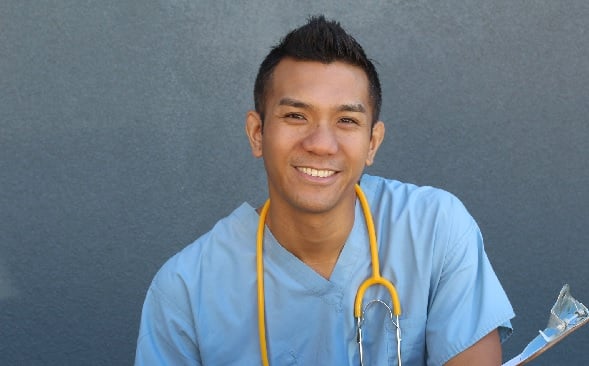 7 Pet Peeves of Male Travel Nurses
Representing only about 11% of nurses in America, male nurses can be a target for teasing. Certainly, men who enter the profession have to develop a thick skin and a sense of humor.
We don't feel too sorry for them though. Overall, male nurses have it pretty good. Men who are attracted to the travel nurse industry love their travel adventures, the chance to meet new people regularly, the financial security, and most importantly, being able to provide a great care to those who need it.
See if these pet peeves resonate with you or your favorite male travel nurse!
Related: Celebrating Dads in the Delivery Room
Pet Peeve 1 - Feeling out of place among female nurses' conversations
A disproportionately high percentage of female nurses means there is no shortage of typical conversations that men just aren't all that interested in. These can include diets, handsome movie stars, hair and makeup preferences. Men have reported feeling like intruders at these female nurse gatherings. Some even complain about getting roped into uncomfortable conversations for their "male perspective" on a dating or marriage issue, for example.
Pet Peeve 2 - Women patients request a female nurse on your watch
Whether they're old-fashioned, religious, modest, or just plain paranoid, many women patients request female nurses when a male nurse makes his presence known. Most of the male nurses just shrug it off and don't take it personally. And sometimes, it's the female nurse who gets ousted for a male nurse by more traditional, male patients. Either way, whatever makes the patient happy, is fine by most RNs, male and female.
Pet Peeve 3 - Feeling like a criminal when working in labor and delivery
Some labor and delivery patients are still uncomfortable with a male nurse stepping in when they're delivering their offspring. Of course, when push comes to shove (literally!), just having a skilled nurse by their side to help them deliver a healthy baby is all that matters in the long run. Male labor and delivery nurses MAY have to put up with a bit of ribbing from their non-medical professional friends, who might wonder their motives for working in this particular unit.
Pet Peeve 4 - Constantly being used for your brawn
Hercules! When a male nurse reports for duty, other nurses and hospital staff have a tendency to whisk him towards either heavy equipment or an overweight patient that needs to be lifted. Male nurses didn't sign up to the profession to feel like roadies or moving professionals, but with fewer men than women in the profession, they tend to be the go-to person for any kind of manual labor.
Related: American Mobile Male Travel Nurse Recognized For Outstanding Service
Pet Peeve 5 - Being mistaken as another staff member
Put a guy in scrubs and many immediately see him as the doctor...or the janitor.
Just because you're a male running around in scrubs doesn't mean you can prescribe meds, or take out the trash. Unfortunately, male nurses are indeed frequently mistaken for a doctor or a janitor at least once a day, simply because they are not a woman. Slowly but surely society is accepting that yes, nurses can indeed be men, and then hopefully these blunders will dissipate as more men enter this lucrative and rewarding profession.
Pet Peeve 6 - Assumptions regarding sexual preference
Despite the fact that many have gay friends, heterosexual male nurses get tired of being perceived as gay themselves.
Men were actually refused admittance to many nursing schools until the U.S. Supreme Court deemed this exclusion unconstitutional in 1981. Since then, more and more men, whether gay or straight, have signed up to become RNs. Some nursing schools are even actively seeking out higher male enrollment. Plus, the U.S. Department of Health and Human Services developed a popular program to encourage former military medics to become male nurses, a career transition that makes the utmost sense.
We love Florida's popular ad campaign slogan, crafted to recruit more male nurses: "Are you Man Enough to be a Nurse?" Given the how lucrative, flexible and respected nursing is, the field should be open to all.
Pet Peeve 7 - A lack of manly scrubs
The usual choice of scrubs for nurses is endless: cartoon characters, flowers, pretty colors, animal-themed, you name it. But what can the male nurses wear? They have a completely different upper body build that looks funny in typical female-style scrubs. Luckily, Scott Topiol, the co-founder of the men's scrubs website, murseworld.com, realized this deficiency. He saved the day by offering choices that offer "more masculine styling options" and "are made specifically for men" with a more athletic, sporty cut.
Travel nursing offers great perks for both men and women. Explore travel nursing jobs in the state of your dreams!
© 2016. AMN Healthcare, Inc. All Rights Reserved.