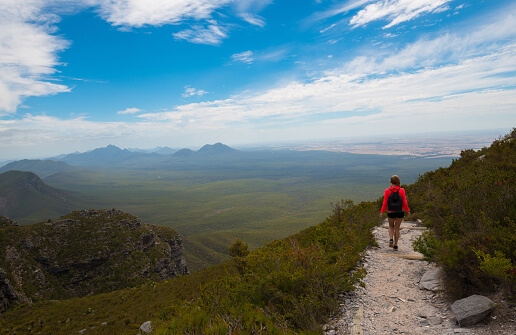 5 Locations for Travel Nurses Who Love the Outdoors
Nurses make up the largest group of healthcare professionals in the nation, with nearly 3 million nursing professionals across the country. Despite the large numbers of nursing professionals, there's still a severe shortage of skilled nurses, and this demand means plenty of opportunities in all kinds of locations. Travel nurses who prefer spending their days off enjoying the great outdoors have plenty of options in fun-filled cities around the United States.
Top 5 Locations for Adventurous Travel Nurses
1. California's Central Coast
On the beach or in the woods, California's central coast offers unbelievable outdoor adventures for travel nurses in both environments. California has the highest employment rate for nurses in the country and 350 miles of beautiful, sun-drenched beaches perfect for watching local sea life and water activities. Surfing nurses love the ample ocean waves, and kayakers and stand-up paddle boarders enjoy the calm coves. RNs who enjoy hiking relish pleasant trails in the canyons shaded by tall coastal redwoods at Limekiln State Park in Big Sur.
2. Santa Barbara Region
Focus on a smaller region of California's central coast in gorgeous Santa Barbara, where traveling nurses find endless opportunities to get outside year-round. Go rock climbing or hike along golden ridgelines with amazing scenic vistas. Set sail to go whale watching, or take a soothing kayak ride from Stearns Wharf to the Harbor. Across the Santa Barbara Channel is the Channel Island Marine Preserve, one of the most unique national parks worldwide. Get up close and personal with the local marine life during a day of snorkeling or scuba diving. With more than 300 days of sunshine annually, Santa Barbara's climate is perfect for enjoying the great outdoors while exploring new opportunities in your nursing career.
Explore new places with thrilling outdoor adventures by finding a new travel nursing job at American Mobile and give your nursing career a kick-start.
3. Flagstaff, Arizona
Flagstaff is well known for outdoor recreation, and it's dubbed the Gateway to the Grand Canyon, one of the most visited national parks in the country. Explore the pueblos at Walnut Canyon National Monument, just 10 miles from downtown Flagstaff, or visit the San Francisco Peaks where you can walk along lava flows at Sunset Crater Volcano National Monument. Traverse the waters of Lake Mary on a kiteboard or kayak, or soar the skies above Mt. Elden from a hang glider or paraglider. Bicycling is a big hit with routes all around Flagstaff that cater to cyclists looking for routes that let you go the distance or reach new elevations. Wintertime enthusiasts gear up for even more outdoor fun with skiing, snowshoeing and snowboarding on Mt. Humphreys.
4. Alexandria, Virginia
Virginia features majestic mountains, beautiful beaches and colorful canyons, and Alexandria offers tons of outdoor adventures for travel nurses who want a little bit of everything. Located along the Potomac River, Alexandria boasts 940 acres of parks and recreation centers and the ever-popular Mount Vernon trail that ends at George Washington's former home. Take a canoe or kayak out on the Potomac and paddle through Dyke Marsh Wildlife Preserve, where you can also take a hike, ride a bike and view local wildlife. Explore the last remaining riverine lighthouse in Virginia just south of Old Town Alexandria at Jones Point Park, or grab your fishing pole and cast your line for catfish and rock bass from one of two fishing piers.
5. Salt Lake City, Utah
Year-round activities in the great outdoors are abundant in Salt Lake City where travel nurses can soak up nature deep in the forests or seek solitude at 13,000 feet in the mountains, buttes and plateaus of this amazing location. Hiking, biking and skiing are common pursuits, or you can embrace something more daring like thrilling river rafting trips, wilderness trout expeditions or ATV back country adventures. Explore the area's canyons and try a little rockhounding, or break out your binoculars for some of the best bird watching around with millions of migrating shorebirds stopping by the Great Salt Lake region each year.
Travel nursing offers numerous benefits, including the freedom to move around and explore new places each time you take a new assignment. Enjoy unique career opportunities and discover locales with some of the most exciting outdoor adventures for travel nurses that you'll love writing home about.