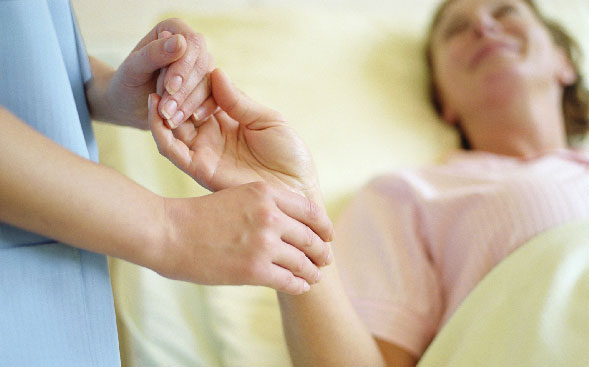 Meet PICU Travel Nurse Lacy Holevis!
When nurses travel, they create memories that are very personal. Every place they go, every person they meet changes them in some way and makes them a better, stronger person. American Mobile's Nurse News highlights stories of inspiration, courage, dedication, and what it means to be a travel nurse. It was a tough decision, but after careful consideration, we're proud to announce the February winner: American Mobile travel nurse Lacy Holevis.
Lacy Holevis is a PICU RN originally from Chicago, Illinois. From the time she was a little girl, she knew she wanted to be a nurse. Right out of high school she attended nursing school and landed a job after graduation at Comer's Children's Hospital in Chicago.
Lacy fell in love with pediatrics right away. She loved caring for the patients, helping sick children get well, and providing support to their families. She knew that the PICU was her calling.
After working at Comer's for six years, Lacy discovered her other calling: travel nursing. She loved traveling across the country and working in different facilities where she met interesting people and made life-long friends. It's been the adventure of a lifetime and one she would highly recommend.
"Travel nursing has been great for me both personally and professionally. It's helped my career and it's helped my relationship," she said.
Lacy's boyfriend is in the military, which means that, as a travel nurse, she can take an assignment wherever he's stationed. "We're a great match," she said. "As a travel nurse, I can always be with him, and as a PICU nurse, I can relate to him. We both work in intense professions where we've seen the best and the worst outcomes of life-threatening situations. At the end of the day, we understand each other and we help each other cope, which is especially important when working in the PICU."
Lacy explains that PICU nurses are often misunderstood by other nurses. They have a reputation for being hard, but Lacy explains that they are actually very soft, caring people. Every child and every family means so much to them, which is why they sacrifice so much to give the very best of themselves to their patients and their families every day.
"We're with parents at the worst time in their lives, and it's up to us to make sure they're educated about the situation, comforted, understood, and supported. Helping the families cope is often just as important as helping the children get better."
Lacy remembers a time when she was treating a 4-year old cancer patient who was at death's door multiple times. "She was this precious little girl who I took care of on different occasions. It broke my heart to see her suffer so much. After one of her stays in the hospital, she went home with her family and I often wondered what happened to her. Then, one day out of the blue, one of my colleagues told me that there was someone there to see me - and there she was. She was beaming from ear to ear and she ran up to me and gave me a giant hug. I'll never forget that feeling. It was one of the best days of my career."
As a travel nurse, Lacy has seen a lot of different PICUs across the country, but she said that, while some of the procedures might be different, the attitude is the same. "PICU nurses understand each other. We have a special bond because we deal with so much stress every day. When a child passes away, no one questions you when you say you're having a rough day and no one judges you. They're always there to support you and provide the emotional relief that you need because they understand."
"When I have time off," she continued, "I take advantage of catching up on a bit of sleep, but I also make sure to exercise. Boxing, kickboxing, and running help relieve my stress. As a travel nurse, you're surrounded by new scenery all of the time, so it's important to get out there and enjoy what your assignment has to offer."
Lacy has advice for other nurses considering a career in the PICU. "It's not for everyone, and you'll know right away. It's an intense job, but the rewards are amazing. PICU nurses are always striving to better themselves; to learn more and to push themselves. But experienced PICU nurses also know when it's time to step back and decompress. It's important that you rely on your fellow nurses for support. Remember, that it's O.K. to be human, and it's O.K. to have a sense of humor in the PICU because it helps relieve stress. And always remember, that, while sometimes bad things happen, more often good things happen, and those are the moments you hang on to."
"Being a nurse is the best thing I've ever done," said Lacy. "I've experienced the best feelings and the worst feelings, but it's made me a strong person and I'm honored to be part of such an amazing profession."
Watch more inspirational videos from American Mobile's Video Contest or send us your video today.