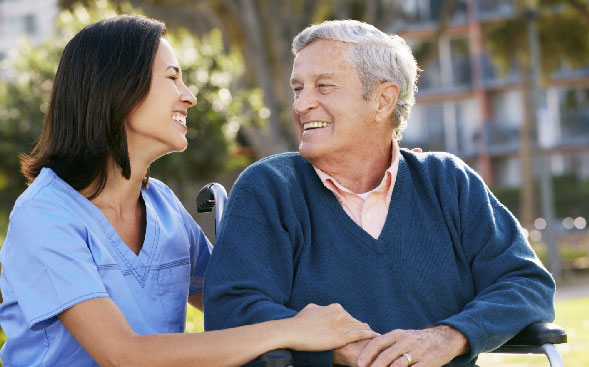 Veterans' Honor Flight Moves Nurse
Daria Ruffolo, DNP, RN, CCRN, was deeply moved by her recent experience as a medical volunteer with Honor Flight Chicago, which is designed to honor veterans of World War II.
Inspired and urged on by a patient who was a World War II veteran, she had applied to volunteer with the Honor Flight Chicago program, one of the numerous Honor Flight Network programs around the nation.
She never imagined how meaningful her participation would be.
"This was probably one of the top emotionally-impacting things that I've ever done," she said. "It really was."
Honor Flight was established in 2005 to transport World War II veterans by plane to Washington, D.C., so they can see the World War II Memorial and receive thanks from a national still grateful for their service. Time is of the essence for this mission, as each day more than 600 World War II veterans pass away. To date, the program has honored approximately 100,000 men and women by taking them to the nation's capital for a special tour.
Honor Flight Chicago flies a mission about once every three to four weeks between April and November and recently logged its 61st flight.
According to Honor Flight Chicago co-founder and CEO Mary Pettinato, the average age of their veterans is 90. "The guys aren't getting any younger," she said. And most, if not all, of them need some type of assistance. Some have oxygen tanks, many use wheelchairs or other mobility aids, and some are diabetic or have other chronic conditions requiring medical equipment or supervision.
The medical volunteers, including nurses, advanced practice nurses and doctors, are a crucial part of the success of each flight. Experienced doctors and nurses with triage skills—people with sound clinical judgment who can act calmly and make excellent decisions in a crisis—are at the top of the list.
Ruffolo, who has been a nurse for more than 30 years and has volunteered with medical missions across the globe, definitely fit the bill.
"You have to be able to make a decision quickly, and it may be in the middle of nowhere," she said. "And you have to be able to make a decision about whether this is something I can treat or not."
So on October 1, she collected her medical briefings about the passengers and boarded her first Honor Flight Chicago plane. She met and developed a rapport with "her" veteran, a man named Wally Buya, before the plane took off.
When the flight arrived in Washington, D.C., the 92 veterans on the plane were greeted with warm welcomes everywhere they went. Ruffolo was profoundly touched by the day she spent with these military veterans. She pushed one elderly man's wheelchair up to the World War II Memorial, so he could see the stars that represented the dead. "He broke into tears and said, 'How many of my buddies are up there?'" she said.
The veterans fielded countless hugs and handshakes from well-wishers the entire day.
"People just swarm them like they're Hollywood stars," said Pettinato, adding that the veterans even signed autographs and returned salutes.
Fortunately for everyone that day, no one experienced any medical emergencies. But Ruffolo and the others were ready. They kept a close eye on all of their honored veterans, making sure that everyone stayed hydrated. Extra wheelchairs were kept at the ready in case anyone needed one. At the end of the very long day, they returned to Chicago and their loved ones, ready to tell others about their experience.
Ruffolo said, "I would absolutely do it again."
Do you have the skills and the interest to volunteer? You can apply to become a volunteer for the Honor Flight program, or view the list of regional hubs for more information.
---
Looking for more meaning in your nursing career? Apply with American Mobile to find the best nursing jobs to fit your goals and experience.
© 2015. AMN Healthcare, Inc. All Rights Reserved.